The Korg Volca family of synths replicate the quirkiness of the analog world while allowing you to interface with modern music software. Here's how to sync the Volcas to Ableton, Logic & Reason.
Wie Volcas wurden ständig fliegen aus den Regalen in den letzten Monaten, ich bin der Annahme, dass ein paar von euch haben sie. Und so faszinierend wie alle Volca Geräte sind, ich bin sicher, haben Sie vermutlich ein paar Fragen, wie man sie in den Workflow zu integrieren, vor allem wenn Sie einen Computer hatte. Obwohl es ist wirklich nicht viel, um es im Hinblick auf den Anschluss von Audio von Ihrem Volca Gerät an Ihren Computer oder Audioschnittstellen-Eingang, MIDI ein wenig frustrierend für einige Menschen. Dies gilt insbesondere, wenn MIDI-Sync betrifft, so kann es einige Wahl nehmen in.
Schließlich wollen Sie, dass Ihre Volca Bass zusammen spielen, in der Zeit, mit Ihren Songs, oder? Sie wollen es spielen zusammen im gleichen Tempo, wollen Sie es, Änderungen Tempo zu reagieren, können Sie es, um bis so nahe wie möglich zu perfektionieren wollen? In diesem Tutorial Im gehend, durch ein paar verschiedene DAWs mit Ihnen zu gehen, und zeigen Ihnen, wie Sie Ihre Volca mit ihnen synchronisieren.

Einstellungen für Volca
Um ehrlich zu sein, habe ich eigentlich nicht brauchen, um alles, was intern auf den globalen Einstellungen Volcas tun, um MIDI-Sync zu bekommen. Die meisten Einstellungen, die angepasst werden mussten dazu neigen, in der DAWs zu sein, sich selbst. Wenn irgendwelche Überlegungen gemacht werden, in Bezug auf Volca Globale Einstellungen, wie wir vorgehen müssen, würde ich Sie wissen lassen. Wenn Sie über gezwickt diese Einstellungen, im Interesse der Übung, Id empfehlen Zurücksetzen des globalen Einstellungen Volca auf die Werkseinstellungen. Finden Sie im Handbuch für diese Einstellungen.
Ableton Live
Ableton ist ziemlich einfach, wenn man einmal Dinge geht. Aber, es gibt ein paar Dinge zu wissen.
Stellen Sie zunächst sicher, dass Sie über bekam die MIDI Out Ihres MIDI-Controllers mit dem MIDI-In angeschlossen ist, auf Ihrem Volca. Youd überrascht sein, wie oft nicht die Aufmerksamkeit auf die grundlegenden Verbindungen können die Hauptursache des Problems zu sein. Ive, das MIDI seit fast dreißig Jahren, und noch immer Chaos dieses oben, manchmal!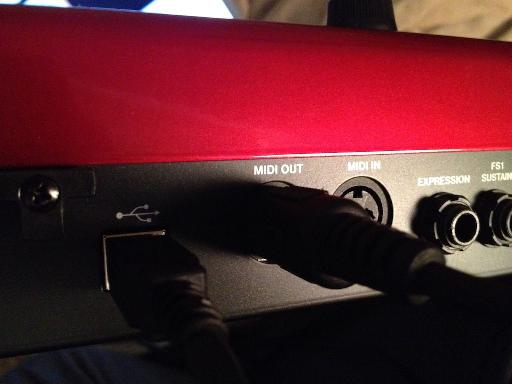 Einmal verbunden, gehen Sie in den MIDI / Sync-Seite von Abletons Vorlieben. Blättern Sie nach unten und suchen Sie Ihr MIDI-Controller oder Audio-Interface integrierte MIDI. Youre gehen zu wollen, um den Ausgang des Gerätes zu finden. In meinem Fall, ich bin mit dem Akai MAX25. Im gehend, seine MIDI-Ausgang zu finden und aktivieren Sie die Sync.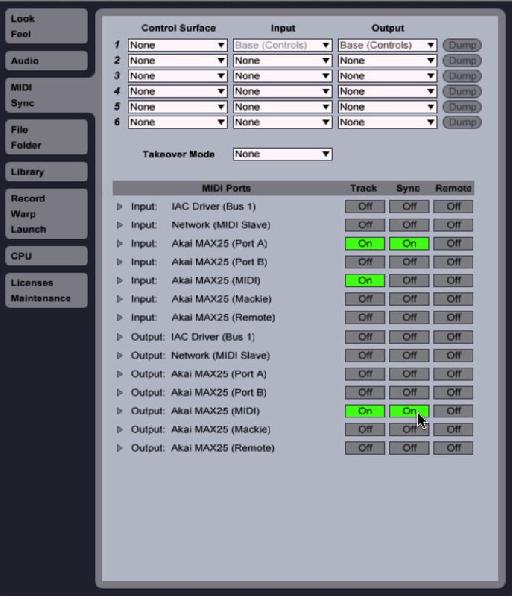 Nun, werden Sie wollen, um eine Audiospur zu machen, und natürlich, wählen Sie den Audio-Eingang, die auch von der Volca kommen entweder auf Ihre Audio-Schnittstelle oder integrierte Eingangs auf Ihrem Computer. Denken Sie daran: MIDI nicht Audio-, MIDI-Daten nur übertragen! Ein Audio

Nun sollte, wenn Sie drücken Sie die Play-Taste in Ableton (Leertaste), Ihre Tempo-Regler, auf Ihrem Gerät bis Volca als Feststoff, rot beleuchtet werden, und es synchronisiert werden sollen.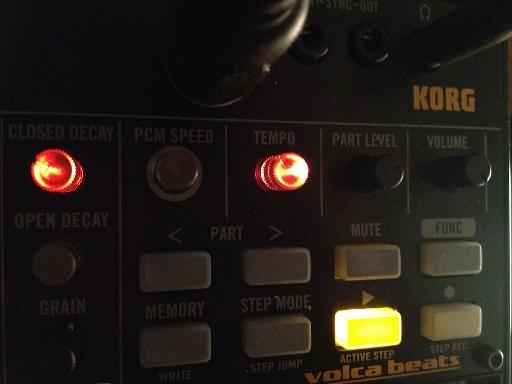 Tip: Remember that MIDI is old! Sometimes, the sync message timing can be off, causing the Volca to be slightly out of time. Use the Sync Delay, in the sub-menu of your MIDI Output, in Ableton Live preferences to modify any latency that may be occurring. You can also use the Track Delay setting for your audio track, later in post.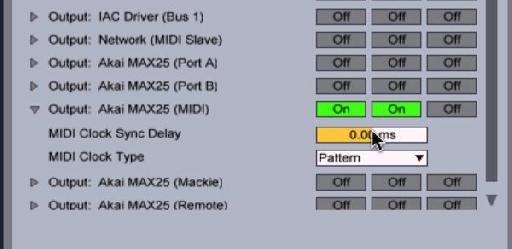 Logic Pro
Nach dem Einrichten eines Audio-Tracks und überprüfen Eingabe aus Ihrem Volca, gehen Sie auf die Logic-Einstellungen (die Standardtaste Befehl ist Befehl - Komma). In Einstellungen, gehen Sie auf der MIDI-Seite und wählen Sie die Sync-Unter-Seite.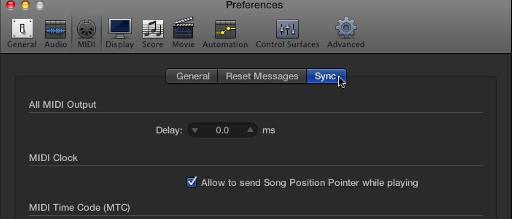 Im Sync-Seite, drücken Sie die MIDI-Sync-Projekteinstellungen, unten auf der Seite. In den MIDI-Sync-Projekteinstellungen, werden Sie die Transmit MIDI Clock Ziel 1 zu überprüfen. Und in der Drop-down-Menü unter Ziel 1, wählen Sie Ihre MIDI-Geräte-Ausgang, in meinem Fall, Akai Max25.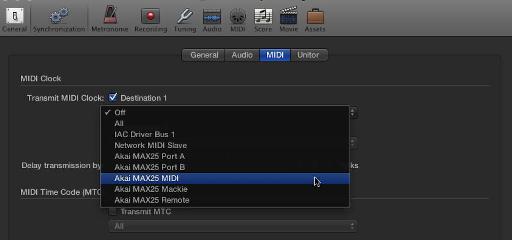 Tip: Remember that you may have multiple MIDI Outputs coming from your device. As you can see, my device has a secondary MIDI port. Usually, manufacturers are pretty good about labeling ports. But, if you find that you aren't getting any sync happening, you may want to try some different ports, in this menu.
Nun, wenn Sie Einstellungen zu verlassen, und drücken Sie die Leertaste, Ihre Volca sollte das Leben auf seine eigene wieder zu springen, und aufhören, wenn Sie die Leertaste drücken. Ist dies der Fall anfangen zu spielen, scheint aber aus der Zeit, beginnen Sie den Anfang des Songs. Dies setzt die Uhr sowohl für Logik und der Volca. Wenn seine immer noch ausgeschaltet ist, können Sie immer die Delay-Einstellung anpassen Getriebe in den MIDI-Sync-Projekteinstellungen.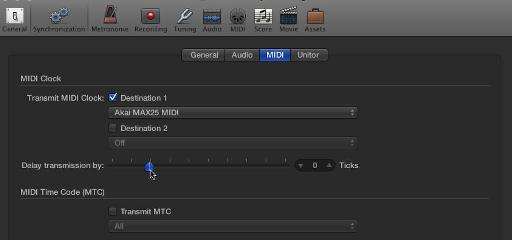 Grund
Nach dem Einrichten einer Audiospur in Reason, und sicherstellen, dass Sie Audio-Signal, das in und MIDI-Out von Ihrem MIDI-Gerät an den MIDI-Eingang gehen, gehen Sie zu Einstellungen Vernunft, und wählen Sie die erweiterte MIDI-Seite. Dieses Tutorial geht davon youve bereits Ihr MIDI-Gerät eingestellt ist, in der MIDI-Seite. Wenn Sie haben diese getan, stoppen Sie das Tutorial und das tun, zuerst. In der Advanced MIDI-Seite unter MIDI Clock Sync, klicken Sie auf den Output, Drop-Down-Menü und wählen Sie die entsprechende MIDI-Ausgang für Ihr Gerät.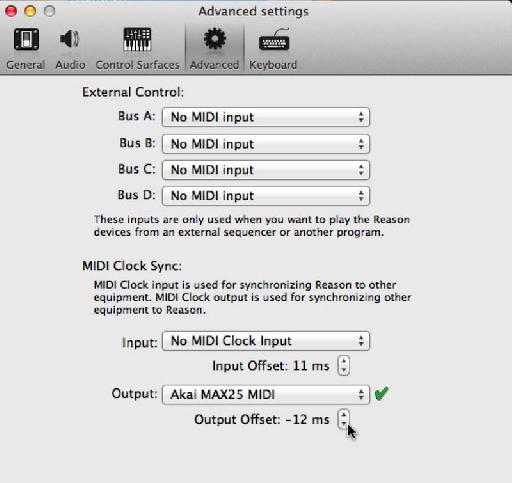 Als nächstes schließen Sie die die Einstellungen, dann auf Optionen-Menü zu gehen. Unter dem Sync Untermenü wählen Sie Senden MIDI Clock.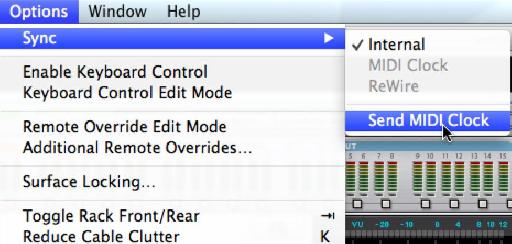 Nun, wenn Sie Ihre Audio-Track Monitor aktiviert ist, sollten Sie sehen und hören Tätigkeit von Ihrem Volca kommen. Wenn Timing ist wirklich aus, versuchen Sie, den Befehl - Pfeil links Befehl, um den Song von Anfang an starten.
Außerdem können Sie die Ausgabe in Gründe Erweiterte MIDI-Seite Offset verwenden, um in der Sync zwischen dem Volca und Vernunft zu wählen.
Schlusswort
Die Familie ist eine erstaunliche Volca Linie treu und repliziert die Macken und Sounds von vielen Vintage Synths und Drums. Weil sie so nah zu sein wie die eigentliche Behandlung sind, wirken sie wie der real deal. Timing kann ausgeschaltet sein, leicht. Also, seien Sie darauf vorbereitet und bei Bedarf ändern. Denken Sie daran, Sie können immer verhindern, dass Ihre Volca wenn Ihre DAW noch spielt und starten Sie es auf eine freundliche Beat. Aber, wenn youre Patienten, die Sie in Ihrem Volca mit den für jede DAW beschrieben Verschiebungen / Verzögerungsfunktionen wählen können und erhalten, dass Timing perfekt.
Web: