The Korg Volca family of synths replicate the quirkiness of the analog world while allowing you to interface with modern music software. Here's how to sync the Volcas to Ableton, Logic & Reason.
Como Volcas han sido continuamente volando de las estanterías de los últimos meses, Im suponiendo que algunos de ustedes les han hecho. Y, tan fascinante como todos los dispositivos VOLCA son, estoy seguro de que usted ha tenido probablemente un par de preguntas acerca de cómo integrarlos en el flujo de trabajo, especialmente cuando se utiliza un ordenador. Aunque en realidad no hay mucho a ella, en cuanto a la conexión de audio desde el dispositivo Volca en el ordenador, o la entrada de interfaces de audio, MIDI puede ser un poco frustrante para algunas personas. Esto es especialmente cierto cuando se trata de sincronización MIDI, ya que puede tomar un poco de marcación pulg
Después de todo, usted quiere tener su Volca Bass jugando junto, con el tiempo, con sus canciones, ¿no? ¿Lo quieres jugar a lo largo de, al mismo tempo, que quieres que reaccione a cambios de tempo, usted quiere que coincidía con lo más perfecto que pueda? En este tutorial, me voy a ir a través de un par de aplicaciones musicales diferentes con usted, y le mostrará cómo sincronizar su Volca con ellos.

Ajustes para Volca
Para ser honesto, realmente no tuve que hacer nada internamente en la configuración global Volcas conseguir sincronización MIDI. La mayor parte de los ajustes que deben ser ajustados tienden a estar en el DAW, ellos mismos. Si cualesquiera consideraciones deben hacerse, en lo que respecta a VOLCA Configuración global, a medida que avancemos, quiero saber. Si usted ha pellizcada estos ajustes, en aras del ejercicio, Id recomendamos restablecer la configuración global VOLCA a los valores de fábrica. Consulte el manual para estos ajustes.
Ableton Live
Ableton es bastante simple, una vez que las cosas en marcha. Pero, hay algunas cosas que debe saber acerca de.
En primer lugar, asegúrese de que tu tienes la salida MIDI de su controlador MIDI conectado a la entrada MIDI, en su Volca. Youd se sorprenderá con qué frecuencia no prestar atención a las conexiones básicas puede ser la causa principal del problema. Ive estado utilizando MIDI desde hace casi treinta años, y todavía estropear esto, a veces!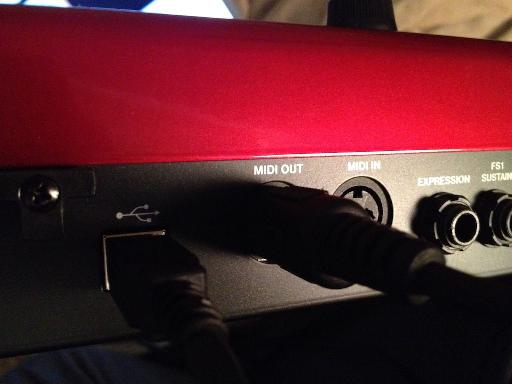 Una vez conectado, vaya a la página MIDI / Sync de Preferencias Abletons. Desplácese hacia abajo y busque el controlador MIDI, o interfaz de audio integrada MIDI. Youre que va a querer encontrar la salida del dispositivo. En mi caso, estoy usando el Akai MAX25. Im que va a ubicar su salida MIDI y encienda su sincronización.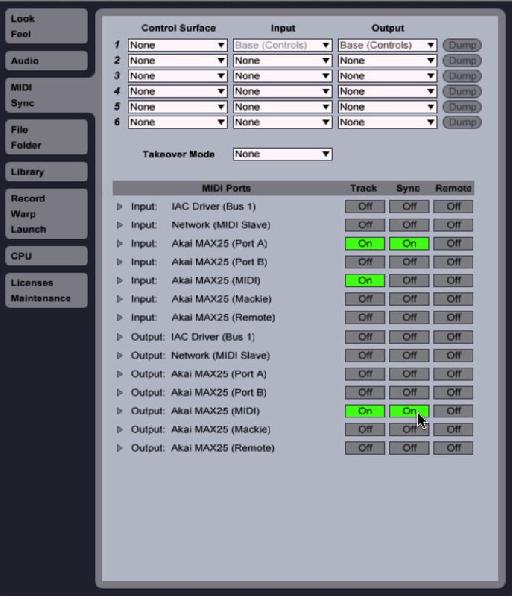 Ahora, usted querrá hacer una pista de audio, y por supuesto, seleccionar la entrada de audio que también viene de la Volca a cada interfaz de audio o entrada incorporada en el equipo. Recuerde: MIDI no transmite audio, sólo información MIDI! Un audio

Ahora, al pulsar el botón de reproducción en Ableton (barra espaciadora), su perilla de Tempo, en su dispositivo Volca debe ser iluminado como un sólido color, rojo, y debe ser sincronizada.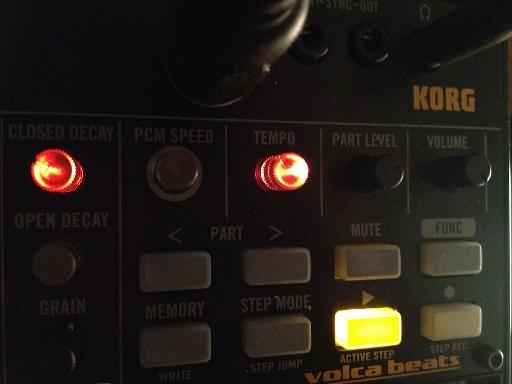 Tip: Remember that MIDI is old! Sometimes, the sync message timing can be off, causing the Volca to be slightly out of time. Use the Sync Delay, in the sub-menu of your MIDI Output, in Ableton Live preferences to modify any latency that may be occurring. You can also use the Track Delay setting for your audio track, later in post.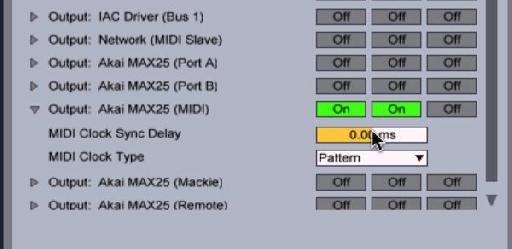 Logic Pro
Después de la creación de una pista de audio y verificar la entrada que viene de su Volca, vaya a las Preferencias de Lógica (el comando de teclado por defecto es el Comando - coma). En Preferencias, vaya a la página MIDI y seleccione la sub-página Sync.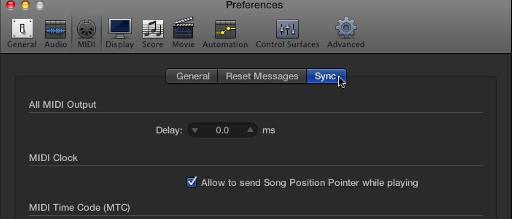 En la página de sincronización, presione la configuración del proyecto de sincronización MIDI, en la parte inferior de la página. En la configuración del proyecto de sincronización MIDI, podrá comprobar el destino de transmisión de reloj MIDI 1. Y, en el menú desplegable, en Destino 1, seleccione su Dispositivo de salida MIDI, en mi caso, Akai Max25.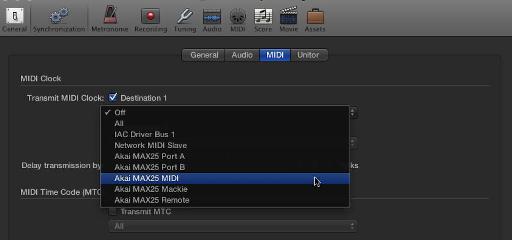 Tip: Remember that you may have multiple MIDI Outputs coming from your device. As you can see, my device has a secondary MIDI port. Usually, manufacturers are pretty good about labeling ports. But, if you find that you aren't getting any sync happening, you may want to try some different ports, in this menu.
Ahora, una vez que salga de preferencias, y pulsa la barra espaciadora, el Volca debería saltar a la vida por sí mismo, y detener al presionar la barra de espacio, de nuevo. Si lo hace empezar a jugar, pero parece estar fuera de tiempo, inténtelo de nuevo desde el principio de la canción. Esto restablece el reloj para la lógica y la Volca. Si su todavía fuera, siempre se puede ajustar la configuración de retardo de transmisión en la configuración del proyecto de sincronización MIDI.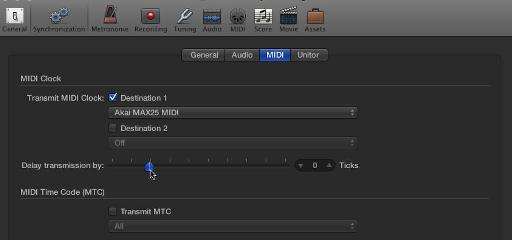 Razón
Después de la creación de una pista de audio en la razón, y la verificación de que tiene la señal de audio que entra y salida MIDI de su dispositivo MIDI se va a su entrada MIDI, vaya a la Razón preferencias, y seleccione la página Advanced MIDI. Este tutorial asume que usted ha configurado su dispositivo MIDI, en la página MIDI. Si no lo has hecho esto, deje este tutorial y hacerlo, en primer lugar. En la página Advanced MIDI, bajo MIDI Clock Sync, haga clic en la salida, en el menú desplegable y seleccionar la salida MIDI adecuado para su dispositivo.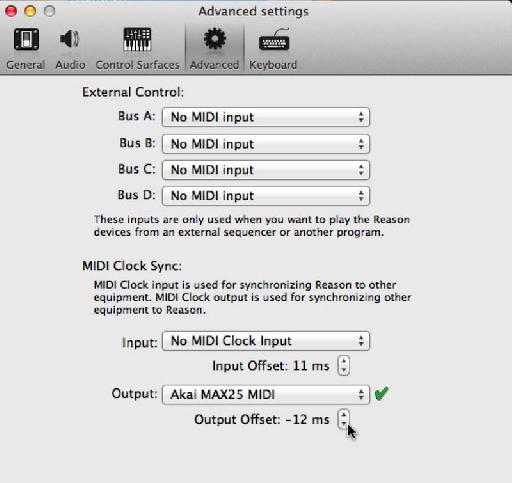 A continuación, cierre el panel de Preferencias, y luego ir al menú Opciones. Bajo el sub-menú Sincronizar, seleccione Enviar MIDI Clock.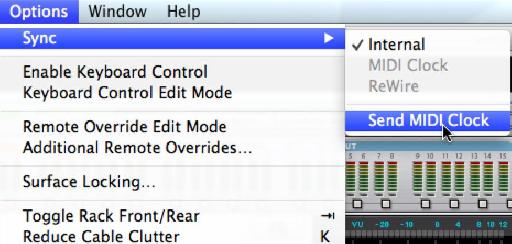 Ahora, si su pista de audio está habilitada monitor, usted debe ver y escuchar la actividad que viene de su Volca. Si el tiempo es realmente fuera así, use el Comando - Comando de flecha izquierda para comenzar su canción desde el principio.
Además, puede utilizar el offset en Razones página Advanced MIDI de la salida de marcar en la sincronización entre el Volca y la Razón.
Comentarios finales
La familia Volca es una línea increíble y reproduce fielmente las peculiaridades y los sonidos de muchos sintetizadores y batería de la vendimia. Debido a que son tan cerca de ser como el verdadero negocio, actúan como el verdadero negocio. El tiempo puede estar fuera, un poco. Por lo tanto, esté preparado para esto y modificar cuando sea necesario. Recuerde, usted siempre puede detener su Volca mientras su DAW sigue jugando y reinicie en un ritmo más amigable. Pero, si eres paciente, puede marcar en su Volca con las funciones de las compensaciones / retardo descritas para cada DAW y conseguir que el tiempo perfecto.
Web: