The Korg Volca family of synths replicate the quirkiness of the analog world while allowing you to interface with modern music software. Here's how to sync the Volcas to Ableton, Logic & Reason.
Come Volcas sono stati continuamente a ruba per l'ultimo parecchi mesi, Im supponendo che alcuni di voi li hanno. E, affascinante come tutti i dispositivi Volca sono, sono sicuro che probabilmente avete avuto alcune domande su come integrarli nel vostro flusso di lavoro, soprattutto quando si utilizza un computer. Anche se non c'è davvero molto da esso, in termini di collegamento audio dal dispositivo Volca nel computer, o ingresso interfacce audio, MIDI può essere un po 'frustrante per alcune persone. Questo è particolarmente vero quando sync MIDI è interessato, come si può prendere un po 'di selezione dentro
Dopo tutto, si desidera avere il tuo Volca Bass suonare insieme, nel tempo, con le tue canzoni, giusto? Si vuole che suonando insieme, allo stesso tempo, si vuole reagire a cambiamenti di tempo, si desidera che corrisponde il più vicino alla perfezione come si può? In questo tutorial, ho intenzione di passare attraverso alcuni DAW diverse con voi, e vi mostrerà come sincronizzare il vostro Volca con loro.

Impostazioni per Volca
Per essere onesti, io in realtà non ho bisogno di fare nulla internamente le impostazioni globali Volcas per ottenere la sincronizzazione MIDI. La maggior parte delle impostazioni che dovevano essere regolato tendono ad essere nella DAW, stessi. Se devono essere fatte, per quanto riguarda Volca Impostazioni globali, come si procede considerazioni, vorrei sapere. Se youve tweaked queste impostazioni, per ragioni di esercizio, Id consiglia vivamente di reimpostare le impostazioni globali Volca ai valori di fabbrica. Consultare il manuale per queste impostazioni.
Ableton Live
Ableton è piuttosto semplice, una volta a ottenere le cose. Ma, ci sono alcune cose da sapere su.
Per prima cosa, assicuratevi che avete ottenuto il MIDI Out del vostro controller MIDI collegato al MIDI In, sul Volca. Youd essere sorpresi di quanto spesso non prestando attenzione ai collegamenti di base può essere la causa principale del problema. Ive utilizza MIDI per quasi 30 anni, ed ancora questo pasticcio, a volte!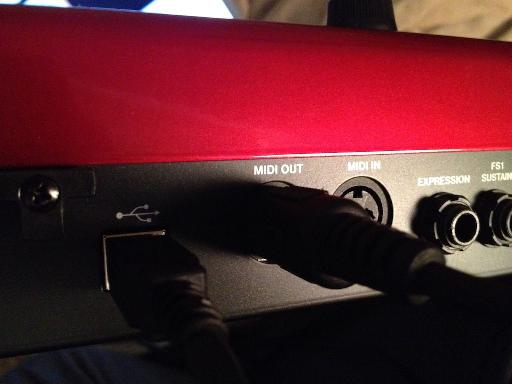 Una volta connesso, vai nella pagina MIDI / Sync delle preferenze Abletons. Scorrere verso il basso e individuare il controller MIDI, o interfaccia audio built-in MIDI. Youre andando a voler trovare l'uscita del dispositivo. Nel mio caso, Im usando l'Akai MAX25. Im andando a individuare la relativa uscita MIDI e accendere la sua Sync.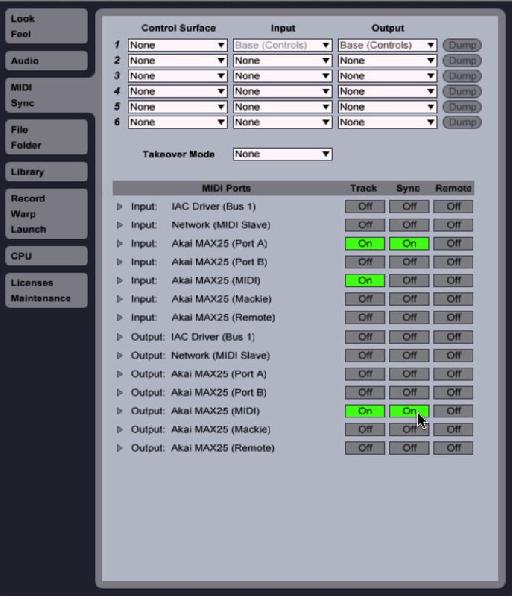 Ora, youll vuole fare una traccia audio, e, naturalmente, selezionare l'ingresso audio che è anche venuta dal Volca su entrambi l'interfaccia audio, o built-in ingresso sul vostro computer. Ricorda: MIDI non trasmette l'audio, solo le informazioni MIDI! Un audio

Ora, quando si preme il pulsante di riproduzione in Ableton (barra spaziatrice), il pomello Tempo, sul dispositivo Volca deve essere acceso come un solido, di colore rosso, e dovrebbe essere sincronizzato.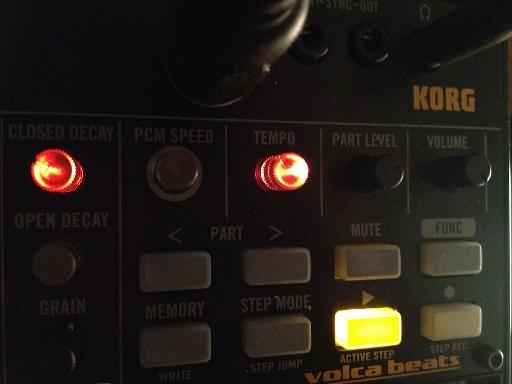 Tip: Remember that MIDI is old! Sometimes, the sync message timing can be off, causing the Volca to be slightly out of time. Use the Sync Delay, in the sub-menu of your MIDI Output, in Ableton Live preferences to modify any latency that may be occurring. You can also use the Track Delay setting for your audio track, later in post.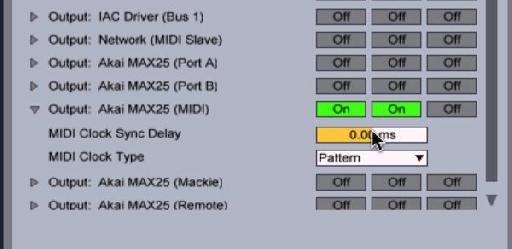 Logic Pro
Dopo aver impostato una traccia audio e verificare l'input proveniente dal vostro Volca, andare alle preferenze Logic (il comando rapido di default è Command - virgola). In Preferenze, andare alla pagina MIDI e selezionare la pagina secondaria Sync.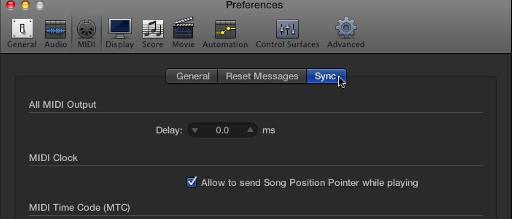 Nella pagina Sync, premere Impostazioni progetto Sync MIDI, in fondo alla pagina. Nelle impostazioni di progetto Sync MIDI, potrete controllare la destinazione di trasmissione MIDI Clock 1. E, nel menu a discesa, sotto Destinazione 1, selezionare il dispositivo di output MIDI, nel mio caso, Akai Max25.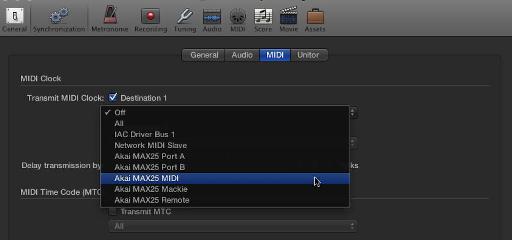 Tip: Remember that you may have multiple MIDI Outputs coming from your device. As you can see, my device has a secondary MIDI port. Usually, manufacturers are pretty good about labeling ports. But, if you find that you aren't getting any sync happening, you may want to try some different ports, in this menu.
Ora, una volta che lasciate le preferenze, e si preme la barra spaziatrice, il tuo Volca dovrebbe saltare alla vita propria, e fermarsi quando si preme la barra spaziatrice, di nuovo. Se lo fa iniziare a giocare, ma sembra fuori dal tempo, provate a partire dall'inizio della song. Questo reimposta l'orologio sia per Logic e il Volca. Se la sua ancora fuori, è sempre possibile regolare l'impostazione del ritardo di trasmissione in Impostazioni progetto Sync MIDI.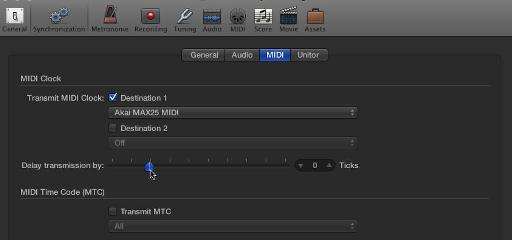 Motivo
Dopo aver impostato una traccia audio in Reason, e verificare che si disponga di segnale audio in arrivo, e MIDI Out dal dispositivo MIDI sta per il vostro ingresso MIDI, vai alla Ragione preferenze, e selezionare la pagina Advanced MIDI. Questo tutorial presuppone che già avete configurare il dispositivo MIDI, nella pagina MIDI. Se tu non hai fatto questo, fermare questo tutorial e farlo, in primo luogo. Nella pagina Advanced MIDI, sotto MIDI Clock Sync, fare clic su Output, menu a discesa e selezionare l'uscita MIDI appropriato per il dispositivo.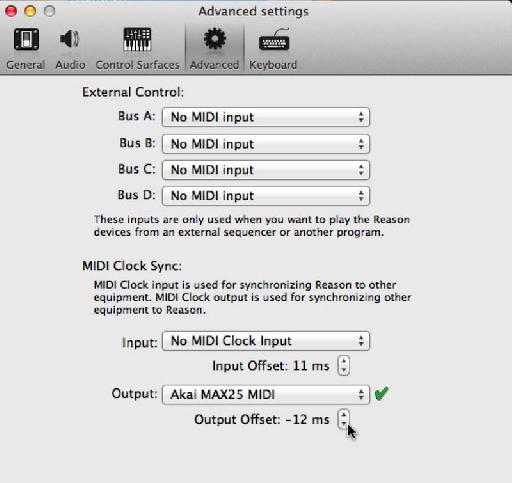 Quindi, chiudere il pannello delle preferenze, quindi andare al menu Opzioni. Sotto il sottomenu Sync, selezionare Invia MIDI Clock.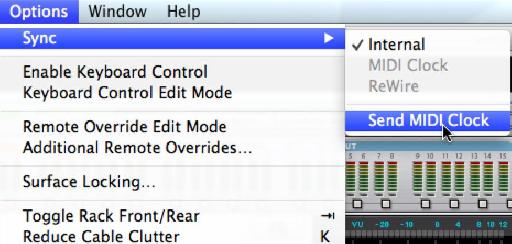 Ora, se la traccia audio è il monitor abilitato, si dovrebbe vedere e sentire l'attività proveniente dal vostro Volca. Se il tempo è davvero fuori, provare a utilizzare il comando comando - freccia sinistra per iniziare la vostra canzone dall'inizio.
Inoltre, è possibile utilizzare il Offset di uscita in Ragioni pagina Advanced MIDI per comporre la sincronizzazione tra il Volca e Ragione.
Commenti di chiusura
La famiglia Volca è una linea incredibile e riproduce fedelmente le peculiarità ei suoni di molti sintetizzatori e tamburi d'epoca. Perché sono così vicino ad essere come il vero affare, agiscono come il vero affare. La tempistica può essere spento, un po '. Quindi, essere preparati per questo e modificare se necessario. Ricorda che puoi sempre interrompere il Volca il tuo DAW è ancora in riproduzione e riavviare su un beat più amichevole. Ma, se sei paziente, è possibile comporre il vostro Volca con le funzioni offset / delay descritti per ogni DAW e ottenere che il tempismo perfetto.
Web: