In this tutorial, Toby Pitman shows how to create a cool and rather enormous guitar tone that can be achieved in Logic Pro X thanks to a few new additions to the Pedalboard plugin.
I'm not sure if this went quite unnoticed but Pedalboard got a nice boost in the upgrade to Logic Pro X with the inclusion of seven new effects. These include a Graphic EQ, two distortion pedals called Grit and Tube Burner, Flange Factory, TieDye Delay and two pitch based pedals called Dr Octave and Wham.

Probably the most welcome of these are the pitch based pedals as they fill a gap in the FX arsenal of Pedalboard that it lacked before.

Using some clever routing in Pedalboard it's possible to get up to four octaves at once using these two new pitch effects. This is a sound you might associate with Jack White from the White Stripes days. He used the Electro Harmonix POG (Polyphonic Octave Generator) to get these huge guitar sounds. Although discontinued, it's now been replaced with the POG2 which is a truly awesome pedal and worth investing in! Here's a picture of mine.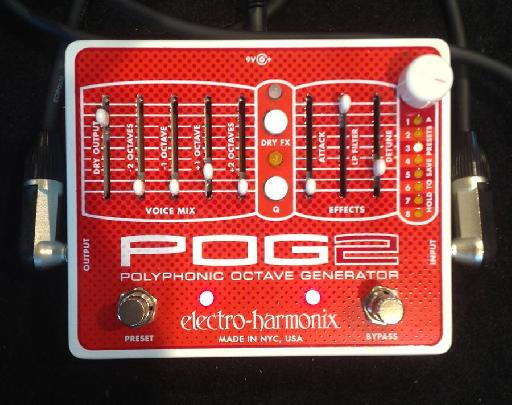 Dr Octave
The first one of the new pitch effects is Dr Octave and is clearly based on the Boss OC-2 pedal which gives you an extra two octaves below the original note. There are blend controls for both octaves and the direct signal gives you a nice level of control for all three octaves (original, oct-1 and oct-2).
It's important to note this is a monophonic effect meaning it can only be used one note at a time. There's also a Drive setting which adds dirt to the octave effects (this is a feature of the Boss OC-3 pedal).

I've opened Pedalboard and dragged in a Dr Octave. Make sure to place Pedalboard before the amp modeling.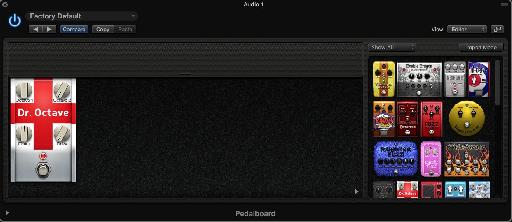 And here is a riff that adds only the Oct-1 effect balanced with the original signal.
Adding the second octave we get an even bigger sound.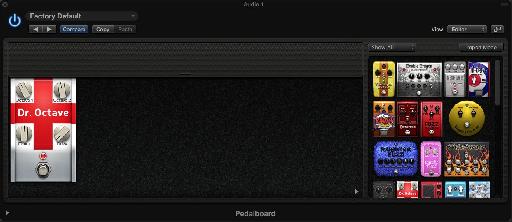 Adding The Fourth Octave With Wham
Now we're going to add '˜Wham' which is based on the hugely popular Digitech Whammy pedal. Wham allows you to pitch shift the signal up to + or - 12 semitones either side of the original pitch. It can create basic harmonies, octaves and some very nice detuned chorus effects. You can also assign it to a controller to create whammy effects like dive bombs in real time.

The trick is to place an instance of both Dr Octave and Whammy inside a Splitter module in Pedalboard. This will give you two distinct audio paths to play with. On path '˜A' I have Dr Octave, and on path '˜B' I have Wham (just drag the '˜Pitch' button above the pedal onto the top path in the routing panel). This allows you to feed both pedals with a clean signal path and avoid the last pedal getting confused with multiple notes.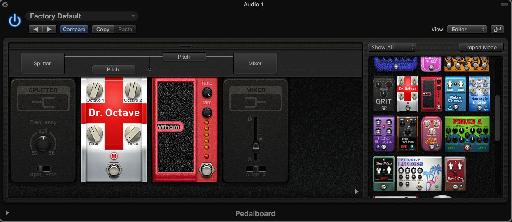 Make sure the Wham pedal is set to +12 semitones and the Mix is 100%. You can use the Mixer module to blend the higher octave into the sound. We now have four octaves. Here's the riff with this setup.

Cool! There's a whole heap of cool sounds you can get using this Pedalboard routing scenario and with these new pitch effects it just got bigger!