When Jay Asher had the chance to review Solid State Symphony by Indiginus, he grabbed it with both hands! Find out why this library pushes all of Jay's buttons in our in-depth review.
So after stating in a previous article that 'I don't generally do product reviews', here is another product review from me! This particular library is so good and such a bargain, I simply had to.
Many years ago, I started combining orchestral instruments with synths and samples. I realized that adding something like a Memorymoog or other analog synth with multiple oscillators and filters with, for example, a 'cello-ish' sound to actual cellos and/or cello samples made the sound more lush, warmer, unique, and to my ears, more aesthetically pleasing. And I still think so to this day.
Over the years, hardware synths got replaced for me, and many others, by software emulations. I have used many of them to good effect and was reasonably satisfied, but the best sounding ones were expensive and frequently very CPU intensive. Well now, I have discovered a Kontakt 4/5 based library for only $40.00 that sounds absolutely great, is easy to use, and does not tax your computer. It is called Solid State Symphony, and it has been created by the good folks at Indiginus.
Solid State Symphony is a virtual orchestra created using samples of analog synth waveforms and also includes Solid State Strings, as a separate instrument. They were recorded beautifully and the interface is intuitive and easy to use. See Pics 1 and 2.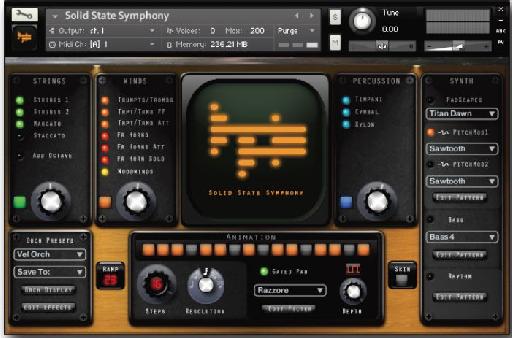 Pic. 1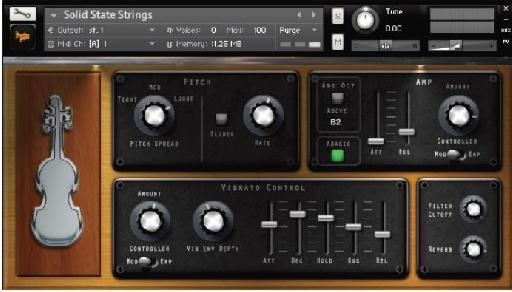 Pic. 2
By default, Solid State Symphony opens with a preset called Vel(ocity) Orch(estra) which features three sections of the orchestra (strings, winds, and percussion. (They include brass in the 'winds' group) but what you hear is dependent on how hard you play and therefore what velocities are triggered or prgrammed and in what note range you are playing or programming. Play very lightly around middle C (C4) for instance and all you hear are strings. Play harder and now there is brass. Play lightly higher and you get strings and woodwinds and maybe a mallet sound. See Pic. 3.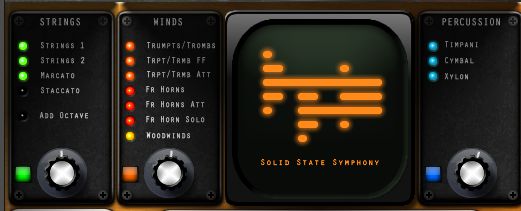 Pic. 3
However, all you have to do to turn off a section or instrument group is to click on it. In Pic. 4, you can see that I have turned off everything but the brass.

Pic. 4
A really fun feature is to turn on the 'Orch Display' button and when you play, you see animation of the sections and instruments of the orchestra that are engaged. In Pic. 5, I have done so with the Full Orch preset.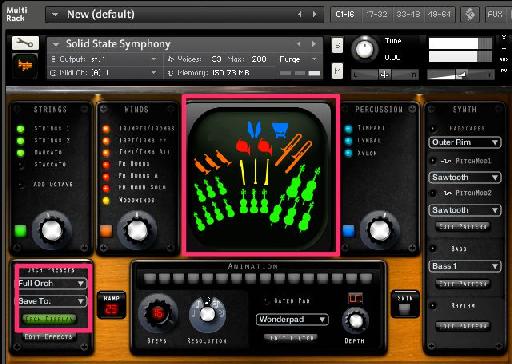 Pic. 5
There are a goodly number of presets with differing default instrument combos and velocity responses, etc. and you can create your own customized ones as well. The Impressionist one in particular caught my attention as it is really cool sounding and I suspect it will see a fair amount of use here. See Pic. 6.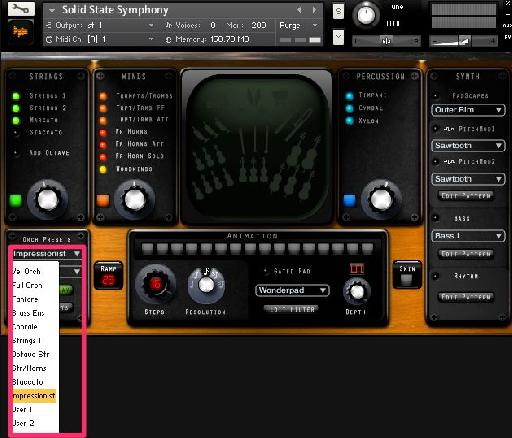 Pic. 6
Solid State Symphony gives you a lot of control over the individual 'elements' as well. Simply choosing one with the mouse opens up a panel where you can edit the transposition, key range, velocities and volume, and reverb and delay fx sends for your own presets. See Pic. 7.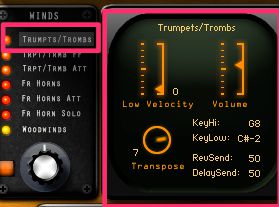 Pic. 7
But wait, there is more! There is also a Ramp control to add a buffer that smoothens transitions from zero to the low velocity point. AND, best of all, for the Synth section sounds, there is a step sequencer, called the Animation Panel's Gated Pad with fully editable presets, comprised of PadScapes, waveforms, filters, Pitch Mod settings, and bass elements, as you can see in Pic. 8.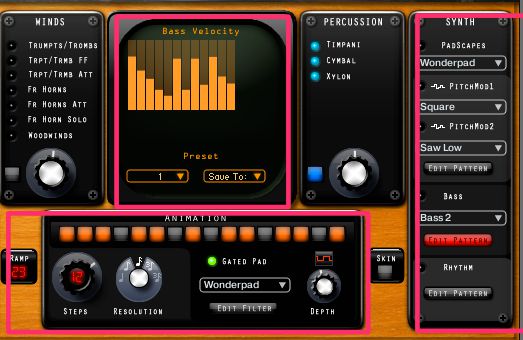 Pic. 8
All this for $40 US? How about something they do not mention in the manual, which is the fact that by pressing the Skin button, you can toggle between 6 of them? See Pic. 9.

Pic. 9
Incredible, right? But I guess they were worried that they still were not giving buyers enough value, because they added a second instrument called Solid State Strings that uses eight 'slightly different' voices to create what they describe as a string ensemble sound. It sounds analog but is not the kind of cheesy sound of string ensembles like the old Arp String Ensemble or Crumar Orchestrator. (If you like that sound, there are libraries that emulate them.)
Solid State Strings allows you to add octaves easily, control the vibrato and Pitch Spread, slides (portamento), even a basic ADSR and an 'Adagio' button to soften the attack of the notes. You can see all this back in Pic. 2.
None of this would mean a thing, not the terrific amount of control, not the great price, etc. if it did not sound good and indeed it does not. It sounds great! I have recommended it to 4 people. All four listened and instantly bought it. It is in my humble opinion truly a no-brainer.
Is it missing ANYTHING? Yes, perhaps one thing. I would love to be able to assign the different sections to MDI channels for discrete parts and automation. However because Kontakt 4/5 is so CPU efficient, it is no big deal to load several instances in a multi, turn off the sections you do not want, and assign them to the desired MIDI channels, as I have. Or you can simply open up separate instances off Kontakt and do the same thing. As I will frequently be using instances of Solid State Symphony and Solid State Strings to double sample libraries, I expect to instantiate a fair number of them, which actually will lessen the CPU demands as they replace some of the analog synth emulations I have been using until now.
One caveat: it does not come with the free Kontakt player so you do need to own a full version of Kontakt 4 or 5, but Kontakt has become rather ubiquitous these days, so many potential buyers already own it, and there are so many good Kontakt based libraries, if you do not yet own it, it would be money well spent.
You can find walkthroughs of Solid State Symphony and Solid State Strings on YouTube here.
Have fun!
More info: http://www.indiginus.com/solidstatehome.html