When it comes to filtering your sound in your favourite synth, you may have come across two mode: parallel and series. Mo Volans seeks to demystify these, and importantly show how they differ.
Some synths that have multiple filters have the ability to run these filter modules in parallel or series. If you have ever dabbled in electronics then this concept may be pretty obvious but if not then you may be wondering what it means to you.
This short tutorial will show you how to change the modes and what the difference between them really is...
1 - Series And Parallel Mode Selectors
Obviously your synth will only be capable of series or parallel filtering if it has more than one filter! So, the rule is if you only have one filter, stop looking for the option to change the mode ;)
(Pic 1) This basic electronic diagram shows a series circuit at the top and a parallel below.
For synths with multiple filters, the controls (if they are present) to switch between parallel and series modes will vary in appearance and not all synth will have them. You can see that Logic's ES2 has an animated switcher, while NI's Massive has a very simple slider.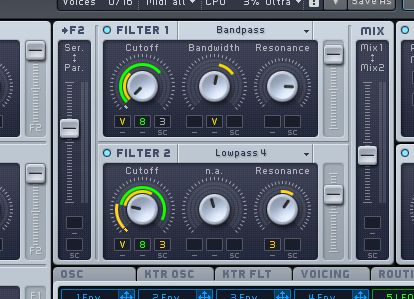 (Pic 1b) Massive has a series / parallel slider on the left of the filter and a mix on the right.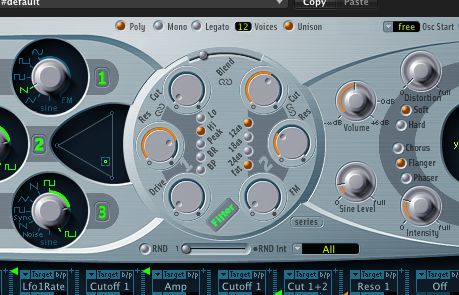 (Pic 1c) Logic's ES2 has a very different way of changing modes and animates as it does so!
So what is the difference between these modes? Well if you look at the electronics diagram below you should see what's going on in the two different configurations. In series, the filters run one after the other. This means the second filter will effect the whole signal regardless of what the first is doing.
In parallel mode the filters will run, you guessed it, in parallel. Meaning that the effects of the two filters are mixed and no matter what each them is doing you will hear the effects of both. Let's see some examples of each mode.
2 - Series Mode Filtering
So let's say you want to run a low pass filter on your patch but you also want to use a high pass to remove low end after the low pass has done its thing. This is the perfect scenario for using your filters in series.
In series the low pass filter that acts on the signal first will have full effect, as will the high pass immediately after it. This means that both filters are absolute, the low pass removing high end and the second high pass removing low frequencies regardless of how the first is set.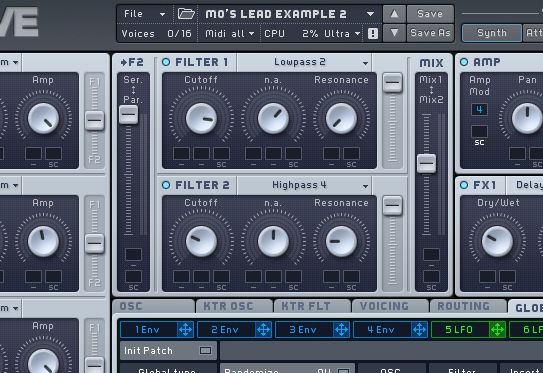 (Pic 2) Massive using its filters in series mode.
Obviously this is ideal in this situation, but when mixing other kinds of filters or when other effects are required, you might need to think about a different approach.
3 - Parallel Mode Filtering
In parallel mode the filters outputs will be mixed, usually using a mix function. This means we can use two different filter types and produce a patch that benefits from the sound of each without their effect being absolute.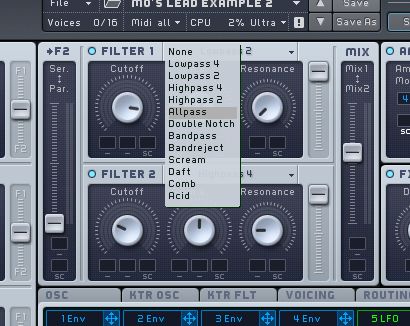 (Pic 3) Massive using its filters in parallel mode.
This can be be great for mixing band pass and low pass filters, creating interesting harmonics and cross modulation. Try it with high resonance settings and see what interesting results you can produce.