Mobile devices, for most of us, haven't replaced our desktop/laptop DAWs, but they can still be useful tools to help us control them. Andy Bowen highlights 10 of his favorite DAW controller apps.
Cubase iC Pro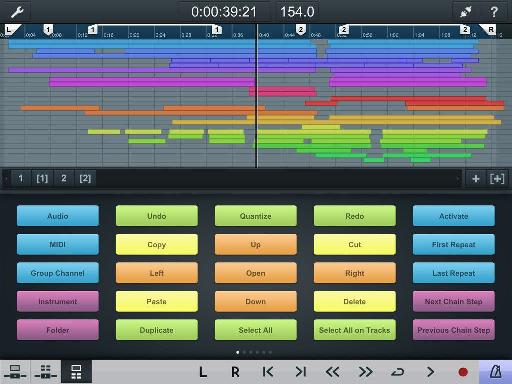 Cubase iC Pro
Steinberg's Cubase iC Pro literally puts the full power of Cubase in the palm of your hand. This app packs a killer pinch-to-zoom project overview, Transport section, and lightweight mixing console'"not to mention multiple pages worth of customizable key commands and macros, which give iC Pro a huge leg-up over 'universal' controllers. On top of all that, the app is built using the same design language as its desktop counterpart, so learning the ins and outs of the interface is a breeze. Oh, and if your band uses Control Room for rehearsals, you'll also be happy to know iC Pro serves as a personal mixer for up to four different mixes.

Top Features

Supports Cubase key commands and macros

Learning curve is incredibly minimal

Serves as a personal mixer for up to four independent Control Room mixes (think Aviom, but within Cubase)
Logic Remote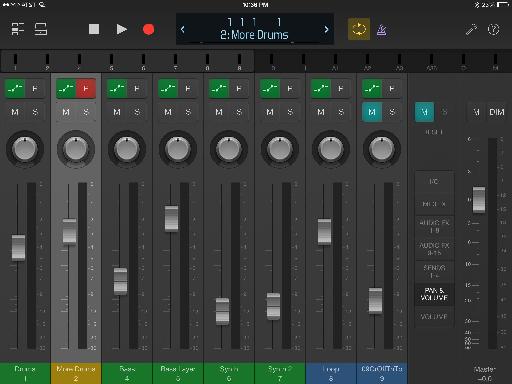 Logic Remote.
Logic Remote is a powerful companion tool for Apple's workstation of choice: Logic Pro X. Between the app's various views (Plugin view, mixer view, etc.), you'll be able to control most every aspect of the desktop client'"even play Smart Control instruments and adjust third-party plugin parameters. The controls are intuitive and, in true Apple fashion, reflect the same design as Logic Pro X. If you're a Logic user, this is the controller you've been looking for. And guess what? It's free.
Top Features:
Works via Bluetooth for low latency

Incredible interface and design

Can adjust third-party plugin parameters
Conductr
When it comes to performing with Ableton Live, Conductr takes the cake. Its interface is simple, ergonomic, and responds incredibly well to multitouch. Speaking of the interface, it's based on 2x2 grid that simultaneously runs up to four different control modules (Clips mode, Gesture mode, Master mode, Mixer mode, or a customizable user module). That not only makes the layout infinitely customizable, it also make performing clutch improvisations much, much easier. From code to design, Conductr is a rock-solid performance controller. And best of all, it's free!
Top Features:
Ableton Live layout presets

Clean, minimalistic interface

USB tethering for a rock-solid connection
Liine Lemur
Liine Lemur works well as a DAW remote, but at its core, the app is a professional-grade MIDI and OSC controller. It can do almost anything. Really. Between its variety of pre-fab 'objects,' you can build the ultimate custom interface. And if those aren't enough to satisfy your workflow, you can script your own tools using its CANVAS object. It isn't as simple as competitors, but no other app offers such limitless creativity. Plus, it looks great too.
Price: $25
Best Features:

Incredible tool for step sequencing

Script your own custom widgets

Hardware MIDI support

TouchAble 3
In the past, TouchAble was a quirky piece of software, hindered by finicky network issues. Not anymore. TouchAble 3 is easy to set up, has a great design, and features the most integrated Ableton Live experience you can get. In fact, it's more than just a controller; it's a full-fledged creative tool'"especially when it comes to MIDI. However, if you want complete regulation over Live devices (Operator, Analog, Chorus, Velocity'¦), you'll need to whip out an additional $22 for the Live Device Template Pack.
Top Features:
High-powered MIDI functionality

Is equal parts controller and creative tool

Works via a USB connection
LK-Live Controller
Remember LIVKONTROL? It's been revamped as LK-Live Controller, a generic MIDI controller designed with Ableton Live in mind. Between its four interface modules (MATRIX, MIDI PADS, MIDI CONTROLLER, and X/Y PAD), you'll be able to launch clips, trigger external hardware, manually play with modulation, and more. Wanna use the app to direct your Live set and control a beat machine via USB? No prob. Both its wired and wireless connections can run simultaneously, adding a whole new set of possible use cases to its repertoire.
Top Features:
Top-notch design

Can control hardware gear via wired MIDI

Easy XYZ parameter control for live performance
TouchOSC
If you're looking for a generic, uber-customizable MIDI controller that'll work with almost anything, TouchOSC is a great option'"think Liine Lemur, but cheaper. Upon install, you'll get five non-editable layouts that, on their own, do nothing. That leaves you for all the MIDI assigning! And if you want to build your own interface, Hexler has its own TouchOSC Editor application that's pretty simple to use.
Top Features:
Supports wireless and wired MIDI

Downloadable presets for Ableton and Logic

Open Sound Control protocol
DAW Remote
DAW Remote is a one-view controller for your iPhone that features all the essential transport controls: scrub wheel, play, add markers, punch in, punch out, etc. If all you're looking for is a way to wirelessly 'press record' while you're in the vocal booth, this app is for you. It isn't the cheapest option out there (especially given its functionality), but it is one of the more simple to set up'"especially if you're working on a Mac.
Top Features:
Simple, bare-bones transport interface

Universal support
DAW Control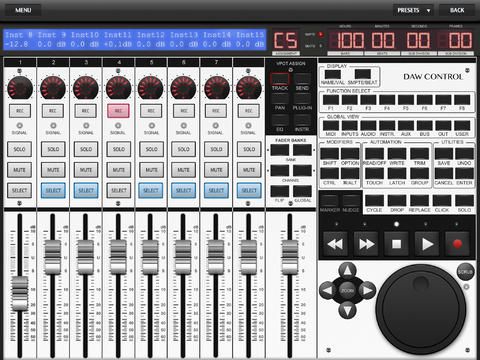 Daw Control
DAW Control is a universal controller app with optimization for Logic Pro and Ableton Live. What's unique about this app is that it only has two views, both of which look exactly like a console. One is a transport view with a scrub wheel, and the other is what I'd call a 'mixer view.' DAW Control's hardware-based design makes it easy for those who aren't tech savvy to incorporate an iPad in their studio.

Top Features:

Built-in support for Ableton Live, Logic Pro, Cubase / Nuendo, and FL Studio

Hardware-based design

Supports Mackie Control protocol
lpTouch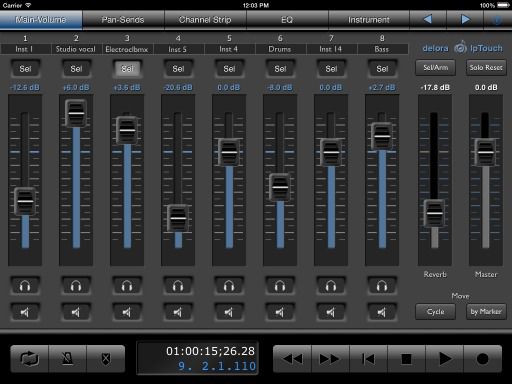 lpTouch
LpTouch is a well-designed, simplistic controller that's optimized for Logic Pro. But thanks to its OSC support, it'll work with most any DAW out there. Yes, the app performs just fine. Here's the thing, though: If you're a Logic Pro user, you're better off using Apple's Logic Remote. Why? It's free.
Top Features:
Universal support

Lightweight interface design

OSC-powered