Mobile devices, for most of us, haven't replaced our desktop/laptop DAWs, but they can still be useful tools to help us control them. Andy Bowen highlights 10 of his favorite DAW controller apps.
Cubase iC Pro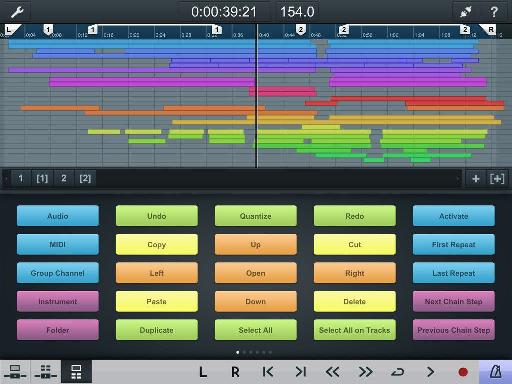 Cubase iC Pro
Steinberg Cubase iC Pro letteralmente mette tutta la potenza di Cubase nel palmo della vostra mano. Questa applicazione racchiude una panoramica assassino pinch-to-zoom progetto, sezione trasporti, e leggero miscelazione consolenot parlare più di pagine di comandi da tastiera personalizzabili e macro, che danno iC Pro un enorme gamba-up su controller universali. In cima a tutto questo, l'applicazione è costruita utilizzando lo stesso linguaggio di design come la sua controparte desktop, in modo da imparare i dettagli dell'interfaccia è un gioco da ragazzi. Oh, e se la tua band utilizza Sala di controllo per le prove, youll anche essere felice di sapere iC Pro funge da mixer personale per un massimo di quattro diverse miscele.

Caratteristiche principali

Supporta comandi da tastiera di Cubase e macro

Curva di apprendimento è incredibilmente minimal

Serve come un mixer personale per un massimo di quattro miscele di controllo indipendente in camera (pensare Aviom, ma all'interno di Cubase)
Remote Logic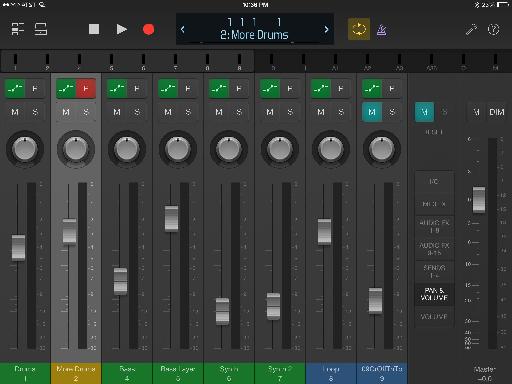 Logica Remote.
Remote Logic è un potente strumento di compagno per le mele workstation di scelta: Logic Pro X. Tra le applicazioni varie viste (vista Plugin, vista mixer, ecc), sarete in grado di controllare la maggior parte ogni aspetto del desktop clienteven suonare strumenti Smart Control e regolare i parametri del plugin di terze parti. I comandi sono intuitivi e, in puro stile Apple, riflettono lo stesso disegno di Logic Pro X. Se sei un utente logica, questo è il controller che state cercando. E indovina cosa? È gratis.
Caratteristiche principali:
Funziona tramite Bluetooth a bassa latenza

Interfaccia incredibile e design

Può regolare i parametri del plugin di terze parti
Conductr
Quando si tratta di esibirsi con Ableton Live, Conductr prende la torta. La sua interfaccia è semplice, ergonomico, e risponde incredibilmente bene al multitouch. Parlando dell'interfaccia, la sua base di griglia di 2x2 che corre contemporaneamente fino a quattro diversi moduli di controllo (modalità Clips, modalità Gesto, modalità master, la modalità Mixer, o un modulo utente personalizzabile). Che non solo rende la disposizione infinitamente personalizzabile, ne fanno anche di eseguire improvvisazioni frizione molto, molto più facile. Dal codice al design, Conductr è un controller prestazione solida. E meglio di tutti, è gratis!
Caratteristiche principali:
Ableton preset di layout in diretta

Pulito, interfaccia minimalista
Tethering USB per una connessione solida
Liine Lemur
Liine Lemur funziona bene come un telecomando DAW, ma al suo interno, l'applicazione è un controller MIDI e OSC di livello professionale. Si può fare quasi tutto. Davvero. Tra la sua varietà di oggetti prefabbricati, si può costruire l'interfaccia personalizzata finale. E se quelli arent abbastanza per soddisfare il flusso di lavoro, è possibile creare script i propri strumenti utilizzando il suo oggetto CANVAS. Si mangia semplice come concorrenti, ma nessun altra applicazione offre tale creatività senza limiti. Inoltre, sembra troppo grande.
Prezzo:
Le migliori caratteristiche:

Strumento incredibile per passo sequenziamento

Script tuoi widget personalizzati

Supporto MIDI Hardware

Touchable 3
In passato, era un pezzo tangibile eccentrico di software, ostacolato da problemi di rete schizzinoso. Non più. Touchable 3 è facile da installare, ha un grande disegno, e dispone la più integrata esperienza Ableton Live è possibile ottenere. Infatti, la sua più di un controllore; è un toolespecially creativo vero e proprio quando si tratta di MIDI. Tuttavia, se si desidera che il regolamento completo su dispositivi dal vivo (Operatore, Analog, Chorus, Velocity), youll necessità di tirar fuori un supplemento di $ 22 per il live dispositivo Template Pack.
Caratteristiche principali:
Funzionalità MIDI ad alta potenza

È uguale controllore parti e strumento creativo

Funziona tramite una connessione USB
LK-Live controller
Ricorda LIVKONTROL? Il suo stato rinnovato come Controller LK-Live, un controller MIDI generica progettata con Ableton Live in mente. Tra i suoi quattro moduli di interfaccia (MATRIX, MIDI PADS, MIDI CONTROLLER, e X / Y PAD), sarete in grado di lanciare clip, attivare hardware esterno, manualmente giocare con la modulazione, e altro ancora. Vuoi utilizzare l'applicazione per dirigere il set Live e controllare una macchina battito via USB? Nessun problema. Entrambe le connessioni cablate e wireless possono funzionare simultaneamente, aggiungendo una nuova serie di casi di possibile uso al suo repertorio.
Caratteristiche principali:
Design Top-notch

Può controllare marcia hardware via MIDI cablata

Facile controllo parametri XYZ per performance dal vivo
Prezzo:
Recensione:
Download:
TouchOSC
Se siete alla ricerca di un super-personalizzabile controller MIDI generico thatll lavorare con quasi tutto, TouchOSC è un grande optionthink Liine Lemur, ma più economico. Dopo l'installazione, youll ottenere cinque layout non modificabili, che, da soli, non fanno nulla. Che ti lascia per tutto l'assegnazione MIDI! E se si vuole costruire la propria interfaccia, Hexler ha la propria applicazione TouchOSC Editor questo è abbastanza semplice da usare.
Caratteristiche principali:
Supporta MIDI wireless e cablato

Preset scaricabili per Ableton e Logic

Protocollo Open Sound Control
DAW Remote
DAW Remote è un controller di vista per il vostro iPhone che dispone di tutti i comandi essenziali di trasporto: ruota scrub, giocare, aggiungere marcatori, Punch In, il punch out, ecc Se siete alla ricerca di tutto è un modo per premere in modalità wireless registrare mentre sei in lo stand vocale, questa applicazione è per voi. E non è l'opzione più economica là fuori (soprattutto data la sua funzionalità ), ma è uno dei più semplici da impostare upespecially se si sta lavorando su un Mac.
Caratteristiche principali:
Semplice, ridotta all'osso interfaccia di trasporto

Supporto universale
DAW Controllo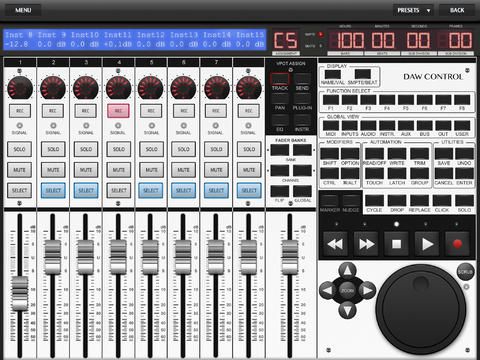 Daw controllo
DAW Control è un app controller universale con ottimizzazione per Logic Pro e Ableton Live. Che cosa è unico circa questa applicazione è che ha solo due punti di vista, entrambi sembrano esattamente come una console. Uno è una vista di trasporto con una ruota scrub, e l'altro è quello Id chiamare una vista mixer. DAW Controls design basato sull'hardware rende facile per coloro che arent esperto di tecnologia per incorporare un iPad nel loro studio.

Caratteristiche principali:

Il supporto incorporato per Ableton Live, Logic Pro, Cubase / Nuendo, e FL Studio

Progettazione basata su hardware

Supporta il protocollo Mackie Control
lpTouch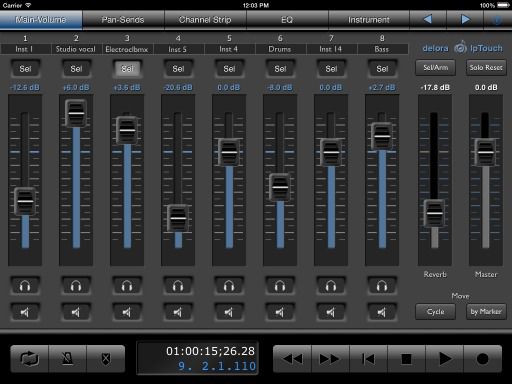 lpTouch
LpTouch è un ben progettato, questo è regolatore semplicistiche ottimizzati per Logic Pro. Ma grazie al suo supporto OSC, itll funzionano con la maggior parte qualsiasi DAW là fuori. Sì, l'applicazione esegue bene. Heres la cosa, però: se sei un utente Pro Logic, youre meglio usare Remote Apples Logic. Perché? È gratis.
Caratteristiche principali:
Supporto universale

Interface design leggero

OSC-powered