Finished your mix, mastered your song, or just want to render some effects to a separate track? You'll need to understand how to bounce or export to audio. Mo Volans shares 5 tips for any DAW user.
Regardless of which DAW you are using you will end up bouncing and exporting audio at some point. It's a relatively pain-free process but there are some things you need to think about to ensure you are getting the best results. Here are a few tips to keep you on the right track...

Tip 1 - Capture The Effects
When you are bouncing individual parts that are heavily processed with spatial effects such as reverb or delay you will find that effects tails are generated. These '˜tails' are the decaying portion of the effect and it is essential that this is captured fully if the effect is going to be intact when re-imported.
The trick is to capture a greater duration of your project than you think you need. Let any reverb and delay ring right out, turn your monitors up while the tails play if you have to. Once you are totally comfortable the effects have played out you can set your locators with plenty of room.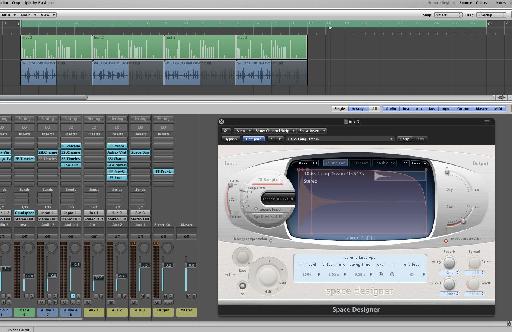 Capturing a very long reverb tail by extending the locators.
Some DAWs like Logic Pro even have a feature in the export section that will allow you to tick one box to capture the effects tail! Very useful indeed.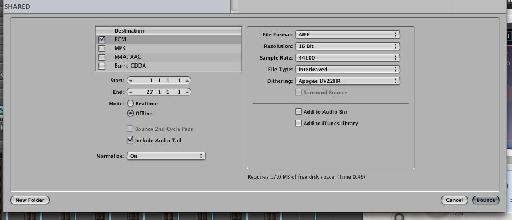 Logic Pro is able to capture effects tails automatically.
There is nothing worse than trying to work with files that have a chunk of the effects cut off. Some pretty drastic corrective editing is needed to fix files like this. It's also a good idea to bounce wet and dry files when working with heavily processed stems, this means you can change them at a later date if needed.
Tip 2 - Leave Some Space
On the subject of marker placement when bouncing any file to use in another project or studio try to ensure you leave buffers (or gaps) at both the start and end of the files. Some DAWs can introduce small faults or gaps on occasion and it's best to have this happen a second or two before your audio starts as opposed to on the first beat.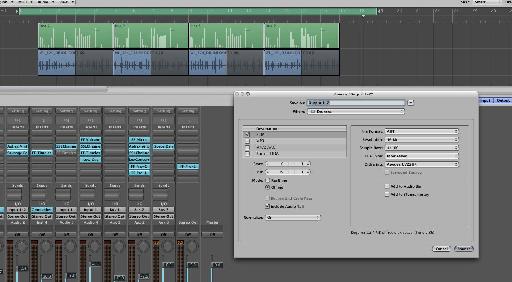 Leaving a buffer at the start and end of exports is advisable.
This method also gives other engineers a little room to maneuver in and allows space to perform any trims or edits that may be needed. If you need to make all your files the same length add an extra bar of space to every export you perform.
Tip 3 - When To Use Normalization
A few DAWs now offer Normalization as part of their export options. This can be really useful if you need to boost the overall level of a file but in some situations it can be detrimental.

If your DAW has a normalize option in export use it carefully.
For instance, if you are exporting a whole mix or group of instruments and you want to import them to another DAW and you wish to retain your relative mix, then adding normalization could cause problems.

Logic allows a few options for Normalization.
Boosting every file to 0dB will mean that you will have to perform your mix all over again, as the relative levels will have been lost. Normalization during mastering could also be an issue if you have set an exact output amount.
Normalization is a cool feature but shouldn't be used on every bounce. Just ask yourself, do I really need to boost the level of my audio here?
Tip 4 - To Dither Or Not To Dither
Dithering allows us to move from one bit depth to another. So let's say you are working at 24 bits and you need to create a 16-bit master for MP3 conversion and CD duplication. You would then apply dithering during the final bounce.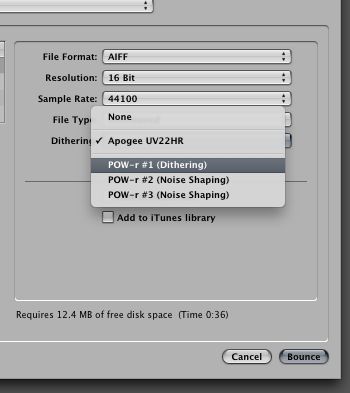 Only dither once during the production process.
It's important to remember to only apply dithering once in the production process. This is usually right at the end during mastering but you could do it at the start. After recording in 24-bit you could dither your files down to 16-bit and continue to work at this bit depth.
Most DAWs now have a dither option on export.
However you decide to do it, you really need to only apply dithering once. Any more than this could be detrimental to the overall quality of your project.
Tip 5 - Batch Bouncing
There's no doubt that one of the most boring production tasks is bouncing every stem from your project. Luckily some DAWs allow you to bounce every track in your project with one command.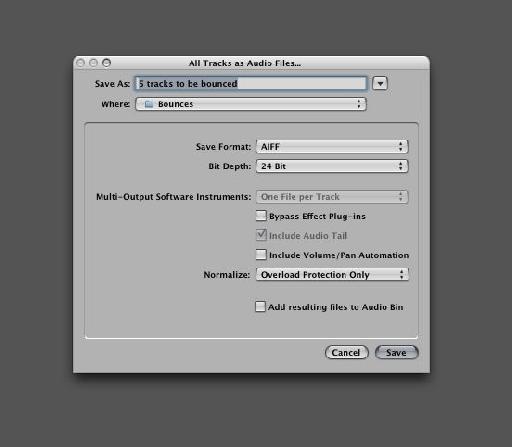 Logic's batch export options are pretty extensive.
Reason 6 is especially well developed in this area and even allows you to bounce from specific outputs. This makes creating dry and wet versions of your audio a breeze. If your DAW has this feature make sure you are using it as it could save you a lot of time!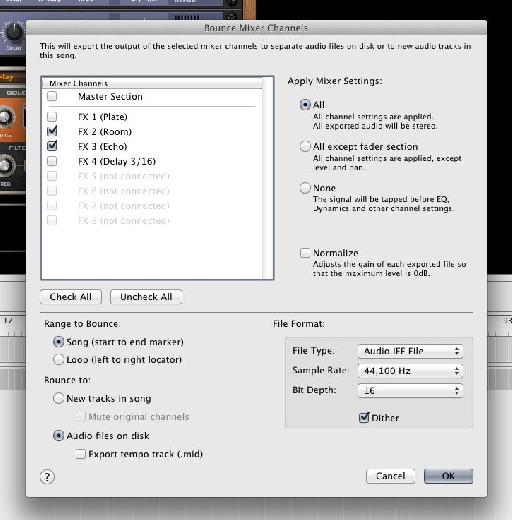 Reason 6 has one of the most comprehensive multiple export option sets out there.