Auto Modulation in Max for Ableton Live One of the wonderful things about max for live is the fact that you can modulate any parameter in Ableton Live that is automatable. Â For example, using a si
Una delle cose meravigliose di max per vivere è il fatto che si può modulare ogni parametro in Ableton Live che è automatizzabile.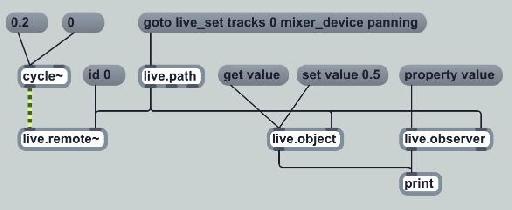 Figura 1: Un cerotto per Max Live che modula il controllo pan su una traccia del mixer
Ho creato una patch di Max per Live che modula il controllo del filtro di taglio del sintetizzatore operatore in Ableton Live.
Dopo essere stato molto intimidita dalla enorme quantità di controlli che Max per Live ha da offrire, ho preso la sfida molto piccolo di ricreare una delle patch esempio dalla documentazione che modula il controllo pan di Ableton Live. Con mia grande sorpresa, ha funzionato senza intoppi!

Figura 2: un dispositivo basato sulla figura 1 che consente di automatizzare taglio del filtro posto
Il concetto di base di Max per Live è che c'è un insieme di oggetti di riferimento che rappresentano le cose in diretta, se queste cose sono la funzionalità , i controlli, o la comparsa di Ableton Live.
I tre pezzi che corrispondono a MVC a Max per Live sono i Live.object, il live.observer, e gli oggetti live.path. Inoltre, vi è un oggetto live.remote che effettua la modulazione attraverso segnali definito dal massimo per patch di vivere.
Nel mio primo vero max di patch per vivere, ho inviato un messaggio di "ottenere il nome" nell'oggetto live.object, e poi ha trasmesso i risultati alla finestra Stampa.

Figura 3: il grigio-out manopola del filtro è ora sotto massima per il controllo di Live!
Come tutti sappiamo, e come io sono molto affezionato a dire quando la ceretta filosofiche, le cose grandi sono fatte di piccole cose. Così a partire piccolo, ho scelto un controllo che ho voluto a modulare, e sperimentato navigando il live.path fino a raggiungere un controllo che era vicino alla posizione della manopola di taglio del filtro, per quanto riguarda la numerazione delle ID di automazione in vivo. Avevo circa 15 numeri fuori quindi ho appena aggiunto qualcuno in più per raggiungere la manopola del filtro, e quindi inviare un segnale tramite l'oggetto ciclo che scorre la manopola avanti e indietro attraverso tutti i 512 stati della manopola a una velocità di circa due decimi di un hertz secondo, o 0,2 credo.
Come una visione d'insieme, Max Live fornisce un ambito di sorta per sbirciare dentro e manipolare tutti gli ingranaggi piccoli e le leve che si potrebbe immaginare all'interno di un programma per computer come Ableton Live.
Naturalmente, conoscendo molto poco più che ho usato per circa programmazione, posso immaginare come si potrebbe programmazione disegnare pixel sullo schermo che rappresentano i campioni di audio digitale e le immagini di manopole potrebbe essere fatto per sembrano ruotare per fare il basso livello di DSP lavorare sotto il cofano.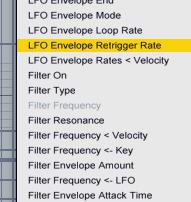 Figura 4: Targeting uno dei tanti parametri per automatizzare a vivere
Studiando attentamente il tutorial di Max MSP e fuori per gli ultimi anni ... ora posso cominciare ad avvolgere la testa intorno a ciò che tutti gli oggetti in Max dire, e cosa si può fare con loro. Ma solo dopo che nascondono dietro un po 'con i tutorial inclusi posso ora veramente vedere quante possibilità impressionante attendono di essere scoperti.
Un esempio di composizione che utilizza metodologie sofisticate che producono disegni interessante è serialismo. Introdotta da artisti del calibro di Pierre Boulez, serialismo si presta alla composizione di auto-similari componenti. Ho spesso immaginato una canzone teorica che è fatta interamente di onde quadre. Gli stessi toni sarebbero onde quadre, che a loro volta hanno la loro ampiezza accendere e spegnere come un impulso con onde quadre, che potrebbe essere modulata da onde quadre altri con modulazione di frequenza, e l'intera canzone è parte e si ferma, che sono controllati da uno grande onda quadra macroscopico utilizzando un volume o cambiare passo. E 'questo attraversamento di ordini di grandezza che mi affascina così tanto con il livello di dettaglio che Max per Live fornisce per il compositore.
Per realizzare questo obiettivo, io per prima cosa creare una canzone molto più semplice utilizzando onde sinusoidali, per passare poi ad un onda a dente di sega, che di recente ho letto nei tutorial di 4 di MSP tramite l'oggetto phaser, poi finalmente una canzone un'onda quadra. La canzone onda sinusoidale che mi propongo di creare inizierà con questa patch di Max per Live che può scorrere attraverso i parametri, forse si è controllato da una sinusoide, modulando i parametri ciclicamente per ogni intervallo, che generano toni composta di queste onde sinusoidali e di se stessi. Lo so, sembra tutto molto ... geniale,
Dai un'occhiata alle patch per te, e potete trovare il link qui ... Sentitevi liberi di giocare con la patch e aggiungere quello che vuoi!