When it comes to guitar know-how there aren't many people better positioned than Toby Pitman. In this quick tutorial he shows how to build a "freaky octave lead sound" in IK Multimedia's AmpliTube 3.
AmpliTube ha alcuni veri gioielli nel reparto di pedale. In questo piccolo trucco Im andando a unire i miei due favoriti per fare un aggressivo, freaky, synth-come tono di piombo.
Il componente principale di questo suono viene generato dal Octa-V pedale che si trova nella categoria Fuzz nella finestra Stomp di Amplitube. Questo era in origine parte della versione di Amplitube Jimi Hendrix, ma ora è compresa nel Amplitube 3. La sua base al Fuzz Octavia pedale sviluppato per Jimi Hendrix con la sua tecnologia Jim Morris.
Come pedali andare questo davvero speciale e può produrre una grande varietà di effetti da Suonerie tipo di modulatore di Pitch Raddoppio e distorsione. Se giochi nei pressi del dado si ottiene di più ampiezza / Ring Mod suoni.
[Audio id = "7879"]
Uso di strumenti diversi quarti, fiftths e ottave in grado di produrre alcuni suoni molto strano, che è buono!
Giocare più in alto il collo con il pickup al manico e il volume è uscita produce un'ottava sopra la nota.
[Audio id = "7880"]
Entrambi questi suoni sono stati giocati direttamente attraverso il Octa-V pedale stomp. La modellazione va, IK ha fatto un lavoro dannatamente buono con questo. Se siete alla ricerca di una versione del mondo reale provare il Roger Mayer Octavia o il Octafuzz Fulltone (sotto). Ho uno di questi e la sua impressionante!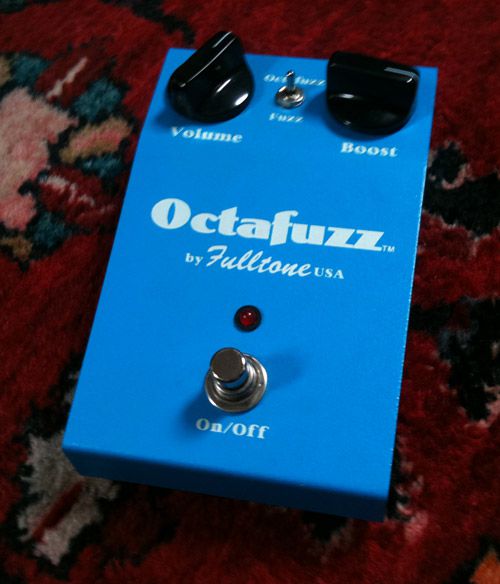 Il Octafuzz.
Il secondo pedale in questo suono è il Octav basa sulla Octaver potente Boss! Ciò può produrre due ottave aggiuntivi sotto l'originale.
Fase 1 - Configurazione di base
Ive heres come impostare questa funzione. In primo luogo Ive indica la modalità 1 per il percorso del segnale che è fondamentalmente stompbox in esecuzione in un Cab Amp e poi nella FX rack.

Il segnale del percorso.
L'Amp è il T American Vintage, che è un modello di Silverface Fender Twin. La sua più o meno l'impostazione predefinita, Ive appena tolto il riverbero.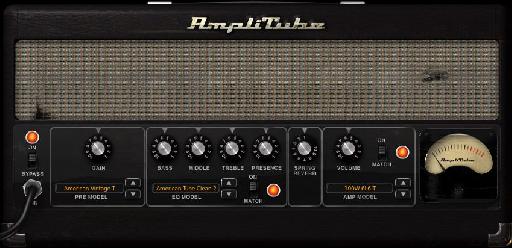 L'Amp.
La sezione di cabina è di default con l'aggiunta di qualche riverbero Sala Grande.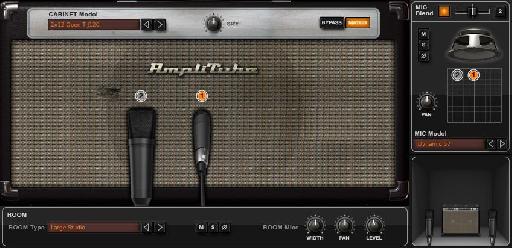 Il Consiglio dei Ministri.
Fase 2 - Stomp

Gli effetti nella finestra Stomp sono istituiti i seguenti: primo è un pedale compressore regolari per uniformare i livelli. Poi andiamo nel pedale Octav. Il segnale originale è al 100% e le altre due sono insieme da 12 oclock, dandomi tre ottave di awesomeness!
La sua, probabilmente un buon momento per farvi sapere che il pedale Octav è monofonico e trattare cant con qualcosa di diverso da una singola nota, che va bene come questo suono è il youll così terribile bisogno di una sola nota!
Questi vengono poi inseriti nel Octa-V con l'unità impostata su circa 4 oclock.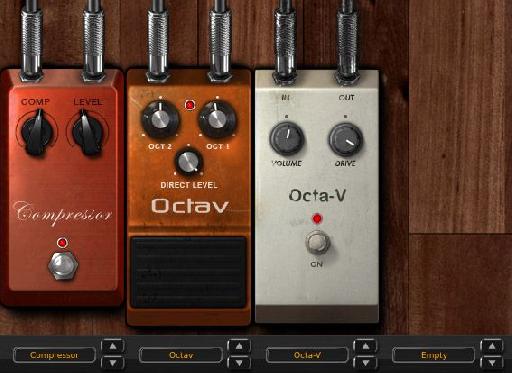 Stomps.
Fase 3 - Noise Gate

Ive ha aggiunto alcune Noise Gate come questo suono può ottenere un po 'fuori controllo!

Rumore.
Freaky!
Quindi che cosa suona? Heres il suono con la chitarra aperto pieno sul pickup al ponte (un DiMarzio Chopper T) e veramente martellato.
[Audio id = "7882"]
Considerazioni finali

Si potrebbe quasi essere scambiato per il suo pensiero una sorta di synth imbattersi in un amplificatore. Risponde molto bene al vibrato che produce quasi un sottile effetto di filtraggio. E 'anche un po' Jack White!
Se si torna fuori il volume della chitarra si ottiene che la ottava bella alta e un suono molto più stretto e alcuni sculacciare.
[Audio id = "7888"]
Questo suono è davvero divertente con cui giocare e potrebbe essere utilizzato per ogni genere di sciocchezze. Mi ricorda anche quanto sia veloce e creativo AmpliTube può essere!
Un consiglio: youll necessario per giocare questo suono nella fascia medio-alta della chitarra come una volta che le cose troppo in basso può iniziare a cadere a pezzi un po '! Buon divertimento!!