NodeBeat is the perfect app to generate fresh musical ideas. Adam Goldberg shows how to use it with Logic Pro to get your creative juices flowing'¦ wirelessly!
In my previous article reviewing NodeBeat, I mentioned that the app could transmit MIDI either to other apps on your device, or to a DAW like Logic Pro. In this two-part series, we will first set up a MIDI Wi-Fi network, and then explore just a few of the many creative and powerful ways NodeBeat's MIDI information can be altered when sent into Logic, with its formidable audio and MIDI capabilities. In part two, we will use Logic's Environment to aid in creativity and yield inspiration to the composer by creating polychords, and automating a chord progression.

Setting up a Network for Wireless MIDI Transmission
I love taking advantage of my iPad's and Mac's ability to communicate wirelessly. Setting up this wireless network between your Mac and an iPad, iPhone, or iPod Touch is a very simple process, and opens up some great possibilities for untethered fun. Simply click on the Wi-Fi status icon in your Mac's menu bar and choose '˜Create Network'¦'. This Window will open and you can just select '˜Create'.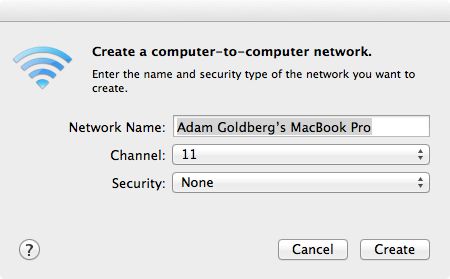 Then, on your iPad or other device, go into Settings > Wi-Fi, and you should see your computer listed. Tap on it to select it.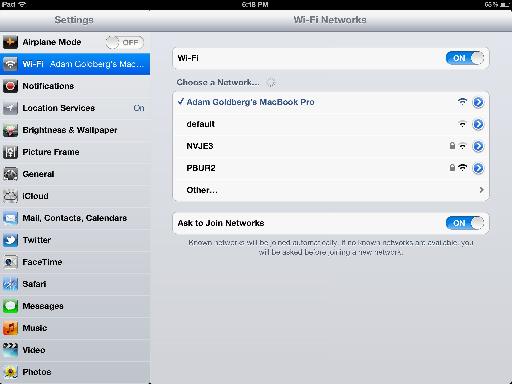 Creating your own network is preferred over using a standard wireless network because it is much more secure and there is much less latency.
Lastly, go into '˜Audio MIDI Setup' on your Mac and open up the MIDI Window if you don't already see the Window entitled '˜MIDI Studio'. Double-click on the '˜Network' icon in that Window and you should see the '˜MIDI Network Setup' Window open up. In the upper left-hand corner of that Window, you'll see a panel labeled '˜My Sessions', with '˜plus' and '˜minus' buttons at the bottom. Click '˜plus' to create a Session. Name it, and tick the checkbox next to it. Your device should then appear in the '˜Directory' panel. Just select it, and click '˜Connect'. Your device will show up as a participant, and now the fun begins - you're ready to send MIDI from NodeBeat into Logic!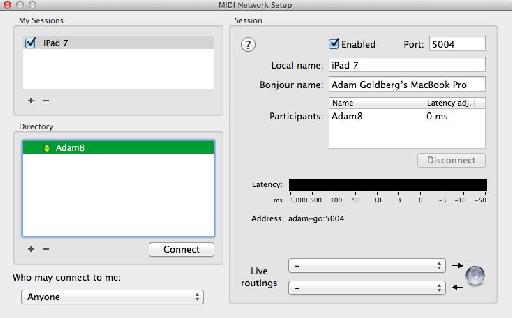 Your '˜MIDI Network Setup' Window should look similar to this.
Preparing NodeBeat and Logic to Send and Receive MIDI
As indicated by its MIDI Configuration Window (under '˜Settings'), NodeBeat automatically assigns the Octave Generators to MIDI channels 1, 2 and 3, from lowest octave to highest. The Keyboard sends to channel 4 by default, and the Drum Generator channel 10. Make sure '˜Send Node MIDI' and Send Keyboard MIDI' are on. The default channels can be changed if desired. In Logic, simply choose five different Software Instruments and assign MIDI channels accordingly.
At this point, you should take the all important step of going into Logic's Project Settings and ticking the '˜Auto demix by channel if multitrack recording' checkbox under '˜Recording'. This allows Logic to distribute multiple MIDI signals to the proper destinations simultaneously, as dictated by the assigned MIDI channel. Record enable those tracks.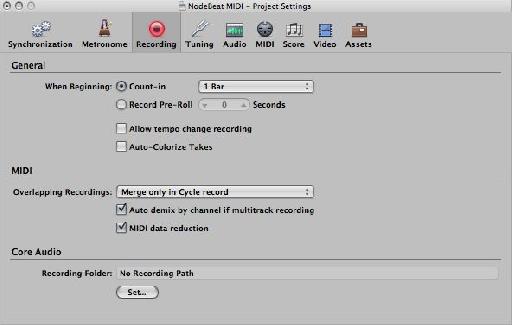 Now in NodeBeat, start dragging in some Generators and Nodes, and see that the Software Instruments that you chose in Logic are activated.
Sparking Creativity
When you're satisfied with the way Logic is receiving NodeBeat's MIDI transmission, press the '˜R' key, and Logic will start recording the incoming MIDI data. Let it run for a while, and manipulate NodeBeat's parameters on the fly. Go into the Node Menu to set things in motion, use Proximity to send less or more MIDI into Logic. In the Audio Menu you can change scale or key, and in the Rhythm Menu, tempo. When you're finished, stop Logic's transport, and the MIDI Regions will automatically be distributed to the proper channel strips on the Arrange Page, according to MIDI channel. Now you can play back what was recorded, listening for areas of the recording that inspired you, using them or altering them as you see fit.
It also goes without saying that you can change and tweak Software Instruments, and add effects. Just have a blast!
If you were following along in Logic, I recommend saving the project for Part 2 of this series.