Whatever bass sound you're looking to create, Trilian by Spectrasonics obliges! Hollin Jones gets mucky showing how to create a dirty bass sounds using this incredible instrument.
Trilian ist ein unglaublich mächtiges Bass-Instrument, dass sowohl Probenahme-und Synthese-Technologien nutzt, um einige mächtige unteren Ende zu generieren. Während die Presets hervorragend sind, können Sie den Klang Ihrer eigenen durch Feinabstimmung der Instrumente viele Einstellungen. Trilian ist um den Begriff der mit bis zu acht Teile geschichtet zusammenhalten. Jeder Teil hat auch zwei einzelnen Schichten A und B, die für die Verwendung unterschiedlicher Proben oder Wellenformen verwendet werden kann. Beginnen Sie mit dem Laden ein leeres Patch. Zu diesem gehen Sie zum Menü Utility zu tun, und wählen Sie Initialize Patch oder Initialize Multi.
Schritt 1
Gehen Sie in Trilians Abschnitt Bearbeiten und klicken Sie auf Layer A. Dann in den Sound Source-Fenster auf das Ordner-Symbol, um den Sound-Source-Browser eingenommen werden klicken.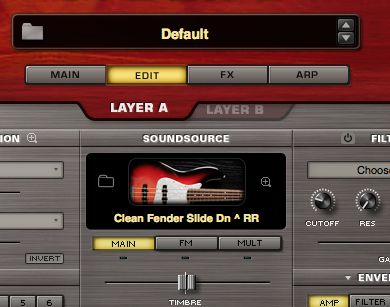 Sound Source Browser.
Schritt 2
Aus der Kategorie Feld oben links, wählen Synth Bass zu sehen nur die Synth-Wellenform Quellen. Blättern Sie durch die Liste und spielen Sie Ihre MIDI-Keyboard zu den Klängen Vorsprechen, bis Sie einen Ihnen gefällt. Hier habe ich den ARP 2600 Triangle gewählt, da es eine schöne bassy produziert aber etwas buzzy Lärm, dass wir arbeiten in den nächsten Schritten.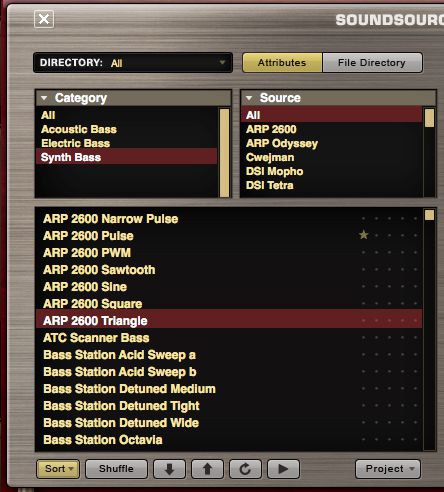 Schritt 3
Schließen Sie den Browser und youre zurück zu den Edit-Fenster übernommen. Der Aufenthalt in der Mitte, auf der Mult-Taste klicken und dann Schalter auf der Harmonia-Einstellung. Diese können bis zu zwei weitere Stimmen, um den Klang und Sie erhalten Niveau und Pan-Regler, wenn auch mit einem Bass Sie shoud wahrscheinlich halten Sie die Pfanne zentriert zu halten den Ton fest. Die Menüs auf der rechten Seite wird die Tonhöhe der Extra-Stimmen: Wählen Sie 12 Halbtöne für ein und 0 für die anderen. Die Wahl -12 eine Stimme gibt das ist ein bisschen zu niedrig, und die Wahl einer ungeraden Zahl wie 4 oder 9 stellt Obertöne, die so gut funktionieren nicht hier, auch wenn sie für andere Sounds.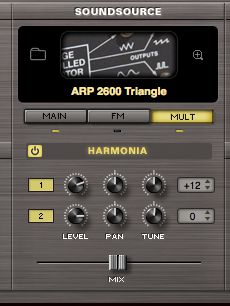 Schritt 4
Klicken Sie auf Layer B und wieder gehen in den Sound-Source-Browser. Dieses Mal wählen Sie ein anderes Signal, vielleicht die TR-Pro eine Oktave. Return to Edit-Fenster und in den Mix-Bereich auf der linken Seite youll sehen, dass Sie Mix, Pan und schalten sogar die beiden Schichten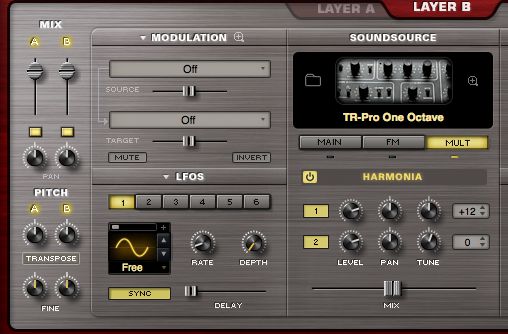 Hinzufügen Harmonia um Schicht B.
Schritt 5
Klicken Sie auf die Effekt-Sektion und in der Registerkarte Allgemein können Sie Effekte hinzufügen, dass sowohl die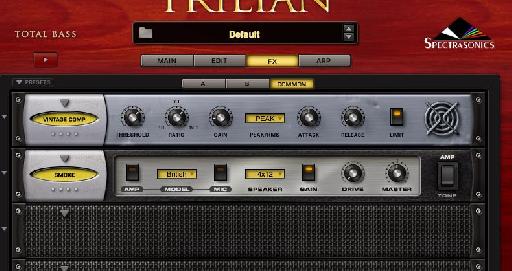 Hinzufügen der Effekte.
Schritt 6
Sie können weiterhin den Ton über Filter und Hüllkurven zwicken, und vielleicht, um einige der Arpeggiator, die unter dem Arp Registerkarte gefunden werden kann. Schalten Sie diese auf um sie zu aktivieren, und wählen Sie eine Voreinstellung, oder spielen Sie mit der Länge und Swing-Steuerelemente, um das Gefühl der Wiedergabe ändern. Versuchen Sie, sich und die Feinabstimmung des voreingestellten sich selbst!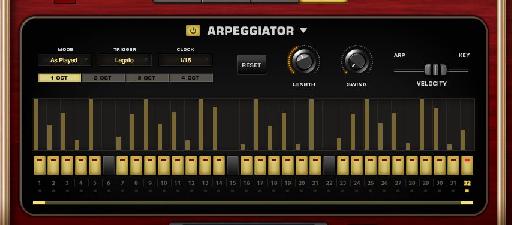 Das Spiel mit dem eingebauten Arpeggiator.
Sie können den Bass-Sound zusammen zu hören mit einem Schlag I in Battery 3 programmiert und dann zerstört mit Cubases Distortion-Plug-in unter:
[Audio id = "9987"]

Erfahren Sie Trilian mit diesem Tutorial-Video von macProVideo.com .
Erfahren Sie mehr über Trilian vom Spectrasonics Website .