Whatever bass sound you're looking to create, Trilian by Spectrasonics obliges! Hollin Jones gets mucky showing how to create a dirty bass sounds using this incredible instrument.
Trilian é um instrumento de baixo incrivelmente poderoso que usa tecnologias de amostragem e de síntese para gerar alguma extremidade inferior poderoso. Enquanto as predefinições são excelentes, você pode fazer o som que o próprio ajuste as configurações de muitos instrumentos. Trilian é baseado em torno do conceito de utilização de até oito partes em camadas juntas. Cada peça tem também duas camadas individuais, A e B, que pode ser configurado para utilizar amostras diferentes, ou formas de onda. Começe por carregar até um patch em branco. Para fazer isso vá ao menu Utilitário e escolha Initialize Patch ou Inicializar Multi.
Passo 1
Entrar em Trilians seção Editar e clique na camada A. Em seguida, na janela de fonte de som, clique no ícone da pasta a ser levado para o browser fonte de som.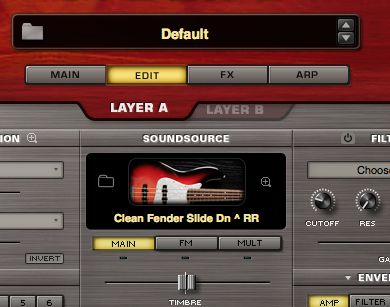 Navegador Fonte de som.
Passo 2
A partir da caixa Categoria no canto superior esquerdo, selecione Baixo Synth para ver apenas as fontes de onda synth. Role a lista e jogar o seu teclado MIDI para a audição dos sons até encontrar um que você gosta. Aqui eu ter escolhido o ARP 2600 Triângulo pois também produz um bassy bom, mas ligeiramente buzzy ruído que podemos trabalhar em nas próximas etapas.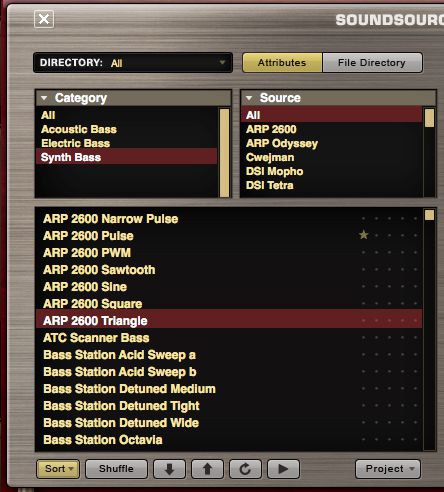 Passo 3
Fechar o navegador e você é levado de volta para a janela Editar. Ficar no centro, clique no botão Mult e depois ligar a configuração Harmonia. Isto pode adicionar até duas vozes mais para o som e você começa controles de nível e pan, embora com um baixo que você, provavelmente, deviam manter o pan centrada manter o som apertado. Os menus à direita irá definir o tom das vozes extra: escolher 12 semitons para um e 0 para o outro. Escolhendo -12 dá voz isso é um pouco baixa, e escolher um número ímpar, como 4 ou 9 introduz harmônicos que não funcionam tão bem aqui, embora possam para outros sons.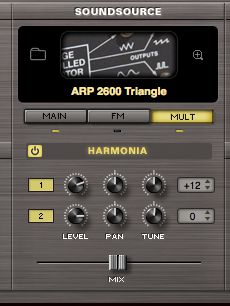 Passo 4
Clique na camada B e mais uma vez ir para o browser fonte de som. Desta vez, escolha outra forma de onda, talvez a TR-Pro Um Octave. Voltar para a janela Editar e na seção Mix para o youll deixou ver que você pode misturar, pan e até mesmo mudar as duas camadas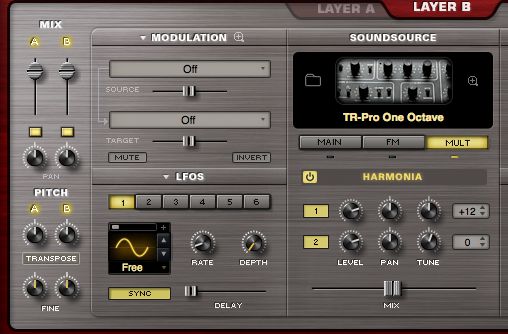 Adicionando Harmonia para a camada B.
Passo 5
Clique na seção FX e na guia Comum você pode adicionar efeitos que tanto o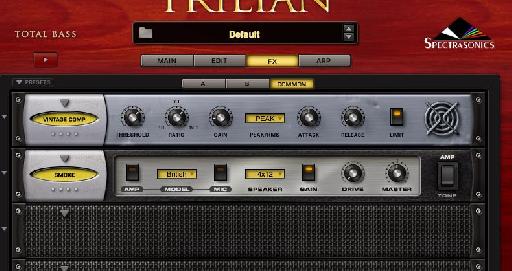 Adicionando os efeitos.
Passo 6
Você pode continuar a ajustar o som usando filtros e envelopes, e talvez confira o arpeggiator que pode ser encontrado sob a aba Arp. Mudar isso para ativá-lo e escolher um preset, ou brincar com os controles de comprimento e Swing para mudar o aspecto da reprodução. Tente carregar para cima e para ajustar o preset por si mesmo!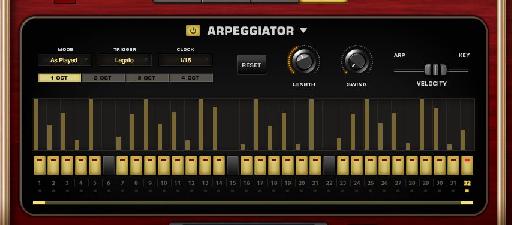 Jogando com o Arpeggiator built-in.
Você pode ouvir o som de baixo, juntamente com uma batida eu programei em Battery 3 e depois destruído com Cubas Distortion plug-in abaixo:
[Audio id = "9987"]

Trilian aprender com este tutorial em vídeo a partir macProVideo.com .
Saiba mais sobre Trilian do website Spectrasonics .