Flintpope is up to his old tricks again... making inspiring and affordable tools for musicians. This time we've got DrumBox, a Reaktor device with drum and beat making features you might not expect.
Interested in adding improvised beats to your tracks in the studio or for your live setup? Want something new to get your teeth into in Reaktor? Say hello to Flintpope's DrumBox.
No stranger to creating useful Reaktor ensembles and devices, Nick aka.Flintpope has made something very interesting here whether you're into big beats or ambient rhythmic atmospheres. Here's what Nick tells us about DrumBox:
Flintpope DRUMBOX is a Reaktor device that can provide a quick sketchbook for making beats or as an improvisational live instrument as part of a performance setup. All the sounds are accessible over a short keyboard range on MIDI channel one and it is easy to write new material.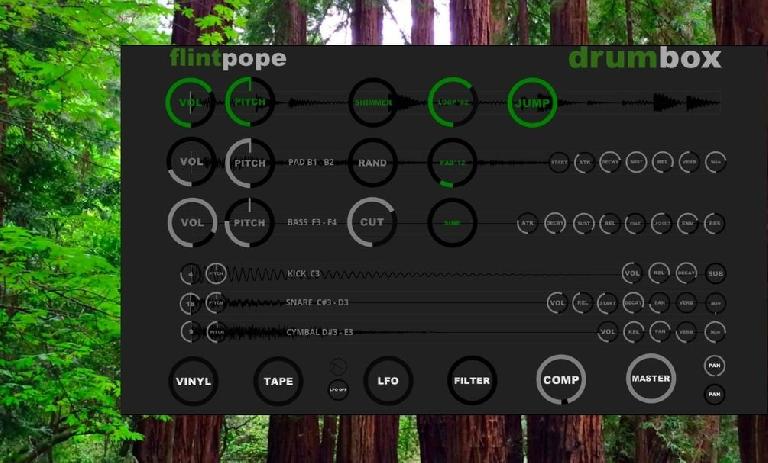 The core of DRUMBOX is a bank of 128 Flintpope original tempo-synced drum loops that can be played out live as they are or treated with the various FX and stutter dials detailed below. Drumloop styles range from sparse funky live kits through housey ambiences, to lo-fi shufflebeats to brutally fried electronic mash-ups. Simply trigger playback with the spacebar or play arrow at top of Reaktor. Change tempo there too.
Added to this are 128 Flintpope pads and atmospheric sounds mapped over one octave to add texture. Owners of previous Flintpope libraries won't have heard these already as they've been made specially for this release.
There is also a 4-wave synth bass/lead and a drumkit to add more detail to the loops or to write NEW loops in your DAW.
Drumloop Features

:

Volume, Pitch, Shimmer and Jump. Shimmer jitters between different loops and Jump is a stutter effect.

Pads Features

:

Volume, Pitch, Random, Start(point), ADSR and Reverb. The Random dial re-triggers a new pad with each key-press. LFO routed for wobble if required

Bass Features

:

Volume, Pitch, Cut(off of VCF), Waveform Dial (Saw etc), ADSR, Fine(tune), LFO to CUTOFF and Resonance. LFO routed for wobble if required.

Drumkit Features

:

12 Kicks, with controls for Volume, Pitch, release, Decay and a SUB-BASS dial.

26 Snares

with controls for Volume, Release, Start(point), Decay, Pan and Reverb. LFO routed for wobble if required.

17 Cymbals

(a range of various hats open and closed, and crash and ride cymbals). Controls for Volume, Release, Pan and Reverb. LFO routed for wobble if required.

Master Controls

:

Master Level, Pan L and R, Compression, Filter, Vinyl crackle, Tape Hiss and tempo synced LFO with 4 waveforms.
The AB buttons provide a slightly different layout for recording or live use. B view has larger dials for the three main instruments.
Recording note: live sessions can be recorded with Reaktor's recorder (F7) or in your DAW.
ISSUE: If you use your DAW and have more than one instance of DRUMBOX playing, mute the volume on the LOOPS on all but one instance as the playback glitches.
FREE REAKTOR PLAYER NOT SUPPORTED
COMING SOON. MORE CONTENT in the form of new drum banks and pads.