The unique Circle from Future Audio Workshop was a hugely popular software synth, and now Circle² (or Circle 2) is here with a focus on usability, flow and experimentation.
Berlin, 2 April 2015

Whether you are designing experimental sounds, producing music in a future-leaning genre or looking for a modern digital synthesizer to complement your existing setup, Circle² enables you to communicate your musical ideas effortless by placing flow and intuitiveness at the core of the music making process.
Designed and programmed in the heart of Berlin, the world's capital of innovative music technology.
Circle² is the new major update to Future Audio Workshop's flagship software synthesizer, Circle. Since its release in 2009, Circle has achieved cult status, becoming a key tool in the arsenal of both seminal underground and pop hitmakers such as Hudson Mohawke, Arca, David Guetta and Deadmau5. The 2015 update incorporates several new features, modules and effects, extending the spectrum of sounds that can be composed. Circle² also features a completely redesigned user interface, providing a forward-thinking interpretation of Circle's esteemed user-centred design approach.

Usability is at the heart of the design of Circle². With the affordance of the power of modern computer processors, many software synthesizers have become progressively more complex and difficult to use. The aim of Circle is to step aside from this path, and to instead focus on placing flow and intuitiveness at the core of the music making process. Rather than burying a deluge of synthesis parameters in submenus and external windows, Circle² encourages experimentation by presenting parameters in an accessible and intuitive manner. The unique Circle² interface enables a level of experimentation that would be unachievable via a more typical, convoluted interface; allowing the user to focus on creativity rather than technicalities. This design philosophy sets Circle² apart in the synthesizer landscape and provides the foundation for the development of the next generation.
Instead of designing Circle² to graphically replicate its analog predecessors, Future Audio Workshop have been working alongside Berlin-based designer Lars Hammerschmidt to bring Circle² firmly into the 21st century through the use of a contemporary design language that looks more to the future than the past. The goal was to construct an even flatter design with brighter, more distinct colors than was seen in Circle.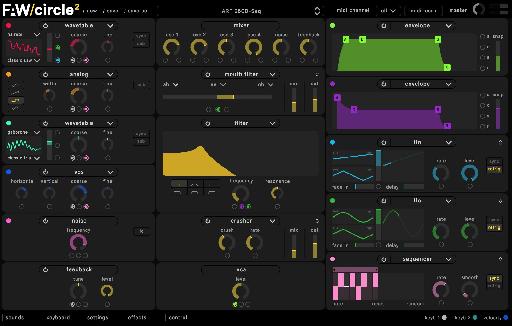 Future Audio Workshop Circle2 interface.
Based on state-of-the-art digital synthesis research, the brand new VPS (vector phaseshaping synthesis) oscillator is one of the most exciting new features of Circle². The new oscillator utilizes a cutting-edge synthesis technique introduced by researchers at the Aalto University School of Electrical Engineering and The National University of Ireland, and further developed for its implementation in Circle² via an academic collaboration with Future Audio Workshop.
The VPS oscillator works by glueing together a pair of sine waves with specified frequencies. Via its two parameters - which control the frequencies of the sine waves and the location at which they are glued - the VPS oscillator provides direct control of the waveform's intricate harmonics. Experimentation throughout the oscillator development process has led to a range of results; from dirty Reese style bass patches to ethereal pads and gritty lead lines. Modulating the parameters can produce a wide range of effects, either used subtly to give gentle movement, or used harshly to twist and contort a synth into oblivion. We're excited to hear what synthesis results users can achieve using the new oscillator.
The update also provides several enhancements to Circle's instantly recognizable and critically acclaimed sound engine, helping to ensure that Circle² sounds better than ever before. Furthermore, o'‹n top of C'‹ircle's existing modules, Circle² also comes with new Bucket Delay and Tube Distortion effects that bring a vintage flavour to its sounds. This gives Circle² a new total of 15 inbuilt sound modifiers / effects.
Circle² will be available to purchase in the Future Audio Workshop webstore in early 2015. The price for new users will be $129/€99. However, to thank Circle's fanbase and supporters, the upgrade will be available for free to all existing Circle users. Extra free preset banks and video tutorials will be released via the Future Audio Workshop Facebook page over the following months, so there's never been a better time to join the ever-growing community of Circle users worldwide!
Key Update Features
Unique to Circle², the VPS is new type of oscillator, the outcome of a research partnership between FAW and Maynooth University.

Totally redesigned interface. Retina ready and optimised for creative flow.

New Bucket Delay and Tube distortion modules.

Improved preset management via the new preset browser.

Performance enhancements and improved sound via a totally rewritten audio engine.
Utilizes the latest version of JUCE audio framework, resulting in a more stable and future proofed Circle².
Now official support for Reaper, Studio One and Bitwig Studio.

New factory preset bank, full of future leaning sounds, ready for use in your music.

Full 64bit and 32bit support, both on Windows and OSX.

Free upgrade for all existing Circle users!

Module List
Sound Sources
Analog Oscillator

Wavetable Oscillator

VPS Oscillator

Noise

Feedback

Dedicated Modulators
ADSR Envelope

LFO

Sequencer

Arpeggiator

Sound Modifiers
Mixer

Mouth Filter

Fuzz Distortion

Overdrive

Parametric EQ

Shelving EQ

Phaser Filter

Crusher

Ring Modulator

Filter

Dual Filter

VCA

Master Effects
Phaser

Reverb

Echo

Double Echo

Ping Pong Echo

Chorus

Panner

Bucket Delay

Tube Distortion

Additional information on Circle² is available at:

MSRP:

Free upgrade to existing Circle users. New license: €99.00/$129.00
Direct Demo Download Links:
http://www.futureaudioworkshop.com/downloads/Circle-2.0.0-setup.zip'‹ (Windows )
http://www.futureaudioworkshop.com/downloads/Circle-2.0.0-setup.dmg'‹( OSX )