Impact Soundworks has just released a new Kontakt sample library, featuring a highly comprehensive set of symphonic percussion recorded with 3 mic positions!
OWINGS MILLS, MD -- Sample developer Impact Soundworks released today Rhapsody: Orchestral Percussion, their most extensive sample library to date. Created for KONTAKT, the library features an extensive, deeply-sampled collection of drums and percussion covering the standard and extended symphonic canon. Rhapsody: Orchestral Percussion is available now at the introductory price of $199 through September 30, 2014.
Rhapsody: Orchestral Percussion is presented as a comprehensive percussive collection with 50+ instruments and extensive articulations recorded in three microphone positions at pristine 24-bit quality. With close, decca (stage) and hall microphone perspectives, users can adjust the sound of the library from tight and focused - ideal for small ensembles and traditional orchestral compositions - to spacious and cinematic. The neutral and honest sonic character lends itself to easy mixing in any style.

Impact Soundworks has also released a streamlined version of the library, Rhapsody: Orchestral Percussion Essentials. This edition includes all core symphonic instruments in 16-bit, two mic positions (close & hall), and the same deep sampling, for a highly affordable price of $89. Composers who purchase this version can at any time upgrade to the full version for 24-bit samples, an additional mic perspective, and dozens of extra instruments.

The 50 instruments recorded for Rhapsody: Orchestral Percussion include traditional drums (bass drums, snares, toms, timpani), cymbals and gongs of multiple sizes, hand percussion (djembe, darbuka, cajon, congas, bongos), auxiliary percussion (shaker, tambourine, sleigh bells, blocks), and chromatic instruments (crotales, xylophone, glockenspiel, marimba) to name some highlights. All instruments are sampled deeply (up to 10x RR / 5x velocity), and many include roll/tremolo articulations, alternate strokes and variations.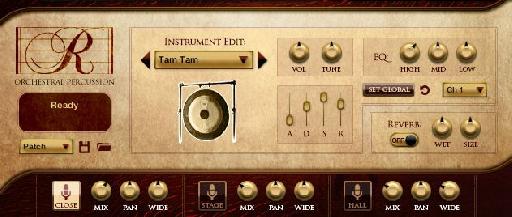 The Impact Soundworks Rhapsody: Orchestral Percussion GUI.
The library totals 8gb (compressed) of 24-bit samples programmed for Kontakt 5.3, with 16-bit samples available as an optional download. Rhapsody also includes an intuitive user interface for mixing. Users can control envelopes, tuning, and EQ for each individual instrument, as well as load/unload mic positions, adjust offsets, stereo width, panning, and reverb amount. All controls are readily accessible on a single UI page.

Rhapsody: Orchestral Percussion is available now at Impact Soundworks for a discounted intro price of $199 (list price: $249), or $89 for the Essentials version. This deal expires September 30, 2014. For more info, demos, video, and to purchase, please visit: