Making sounds pop out in stereo can add much needed dimension to flat sounding mixes. In this tutorial, Darren Burgos shows you how using Logic Pro X.
Making sounds pop out in stereo can add much needed dimension to flat sounding mixes. It can also define sections in an arrangement; like a wider sound on the choruses. This is great on vocals, synths, and more. In this article I'll be showing several techniques and effects that are perfect for accomplishing this. As with all stereo effects, these are best heard with headphones, but even on your monitors you should easily hear the difference. I'm using a simple chord pattern for demonstrating and each method has a before and after sample. Let's get started!
Set Up
Most of the processes we'll be looking at in this article are accomplished directly on a stereo channel, but that doesn't mean you can't process a mono recording like a vocal. In fact, mono sounds will benefit the most from these methods. If the track you want to process is mono, click Logic's 'Input Format Button' (directly to the left of the input select drop down) until it displays two circles instead of just one.
Phase Inversion with Logic's Gain
First let's talk about inverting the Phase of one side of a two-channel track. When you do this, you get an instant widened 'pop.' You can use Logic's Gain plug-in to easily accomplish this cool trick. Add the stereo Gain plug-in and from its 'Phase Invert' section choose either the left or right button'¦ Boing! Sometimes this process can make the sound seem off balance. Use the Gain plug-in's balance knob to alleviate this.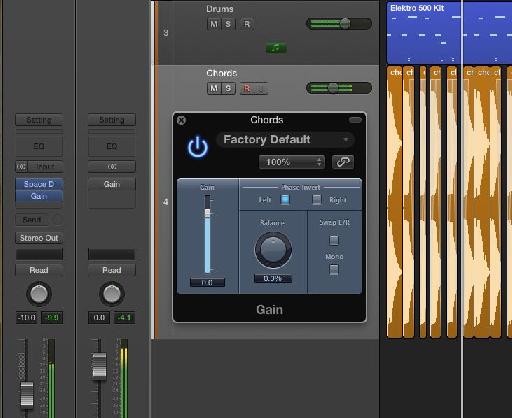 Sample Delay Effect
Now let's try the Sample Delay effect. Bypass the Gain plug-in if you're following along and adjust either the Delay Left or Right to around 200 to 300 samples for a very effective stereo widening. This is the simplest of all the methods so for a quick fix, this usually does the trick. Try it on vocals with a higher sample delay setting for 'poor man's' double!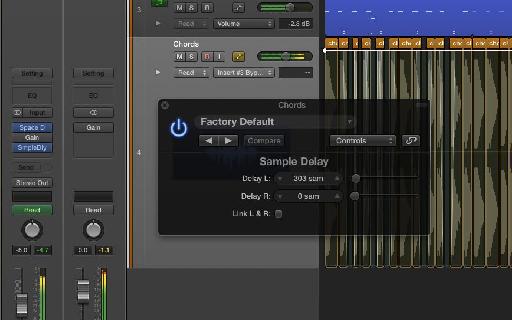 Stereo Spread
Next up, let's take a look at Logic's Stereo Spread effect. This is one of my favorite effects in the whole Logic bunch. You can use it to easily push sounds out and to the sides. It treats the left and right stereo channels independently creating opposing EQ bumps. This is quite a dramatic effect'¦ even the default preset will give you that instant stereo pop. Try adjusting the order knob for a quick repositioning. I'll often take down the spread effect on the lower frequencies since this can create mud. You can do this by either pulling down the Lower Int slide, or by sliding the Lower Freq over to the right.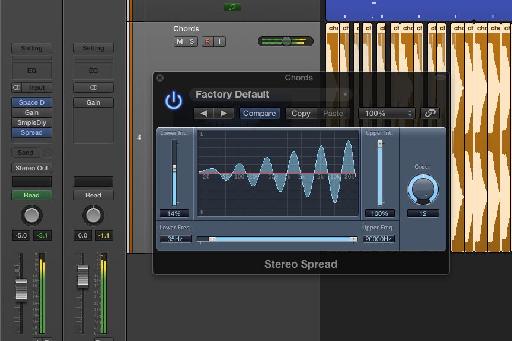 Direction Mixer
The Direction Mixer is another Logic effect that works for spreading out a sound. It's default setting is 1.00, so anything beyond that will have a widening effect. This effect can drastically change the sound's volume when you use the Spread slider, so I don't use it as often as the other methods. One awesome thing about this plug-in though is that it can be used in 'Mid/Side' mode. Say for example you have a mono sound that has been treated with a stereo processor like a vocal. When in Mid/Side mode, a setting of 0 allows you to hear only the Mid (Middle/Mono) data in the sound, and with a setting of 2 you hear only the Side (Stereo) information in the sound.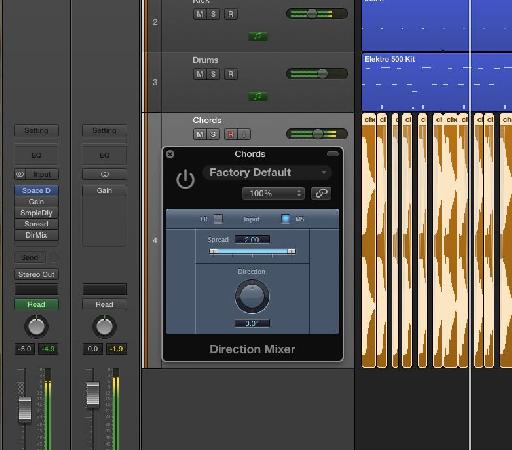 Hard Panned Effects on Busses
Another cool trick to getting width into your sounds is to use effects on busses that are hard panned on opposite sides. Add two busses using the channel's sends. Pan each of the busses hard left and hard right and place two different reverb effects on each of them. Since the idea here is to widen a sound and not drown it in reverb, use very short reverb presets. Adjust each send level knob to taste. I use this trick often, and I'll also sometimes use a very short delay on each of the busses, or a delay on one and a reverb on the other.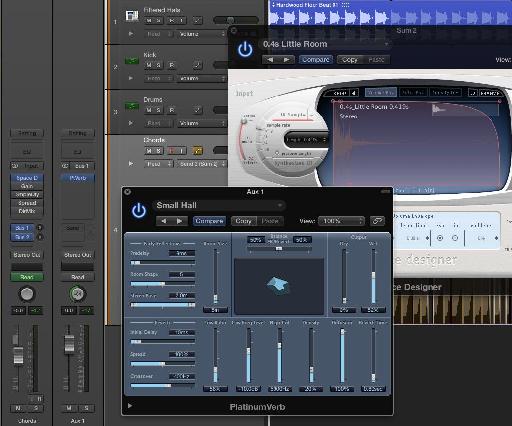 'Side' processing with Logic's new EQ
This last tip only works on stereo material'¦ it allows you to emphasize only the stereo information in a sound on the track you place it on. If you attempt to process a mono recording (even after setting the Input Format Button to stereo as we did above) you will hear no change to the sound! Let's look at Logic Pro X's new Channel EQ. A great thing about it is that it can now process Mid/Side information independently. Mid/Side processing allows you to adjust the mono information in a sound separately from the stereo information. You switch it via the new 'Processing' drop-down menu. In the example sound below I've switched Channel EQ to 'Side Only.' I've then used a high shelf EQ to really bump up what stereo information is present in the sound. When listing to my example below keep in mind that the chord sound I've been processing in the preceding examples is actually a mono synth sound playing back in stereo. I intentionally chose a mono synth so the majority of the examples would really shine. When you listen to my example, you'll notice that the only thing being emphasized by the Channel EQ is the stereo Space Designer effect I placed above it! If you're processing a stereo sound with Channel EQ set to 'Side Only' you'll hear a much more dramatic effect than with my example below.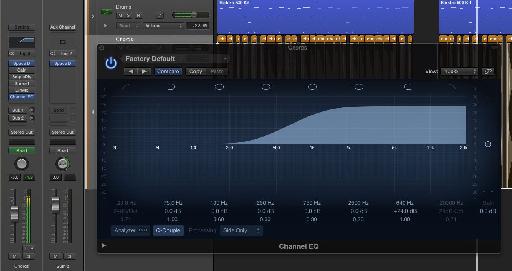 Important Tips and Considerations
Keep in mind that when using phase inversion, if the track is played back on a mono system (like on an iPhone speaker) the phase inverted channel will cancel out the non-inverted channel when the two sides are merged together. To simplify, you won't hear it! To fix this issue, simply use Logic's Sample Delay plug-in to shift either channel forward or back by a few dozen samples. You've been warned! This amount will usually enable mono playback, and won't have too huge of an effect on the sound when played in stereo. I'm my studio I use a Mackie Big Knob (yep, guaranteed snickers) that has a button for monitoring in mono. If you don't have a way of playing back in mono, add a Gain effect onto the master Output and click its mono button. If you feel like some of these processes effect the sound's quality, consider using them as Send/Bus instead. If you feel like a sound seems off balance, you're probably right (even if the meter looks like it's centered)'¦ pan the sound a bit to recenter by ear. Combine them for even wider effects!