In this MPV Free Stuff, Peter Schwartz has conjured up a Logic Pro environment to give you unparalleled control over EastWest's Play Instrument. Read on for full instructions and download link.
Play doesn't offer user-assignable MIDI CC control of most of most front-panel parameters such as the ADHSR, reverb level, delay, and so on.

For sounds in certain Play libraries, and then only for certain instruments, CC#1 (modwheel) has been pre-programmed to control the filter frequency - a popular choice for filter control. But when that programming isn't in place in an instrument, CC#1 will have no effect whatsoever. And to find out what if any MIDI control there is to be had for a given instrument, you'll have to scour the documentation or find out via your own process of discovery.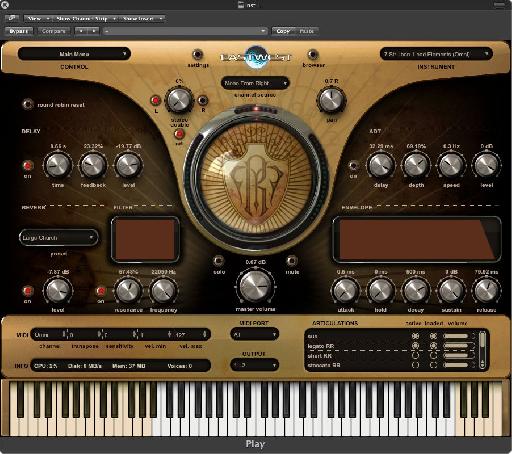 In those instances where the modwheel is not pre-programmed to control the filter, it's still possible to record dynamic, realtime filter cutoff moves to track automation by moving the on-screen filter knob when automation is set to Touch or Latch. The result is a stream of Logic's proprietary and MIDI-like "Fader events" being recorded to track automation.
In fact, most Play parameters, when moved on-screen, will record Fader events to track automation. But moving controls on the screen isn't quite the same experience as the kind of realtime, hands-on control of sound parameters you get from moving physical knobs or sliders on a controller. So to provide for that, I've created a utility which detects various MIDI CC's generated from a controller and converts them to the corresponding Fader events that the Play engine will respond to. Realtime movements of these CC's will then appear as Fader events in a MIDI region, not track automation.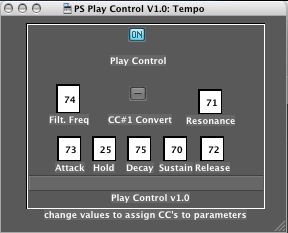 The Parameters
This utility offers control of seven different Play parameters:
'¢ Filter Frequency (Cutoff Frequency)
'¢ Filter Resonance
'¢ The Envelope: Attack, Hold, Decay, Sustain, and Release
'¢ Play Control On/Off Button turns PLAY Control on and off
Numerical Controls
These display the MIDI CC numbers assigned to the seven Play parameters addressed by this utility. The CC numbers I chose are the standard CC's used to control these same parameters on a very wide variety of commercial synths.
They also correspond to the same-named controls on my Korg MS-20 USB controller keyboard. Any MIDI controller that outputs those CC's can be used to control the respective Play parameters. However, by changing the value of the numericals, the user can alter the CC used to control the various Play parameters addressed by the utility. It then becomes a simple matter of programming a knob or slider on your controller to output that particular CC number.
CC#1 Convert Button Indicator and Switch
This button requires a little explanation...
For Play sounds that are programmed so that CC#1 (modwheel) controls the filter frequency, this button should be left off. This allows CC#1 messages to pass straight through this utility without any processing into Fader events. Thus, modwheel movements will be recorded as CC#1 messages.
For those situations where CC#1 is not programmed to control the filter, you can "force" the instrument's filter to respond to CC#1 anyway! In this case, you'll change the utility's Filt. Freq value from its preset value of 74 to a value of 1, at which point the CC#1 will control the filter. Setting the Filt. Freq numerical to 1 will cause the button to automatically turn on, indicating that CC#1 messages are now being converted to the appropriate type of Fader event that will control the filter frequency. And when this is this case, modwheel movements will be recorded as Fader events.
Setting the Filt. Freq numerical to any value other than 1 will cause the button to turn off. Additionally, the button can be turned on and off manually.
Notes
1. Even if the Play Control is turned on, CC's 7, 10, 11, and 64 will pass through unaffected. In fact, those CC's cannot be used to control any of these seven Play parameters.
This is intentional, allowing MIDI volume, expression, panning, and sustain pedal to operate normally. Note that it's possible to set any of the numericals to these values, but they will have no effect on any of the seven parameters.
2. For editing purposes, the parameter's name will appear in the Event List automatically so that there's no mystery as to which Fader events correspond to the MIDI CC movements that generated them, as seen in Figure 2 above.
When the CC#1 convert button is off, modwheel movements will be recorded as CC#1 messages, and without the label of "Filter Frequency" as seen in the event list.
3. Be sure to turn off Play Control when you're not specifically using it to control a given Play instrument. Depending on how you've programmed Play Control, other instances of Play, Logic's native plugins and many 3rd party plugins may respond to the messages generated by Play Control in unexpected, even undesirable ways.