How do you get elements in your mix to gel when they clash? Before you ditch the parts read and listen to the examples in this tutorial by Mo Volans as he uses auto-panning to solve this problem.
In some mixes you may find yourself in a situation where you want (or need) to use two sounds that are very similar in both type and frequency. For instance I have two percussion parts that I'd like to mix together here that clash very slightly.
This tutorial will show one possible method for developing space between these parts using nothing but pan data. This moves away from the traditional EQ and dynamic based treatments that would normally be used here and gives you a solid, creative alternative.
The Two Problem Loops
Although these loops don't live in exactly the same frequency range, they are similar enough in tone to clash quite heavily when mixed. The individual elements in each loop are masked to some extent and even thought the combination isn't unpleasant it would be nice to create some degree of separation here.
The first loop in isolation:
... And the second loop:
We are going to create a contrast between these loops by using simple automation based pan data. We'll look at how this is done in the next step. You can try this with your own combination of loops or even two groups of drum parts.
The two loops mixed is a little confusing:
Programming The Pan Data
To get the two loops moving across the stereo field simply use your DAW's pan automation data. You can record this in manually if you prefer a more human feel or draw it in by hand as I have done here.
The measures in which you use pan data here are totally up to you but try to program your movements from left to right in a regular way. You can see my pattern in the screenshot below. Once you have programmed a few bars you can simply copy the data to span the whole loop.
Now program the exact opposite info on the second loop. You can adjust the intensity of either side at this point to make the effect wider or narrower. I tend to find that 70-80% works pretty well in most cases.

The panning data is complete.
You should now find that the loops are panning nicely and they suddenly have a good amount of separation. The effect is pretty trippy in nature and can mess with your head a little. This is part of the reason why I like using it but ultimately it's just a great way of creating valuable space in your mix.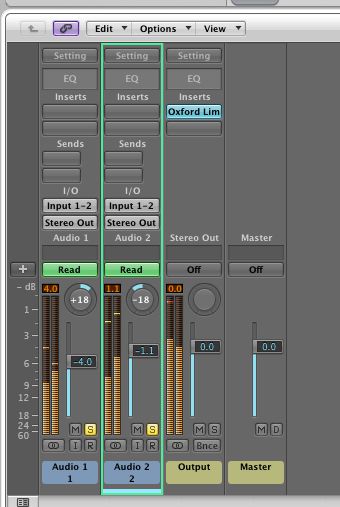 The panning data in action.
The two loops now pan and have better separation:
Some Extra Processing
If you like you can add some extra processing to the the two loops by grouping them and adding the same effects to both sounds. I find this adds some cohesion to proceedings and often makes the loops sound a little more unified.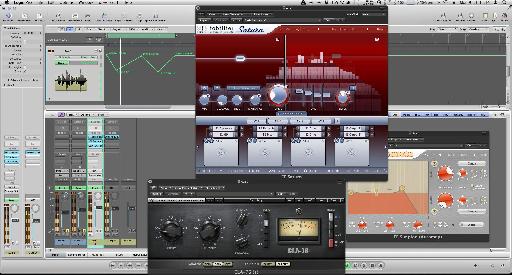 Some extra processing can help to unify the loops.
The extra processing is added:
For this example I've used some heavy compression, saturation and low pass filtering. You can try any effects chain you like and hopefully you'll find the whole process quite useful at some point in your productions.