If you fancy picking up some expansion packs for Maschine, then you've got exactly 99 hours in which to choose from nine MASCHINE Expansions which cost only $ 99 / 99 €.
Berlin, December 8, 2013 '" Native Instruments today launched a special CLOUD 9 offer on their MASCHINE Expansion series. Nine of the hugely popular sound packs for use with MASCHINE STUDIO, MASCHINE, and MASCHINE MIKRO are being offered for $ 99 / 99 € '" but only for a limited period of 99 hours. The offer runs until 6 pm CET on Friday, December 12 and is available only at the NI Online Shop.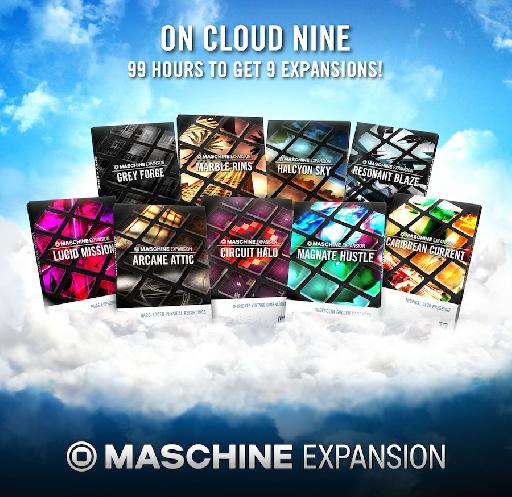 MASCHINE Expansions provide users with tailored kits, instruments, sounds, patterns, and presets for use in MASCHINE STUDIO, MASCHINE, and MASCHINE MIKRO. The Expansions included in this offer are RESONANT BLAZE, HALCYON SKY, MARBLE RIMS, GREY FORGE, LUCID MISSION, ARCANE ATTIC, CIRCUIT HALO, MAGNATE HUSTLE, and CARIBBEAN CURRENT. These Expansions have been selected to provide a wide range of contemporary production styles, allowing users to mix and match sounds to create their own signature sound. Each focuses on a particular genre or sound, covering bass- and break-based music, contemporary ambient electronica, West Coast hip hop, experimental sound design, cerebral electronica, the sound of the Colombia's Caribbean coast, and much more.
Availability
The CLOUD 9 sales special is available at the NI Online Shop only, and ends at 6 pm CET on Friday, December 12, 2014.
Additional information on this offer is available at: