As well as being a multitrack recorder, Adobe's Audition is a very capable audio editor with some useful features to help you edit and manipulate audio loops. Gary Hiebner shows how!
Adobe Audition è un pezzo unico di software audio come un editor di campionamento audio, oltre a una DAW multitraccia. Quindi è davvero un jack-of-all-trades nel mondo dell'audio. In particolare mi piace usare il suo editor del campione, altrimenti noto come l'editor di singolo-forma d'onda. Trovo che posso molto rapidamente un facile modificare un file audio in modi che sono molto diversi nella vostra DAW standard. In questo articolo, mi permetta di mostrare come si può tirare rapidamente un loop audio in Audition, e manipolare e di processo in modi molto interessanti.
Aggiunta di un loop audio in Audition
Per aggiungere un loop audio in Audition, è possibile semplice drag un file audio sulla sua interfaccia e itll aprire nella vista singletrack forma d'onda.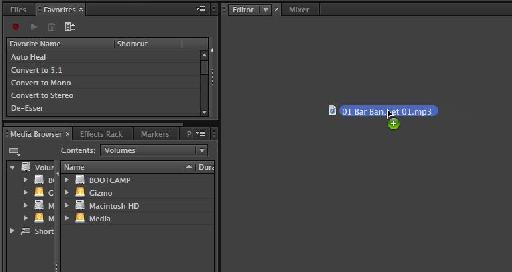 Oppure si può andare a File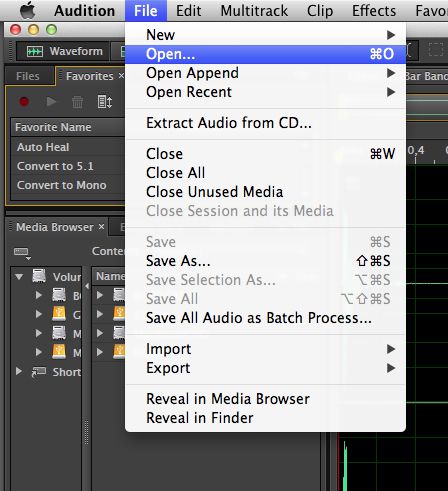 Ora youll vedere una visione della forma d'onda del vostro loop audio. Ive ha tirato in un file stereo. Youll vedere il lato sinistro in alto e destra sul fondo. Ive ha utilizzato un file stereo, come Ill mostrare come può si può elaborare ogni canale separatamente. Ora lets have some fun!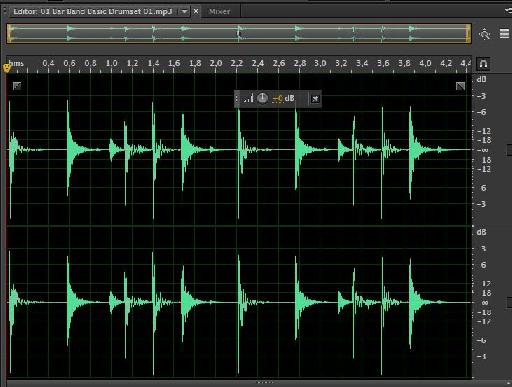 [Id audio = "28061"]
Rendere una selezione
Se si trascina su un'area nella forma d'onda utilizzando lo strumento di selezione (che viene scelto per impostazione predefinita quando si avvia Audition) itll effettuare una selezione sulla forma d'onda. L'area di selezione sarà la zona in bianco.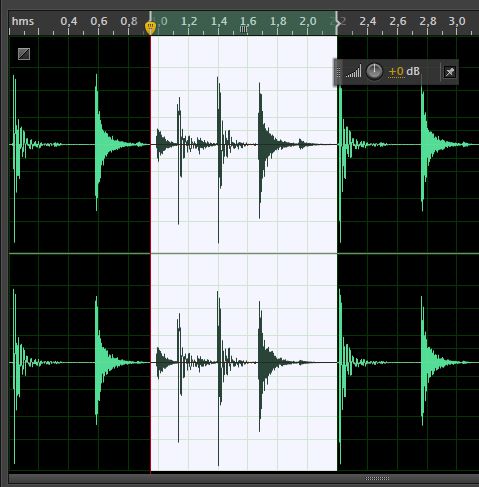 Consente di processo di questa zona selezionata utilizzando alcuni degli effetti in bundle con Audition. Che ne dite di invertire la selezione. Vai al menu Effetti, e selezionare Reverse. Ora solo che la selezione della forma d'onda viene invertito.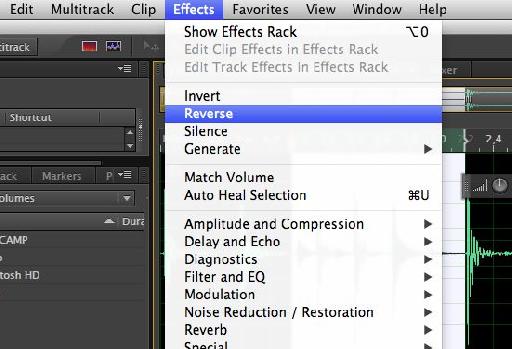 [Id audio = "28062"]
Quanto facile è quello? Andare in e invertire alcune altre selezioni la forma d'onda. Se si seleziona altrove nella forma d'onda al di fuori della selezione itll deselezionare l'area.
Aggiunta Distortion e Delay Processing
Ora, come di aggiungere qualche distorsione a una sezione della forma d'onda. Effettuare un'altra selezione, quindi andare Effects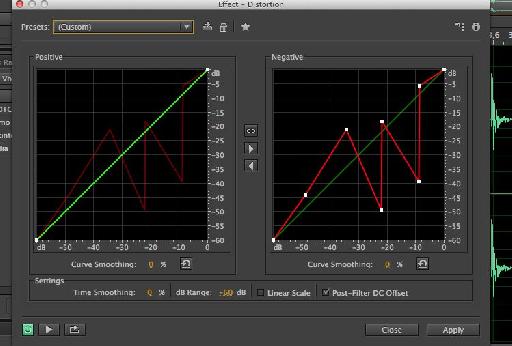 Ora, con questo pezzo ancora selezionato, permette di aggiungere qualche ulteriore elaborazione. Che ne dici di un po 'di ritardo? Vai alla Effetti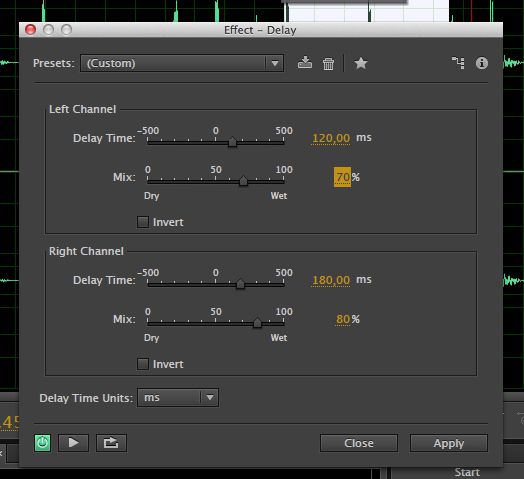 [Id audio = "28063"]
Editing Volume sulla forma d'onda
Se si trova dopo qualche del trattamento che gli elementi della forma d'onda sono un picco di volume, è possibile selezionare quella zona e ridurre con la manopola del volume sullo schermo, e itll regolare la forma d'onda di conseguenza. Ho scoperto che avevo bisogno di modificare il volume sulle selezioni che ho applicato una forte distorsione e l'elaborazione del riverbero.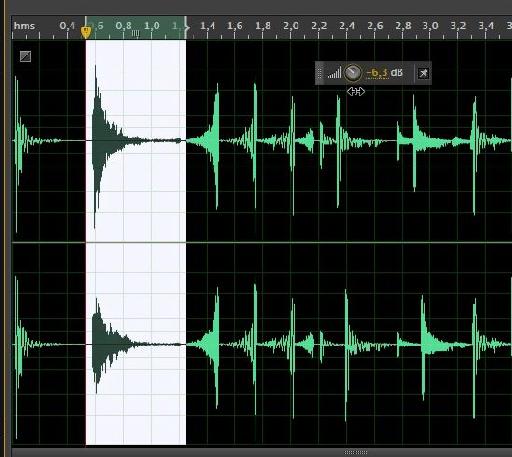 Elaborazione del sinistro e destro separatamente
È possibile aggiungere l'elaborazione separato per il canale sinistro e destro. Per fare ciò cliccate sia sulla L o R per disattivare il canale, poi se si effettua una selezione youll vedere che il suo creato solo sul canale riattivato. Im che va impazzire e aggiungere diversi effetti di modulazione su entrambi i canali. Ill aggiungere qualche coro a sinistra e un po 'flanger sulla destra. È davvero possibile ottenere alcuni effetti folli, e davvero manipolare l'audio del loop.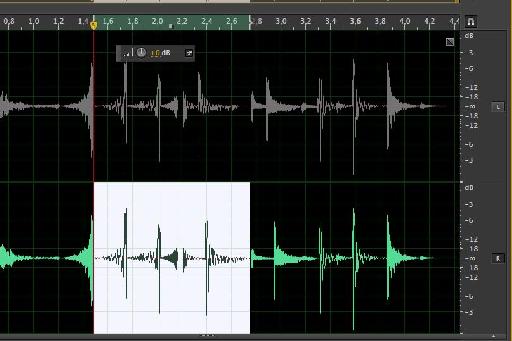 [Id audio = "28064"]
Utilizzo dei Preferiti
C'è anche alcuni preset a portata di mano sotto la scheda Preferiti. Provate alcuni di questi sulla vostra selezione. Im intenzione di utilizzare il preset Telefono Voice su alcuni dei miei audio, o forse anche il preset Alza Pitch.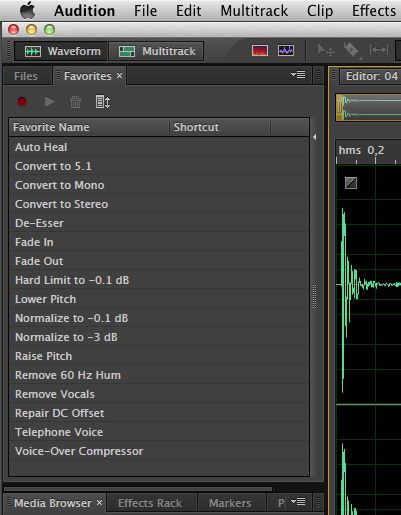 Time and Pitch Stretching
Ciò che funziona anche molto bene è quello di allungare il tempo o il pitch shift l'audio. Effettuare una selezione, e poi andare a Effetti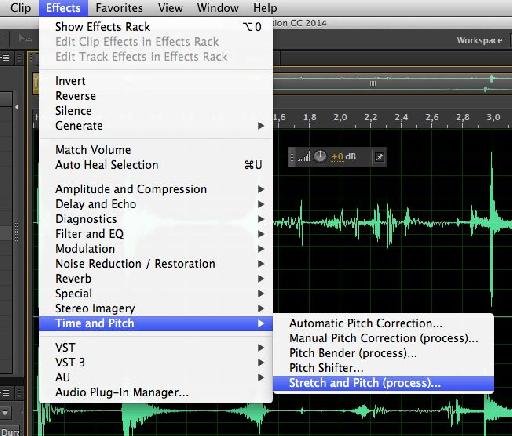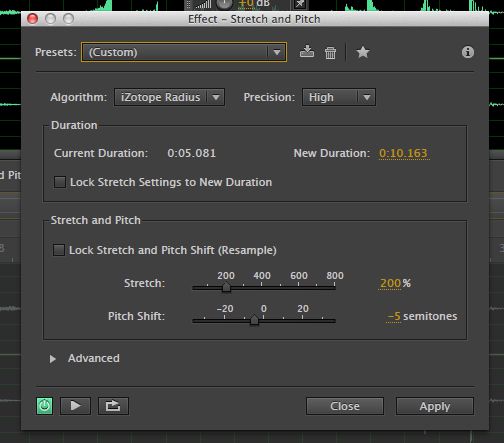 Una volta che sei felice con la manipolazione audio e di elaborazione per l'audio, andare su File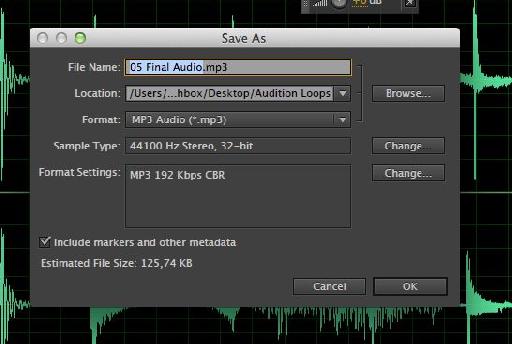 [Id audio = "28065"]
Conclusione
Ecco come utilizzare Audition per aggiungere effetti e di elaborazione per le aree uniche nella tua forma d'onda audio. E 'come lavorare con i loop audio su un bel livello micro, ma il suo bello arrivare lì e aggiungere in questa elaborazione individualista per audio e creare alcune differenti loop sonori. Quindi provare questo fuori. Si potrebbe esportare fuori loop audio, tirare in Audition, aggiungere diverse forme di trasformazione (e anche provare alcuni degli altri effetti che essa ha a disposizione), e poi Salva questo loop audio e tirarlo nuovamente dentro la vostra canzone.