البرمجة براميل 1 : تسجيل في أنماط التعبئة الخاص روك
With current drum plug-ins, sample-based MIDI instruments and virtual studios, it's very, very easy to emulate having a real drummer. This is especially cool when you're the lone guy with a laptop. Re
مع طبل الحالية المكونات الإضافية ، على أساس العينة الصكوك ميدي واستوديوهات الظاهري ، انها جدا ، من السهل جدا لمحاكاة وجود لاعب الدرامز الحقيقي. هذا هو بارد وخصوصا عندما كنت الرجل الوحيد مع جهاز كمبيوتر محمول. الحلقات المسجلة جعل الأمر أسهل ، لأنهم الأداء الفعلي ، في معظم الحالات ، من قارعي الطبول الفعلية.
ومع ذلك ، هناك شيء واحد أن يعطي بعيدا المحمول العروض المقدمة بشكل أسرع من أي شيء آخر : إن تكرار مستمر واحدة وفاز في جميع أنحاء أغنية يملأ مع عدم وجود ، أو شكا من التغيير.
There are a few more things too that will give you away, but for this exercise, let's just talk about 'Fills' in particular.

ما هو تعبئة؟
Listen to any old Pop, Rock, RNB, or Country track. Right before the chorus starts listen to the drums. Immediately before the first part of the chorus starts, you'll notice an extra couple of snare hits, with a possible tom, or crash. This would be known as a fill. You'll also hear them periodically in the middle of a verse, and other places.
Their main purpose is to break up parts of a song and create definition between parts. We're already geared to subconsciously await a new part, or change when we hear one from years of contemporary music... and... so is your audience. Having fills within your song creates a feeling of familiarity and polish, and no drummer worth his grain in salt will ever not include a fill, unless they are directed not to. Why would anyone want that anyway?!
املأ سهل الخلق
لهذا التمرين ، انا ذاهب الى استخدام العقل ، ولكن هذا العمل لأي تطبيق الموسيقى. في رأيي ، انها اكثر متعة لتسجيل الواقع يملأ الخاص بك في أغنية بعد وضع جميع الأجزاء الرئيسية لأسفل واحدة من الطبقات النهائية لتلميع قبل الاختلاط. ومع ذلك ، لا أستطيع أن أكتب كيفية تسجيلها مع سهولة ، لذلك انا ذاهب فقط لتبين لكم كيف أن يوجه لهم بالدخول.
الخطوة 1
إنشاء طبل فاز التسلسل لمقياس واحد. لقد استعملت العقل لإنشاء الألغام. لقد حدد لي انها تصل لحوالي 100 BPM. يتم تعيين التقط بي إلى 16 / 1. وهذا يجعل الحياة سهلة عندما ألفت في أجزاء مع قلم لأنني أعرف أنها ستكون دائما في الوقت المناسب. المفاجئة هي في الأساس وجود مثل استنسل لأنه عندما كنت اللوحة. فإنه يجعل مجرد التأكد ما ترسمه يبقى ضمن مجموعة معلمة. منطق برو لديه وظيفة الأداة ، ودعا 'المفاجئة' كذلك. أدوات للمحترفين وذلك أيضا ابوك. كل شيء هناك.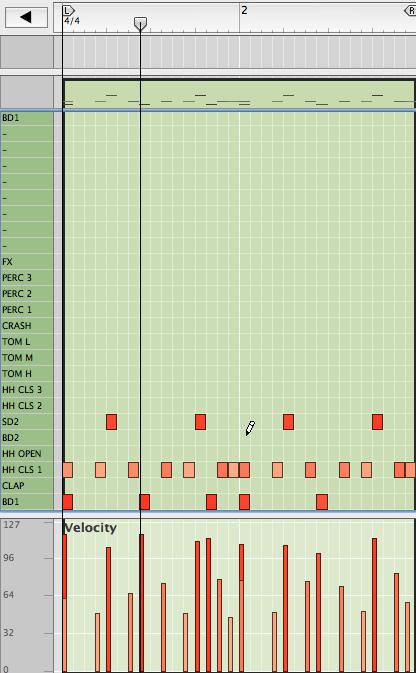 الخطوة 2
ذات مرة كنت قد حصلت على نمط طبل بلدي حيث أحب ذلك ، وأنا ببساطة نسخ بلدي واحد من البراميل على قياس لقياس الثاني. بعد كل شيء ، لا يمكن أن يكون مقياس واحد للالطبول طوال الأغنية ، أليس كذلك؟ السبب في التطبيقات ، والصوت الأكثر ، يمكنك الاستمرار في الضغط على زر الأوامر ، ومن ثم جر المنطقة أكثر. وهذا خلق لحظة مكررة.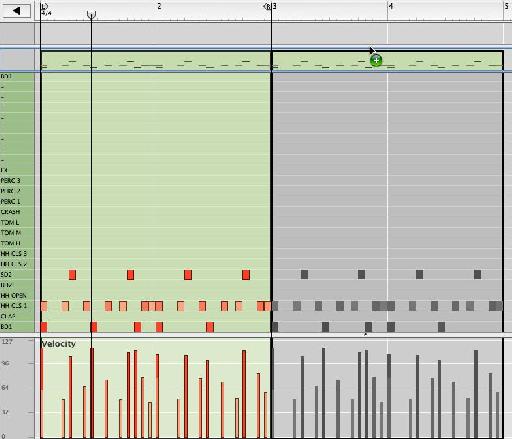 الخطوة 3
سوف أشارك في المناطق طبل مع القيادة اختصار J. الآن ، لدي المنطقة التي تمتد طبل تدبيرين. في نهاية الجزء الخاص بي أطول طبل ، وأنا التعادل في بضع ملاحظات الفخ في نهاية طبل بلدي في المنطقة. هذه الزيارات هي ، في الواقع ، وملء بلدي.

يمكنك رش هذه الملاحظات ، أو يملأ أرجاء أغنيتك لتفريق الطبول رتابة ، وتقديم تعريف لأغنيتك. أود بصفة عامة لوضعها في نهاية كل التدابير 4 ، ببساطة لأن لدي مدى اهتمام ضئيل جدا. وأود أن أشجعكم لجعل العديد من الاختلافات الخاص يملأ بالرغم من ذلك. عندما يكون لديك واحدة واحدة عامة تستخدم في كل مكان ، فإنه يجعل الامور مملة قليلا مرة أخرى.
أيضا ، والحق قبل تغيير الأغنية الرئيسية ، مثل إدخال جوقة ، الزوجين كمين الخاص ملء مع حادث تحطم طائرة ، وهذا يجعل الأمور أكثر دينامية.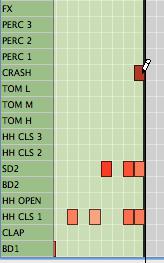 من خلال دمج يملأ في الموسيقى الخاص بك ، يمكنك التأكد من أن لديك أكثر مرونة بكثير ، وأغنية المصقول. أيضا ، تأكد عند الاستماع إلى الموسيقى إلى التركيز على الطبل يملأ لتعطيك أفكارا جديدة!
نلقي نظرة على بعض الدروس الأخرى "طبلة ذات الصلة" : استكشاف الرفوف الطبل ، كينغ كونغ من البراميل و الطبال فخمة : براميل القاتل .