With current drum plug-ins, sample-based MIDI instruments and virtual studios, it's very, very easy to emulate having a real drummer. This is especially cool when you're the lone guy with a laptop. Re
Com tambor atual plug-ins, baseada em amostras instrumentos MIDI e estúdios virtuais, é muito, muito fácil de imitar ter um baterista real. Isto é especialmente legal quando você é o cara solitário com um laptop. Loops gravados tornar ainda mais fácil, porque eles são performances reais, na maioria dos casos, de bateristas reais.
No entanto, há uma coisa que dá afastado laptop performances feitas mais rapidamente do que qualquer coisa: A repetição contínua de uma batida ao longo de uma canção sem preenche, ou alterar-ups.
There are a few more things too that will give you away, but for this exercise, let's just talk about 'Fills' in particular.

O que é um Fill?
Listen to any old Pop, Rock, RNB, or Country track. Right before the chorus starts listen to the drums. Immediately before the first part of the chorus starts, you'll notice an extra couple of snare hits, with a possible tom, or crash. This would be known as a fill. You'll also hear them periodically in the middle of a verse, and other places.
Their main purpose is to break up parts of a song and create definition between parts. We're already geared to subconsciously await a new part, or change when we hear one from years of contemporary music... and... so is your audience. Having fills within your song creates a feeling of familiarity and polish, and no drummer worth his grain in salt will ever not include a fill, unless they are directed not to. Why would anyone want that anyway?!
Criação Preencha fácil
Para este exercício, eu vou usar a razão, mas isso vai funcionar para qualquer aplicação de música. Na minha opinião, é mais divertido para realmente gravar suas preenche uma música depois de todas as partes principais são fixadas como uma das camadas finais de polonês antes de misturar. No entanto, não posso escrever como gravá-los com facilidade, por isso estou indo só para mostrar-lhe como desenhar-los dentro
Passo 1
Criar uma batida seqüenciada por uma medida. Eu usei Razão para criar o meu. Eu configurá-lo para cerca de 100 BPM. Meu Snap é definido como 1 / 16. Isto torna a vida mais fácil quando eu desenhar em partes com o meu lápis, porque eu sei que eles estarão sempre no tempo. Snap é, basicamente, como ter um estêncil para quando você está pintando. Ela só faz certo o que você desenhar fica dentro de um conjunto de parâmetros. Logic Pro tem uma função snap, chamado "Snap" também. Pro Tools tem, Cubase também. É tudo lá fora.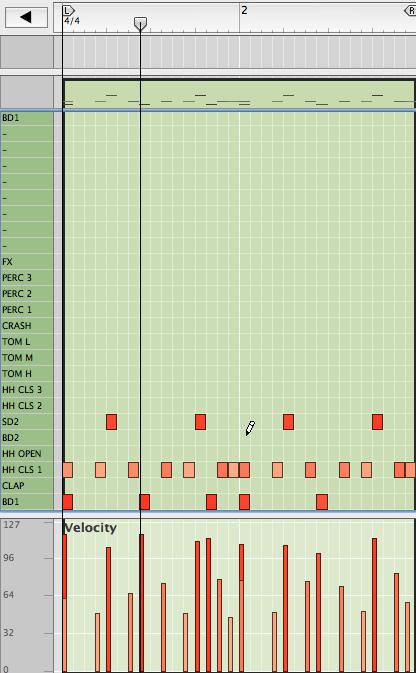 Passo 2
Uma vez eu comecei o meu padrão de bateria, onde eu gosto, eu vou simplesmente copiar a minha única medida de tambores ao longo de uma segunda medida. Afinal, você não pode ter uma medida de tambores durante uma música, certo? Em aplicações de Razão, e mais de áudio, você pode manter pressionado o botão de comando, em seguida, arraste a região mais. Isto criará um instante duplicado.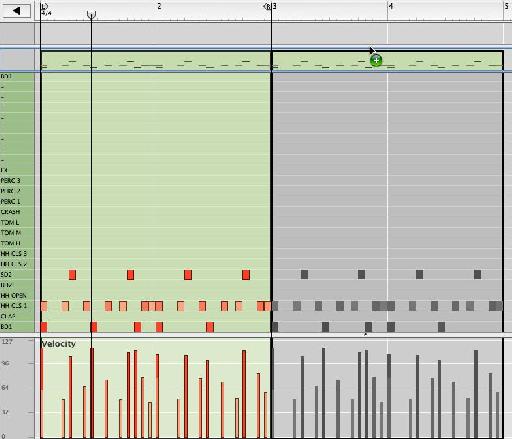 Passo 3
Eu vou me unir as regiões do tambor com o atalho Command J. Agora, eu tenho uma região que se estende por tambor duas medidas. No final de minha parte já tambor, eu vou desenhar em um par de notas snare no final do meu tambor região. Estas visitas são, na verdade, o meu preenchimento.

Você pode polvilhar estas notas, ou preenche toda a sua música para quebrar bateria monótono, e trazer definição para sua música. Eu geralmente gosto de colocá-los no final de cada 4 medidas, simplesmente porque eu tenho uma atenção muito pequena. Eu incentivá-lo para fazer diversas variações de sua enche embora. Quando você tem uma um genérico a ser utilizado em todo o lugar, isso torna as coisas um pouco chato novamente.
Além disso, logo antes de uma mudança canção importantes, como a introdução de um coro, o casal snare preencher com um acidente, isso vai tornar as coisas muito mais dinâmico.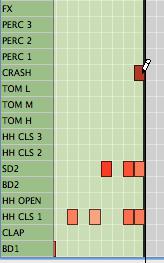 Ao incorporar preenche sua música, você pode garantir que você tenha um líquido muito mais, ea canção polido. Além disso, certifique-se ao ouvir música para se concentrar no tambor preenche a dar-lhe novas idéias!
Dê uma olhada em alguns outros "drum relacionadas com" tutoriais: Explorando Drum Racks , King Kong de Bateria e Superior Drummer: Bateria do assassino .