Did you know that, thanks to Logic Pro X inheriting the Musical Keyboard from GarageBand, you can now create sampler instruments faster than ever? Mike Watkinson demonstrates how.
Before Logic Pro X, when I used to show people the Caps Lock keyboard as a way of playing MIDI notes into Logic from your QWERTY keyboard, they would be quite impressed. But if they were, I knew they hadn't used GarageBand either, because that fine DAW has had a much better keyboard for this purpose, called '˜Musical Typing', for several of its incarnations. Logic Pro X, while no GarageBand Pro, has finally inherited this feature. This means you can now perform the '˜drag and drop' sampler instrument trick that GarageBand aficionados have kept to themselves for years!

Creating Sampler Instruments
Create an Instrument track (default key command: Option-Command-N)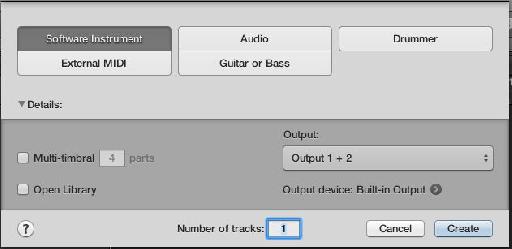 If you had the '˜Open Library' checkbox ticked in the New Tracks dialog, then the library will be open; if not, open it from the Control Bar (default key command: Y)
Find the following Library patch: Legacy>GarageBand> Sound Effects>Radio Sounds.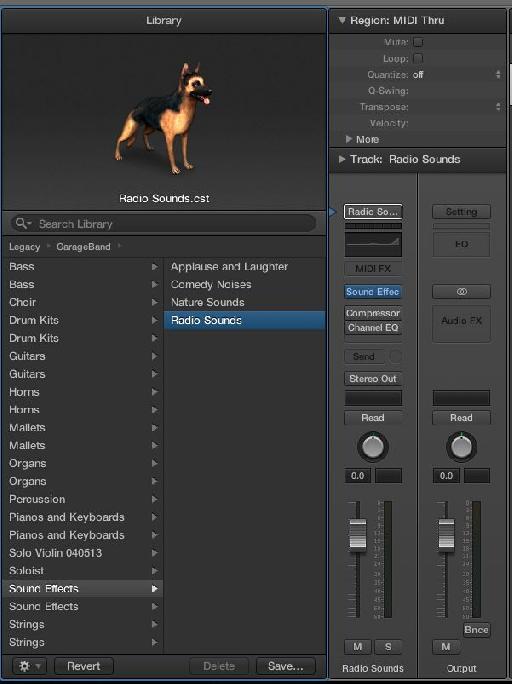 Select '˜Show Musical Typing' from the Window menu (default key command: Command-K). Note that the keys of Musical Typing keyboard have speaker icons - this means that currently selected track has a sampler instrument assigned to it. If you open Musical Typing before choosing the Patch you may not notice these icons immediately - you might need to switch to a different track and back again to see them but that's just a visual glitch.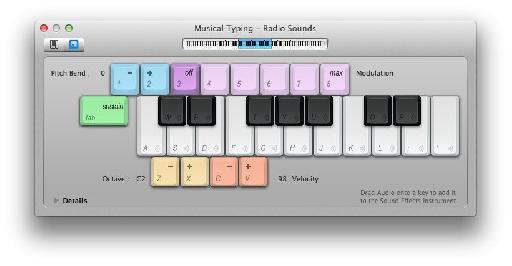 To create your own custom sampler instrument, go to the Finder and locate the audio files you want to play back, then drag and drop them to the appropriate keys on the Musical Typing keyboard, and hey presto - you can easily play them back using Musical Typing, or your MIDI keyboard of course!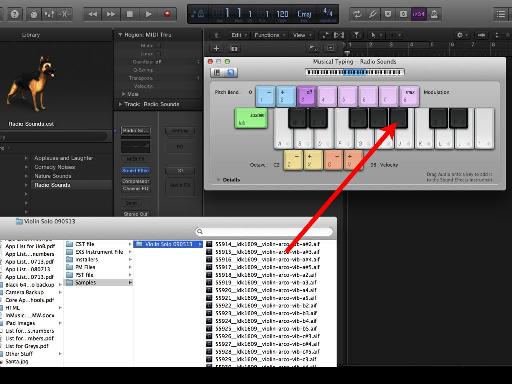 Note - to recreate the action shown in the image, drag the file from its location in the Finder, then Command-Tab to switch application to Logic Pro X
Saving What You Have Made
So far, we have focussed on how easy this is to do. But saving what you have made requires a little thought, but luckily not too much!
Create your own Instrument patch by clicking on the '˜Save...' button at the bottom right of the Library window. Give the patch a unique name (its location will be User Home > Music > Audio Music Apps > Patches > Instrument)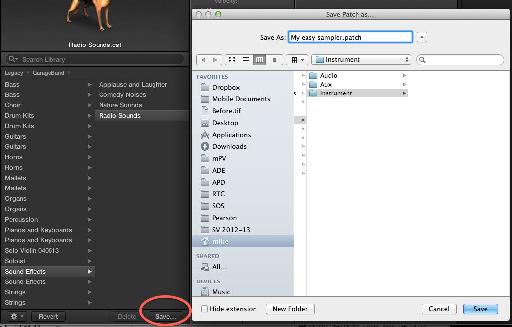 Next time you save the Logic project, you will be prompted to save the .exs file. If you choose '˜Save', a user instrument will be created which will be loaded in preference to the factory instrument (Radio Sounds) next time you choose that patch from the library. So choose '˜Save as...' and give it a new name. Note that in Logic Pro X 10.0.1 the dialog may take you to the following location:

User Home > Music > Audio Music Apps
The correct location is:
User Home > Music > Audio Music Apps > Sampler Instruments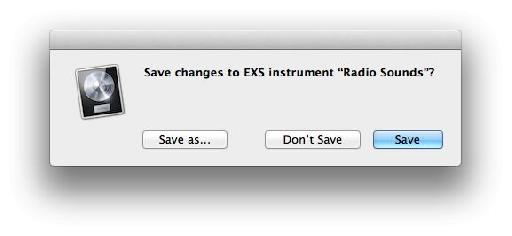 This means you will be able to load your sampler instrument into any other project as a patch from the library.