In the last Reaper tutorial, we covered hardware MIDI devices, and Monitoring. In this tutorial, we'll be setting up Virtual Instruments and FX. Because we need both of these...
In den letzten Reaper Tutorial behandelten wir Hardware-MIDI-Geräte und-Überwachung. In diesem Tutorial werden auch die Einrichtung Virtuelle Instrumente und FX. Denn wir brauchen beides in einem großen, bösen Weg ... Right?

Schritt 1 - Einrichten Instruments
Eine Sache, die Sie über Reaper haben können gefunden verwirrend in den letzten Tutorial ist die Tatsache, dass Reaper ist nicht für die zwischen MIDI-und Audiospuren zu unterscheiden. Zum Glück, in das virtuelle Instrument Abteilung ist Reaper viel freundlicher.
In einer neuen Reaper-Projekt, Ive gewählt zu gehen bis zu dem Track-Menü. In diesem Menü Ankündigung youll the good ol Insert virtuelles Instrument auf eine neue Spur ... Option sitzt da und wartet auf Sie: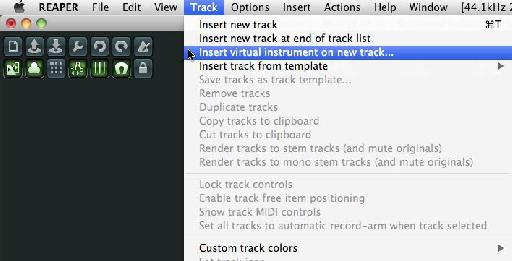 Go ahead, und wählen Sie das Untermenü und Freude an der Tatsache, dass Reaper eine dedizierte Virtual Instrument-Track-Option hat.
Einmal ausgewählt, erscheint ein Menü, in dem alle Ihre verschiedenen Instrumenten-Plug-Ins (Sie Glückspilz, Sie!). Aber bevor Sie auf die Auswahl und das Loswerden dieses Fenster zu erhalten, lassen Sie mich ein paar Dinge: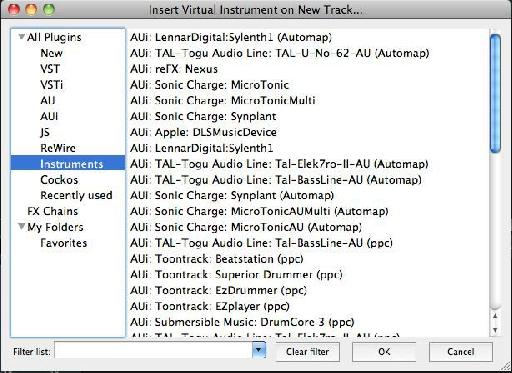 Auf der linken Seite des Menüs gibt mehrere Optionen der die Geschwindigkeit Ihres Fähigkeit, bestimmte Plug-Ins zu finden. Und dies sollte nicht unberücksichtigt bleiben.
Schritt 2 - Plugin-Liste Optionen

Zum Beispiel: Reaper listet neue Plug-Ins, die kürzlich auf Ihrem System installiert worden sind. Dies ist leicht zu unterschätzen, aber lassen Sie mich Pose ein Szenario: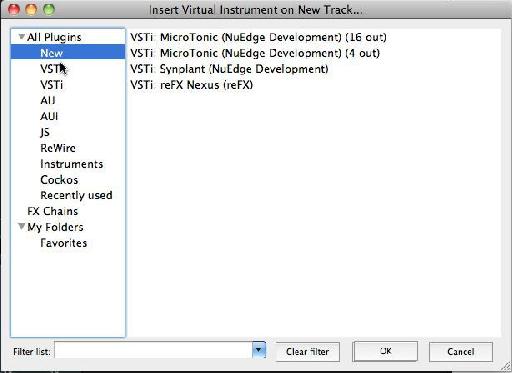 Darüber hinaus haben Sie die Möglichkeit, mit nur VST-Plug-ins, VSTi (VST Instruments), AU, und AUI (Audio Unit Instruments), Cockos (Cockos hat ein Instrument oder zwei sowie FX erstellt) und JS (Jesusonic Art Plug-ins).
Was ist besonders praktisch, um mich als ReWire Jockey aus der Hölle, ist die
Wenn Sie auf eine dieser Optionen, Reason, Ableton Live oder jede andere ReWire-Anwendung wählen Sie doppelt auf passieren wird sofort gestartet. Theres keine mit zu wühlen durch Ihre Dock, Programme-Ordner, oder aber Sie tun es in der Regel.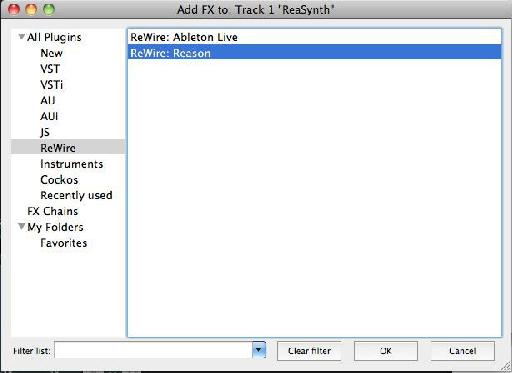 Sobald ein ReWire-Anwendung gestartet wurde, ist es mit Reaper synchronisiert. Wenn Sie es von Ihrem Projekt zu entfernen wählen, werden Reaper tatsächlich geschlossen das Programm sich für Sie aus. Ich war besonders mit diesem kleinen bisschen polieren beeindruckt, wie Im zu haben, dies zu tun alle manuallymeaning Ich habe zum Absperren Reason mit Command-Q verwendet.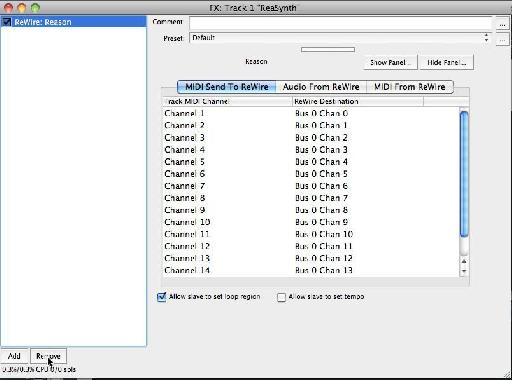 In unserem nächsten Reaper Tutorial werden wir gehen weiter, um ReWire. Für den Moment können fahren Sie mit mehreren virtuellen Instrument Güte von Reaper selbst gehostet.
Schritt 3 - Starten des Virtual Instrument
Okay, gehen Im zu einem Start. Halten Sie Ihre Hüte. Ill wählen Sie die 'New' Filter in den Add FX-Menü. Hier Ill wählen Synplant von Sonic Charge. Eine große Instrument, das ich sehr empfehlen. Ill einfach darauf doppelklicken Sie in diesem Menü. Wenn Sie Synplant dont haben, wählen Sie eine Synth, dass Sie selbst!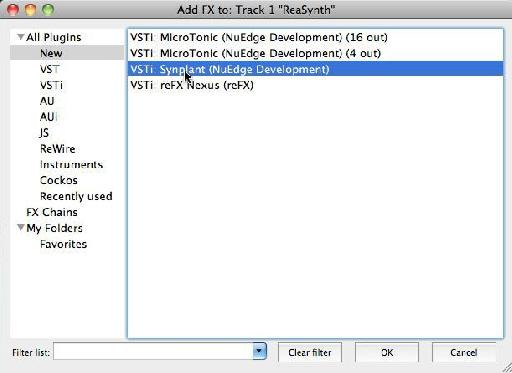 Und das Instrument erscheint!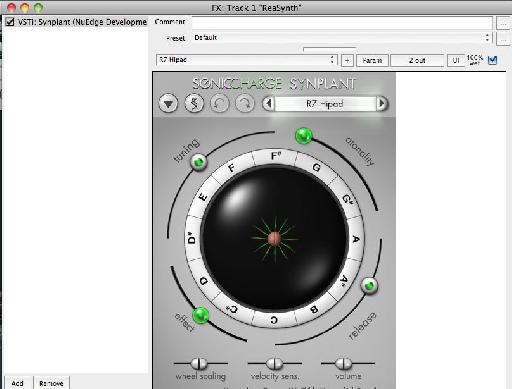 In diesem Menü erhalten Sie wunderbare Einsichten darüber, wie viel CPU dieses Plug-in nutzt die Möglichkeit, Kommentare zu einem Patch hinzufügen, Ausgabemöglichkeiten, etc. In der unteren linken Ecke des Instrument-Fenster haben Sie auch Zugriff auf die 'Add' und 'Entfernen' Buttons. In Bezug auf die Schaltfläche Entfernen, wenn Sie entscheiden, youd eher einen anderen Synthesizer, entfernen Sie einfach die aktuelle die Sie ausgewählt haben, und verwenden Sie dann die Schaltfläche Hinzufügen, um eine andere zu wählen.
An diesem Punkt, wenn Sie Ihren Synthesizer zu spielen, sollte es funktionieren. Wenn nicht, müssen youll Ihre MIDI-Einstellungen in Reaper, Teil 1 zu überprüfen.
Schritt 4 - Hinzufügen von FX
Jetzt, da wir einen Synthesizer bereit zu gehen haben, könnte es schön, einen FX-Plug-in auf sie ebenso hinzuzufügen!
Dies kann leicht aus unserem aktuellen getan werden

Jetzt können wir einen weiteren Plug-in für diesen Titel. Im gehend, die AU-Filter-Liste drücken und wählen Sie "Apple: AUDelay". Youll nun feststellen, dass die AUDelay verfügbar unter Synplant in meiner Liste ist, und seit seiner bereits ausgewählt ist, kann ich das Plug-in die GUI zu sehen. Von hier aus kann ich die Delay-Einstellungen, etc.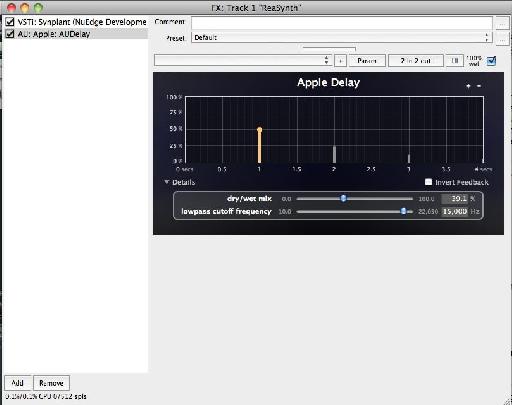 Wenn ich mich entscheide, dass Id wie um diesen Effekt zu umgehen, kann ich einfach das Häkchen aus dem Kontrollkästchen neben dem Namen in der Liste. Nun wird der Effekt ausgeschaltet, kann aber wieder aktiviert werden, wenn ich es brauche.
Durch einen Klick auf die Schaltfläche Hinzufügen wieder, ich kann auch noch mehr hinzufügen FX-Plug-Ins für diesen Titel. Dies ist hilfreich beim Aufbau verrückt, dicke Instrument-Patches, die den Geist ... oder Instrumente, die klingen wie sie sein werden in einem Abwasserkanal gespielt (yeah, es hat eine art) zu blasen.

Abschluss
Alles in allem ist Reaper wirklich einfach zu bedienen, wo virtuelle Instrumente betrifft, und mit diesem wunderbaren Weg zur FX-Stack, es sollte nichts hält Sie davon ab, einige wunderbare Synth-Parts für Ihre Songs.
In der nächsten Übung, würden zu einem Full-on ReWire Szenario zwischen Reaper und Vernunft zu bekommen. Vergewissern Sie sich, Sie bald wieder!