In the last Reaper tutorial, we covered hardware MIDI devices, and Monitoring. In this tutorial, we'll be setting up Virtual Instruments and FX. Because we need both of these...
No tutorial Ceifeiro última , que abrangeu os dispositivos de hardware MIDI, e monitoramento. Neste tutorial, muito bem ser a criação de instrumentos virtuais e FX. Porque precisamos de ambos os de uma forma grande, mau ... Certo?

Passo 1 - Configurando Instruments
Uma coisa que você pode ter encontrado confusas sobre Ceifeiro no último tutorial é o fato de Reaper não foi concebido para distinguir entre as faixas MIDI e faixas de áudio. Felizmente, no departamento de instrumento virtual, Reaper é muito mais amigável.
Em um projeto novo Ceifeiro, Ive eleito para ir até o menu Track. Dentro deste menu, você vai notar o bom e velho instrumento Inserir virtuais em uma pista nova ... opção sentado lá esperando por você: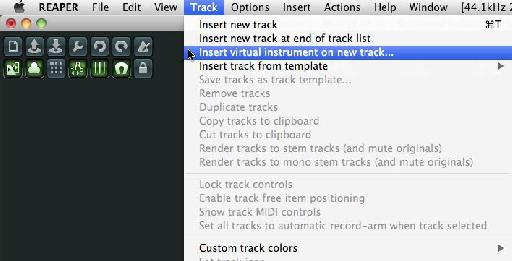 Vá em frente e selecione este sub-menu e deliciar-se com o fato de que Ceifeiro tem uma vertente dedicada Virtual Instrument.
Uma vez selecionado, um menu aparecerá listando todos os seus vários plug-ins instrumento (que sorte pessoa, você!). Mas antes de chegar à seleção e se livrar dessa janela, deixe-me salientar algumas coisas: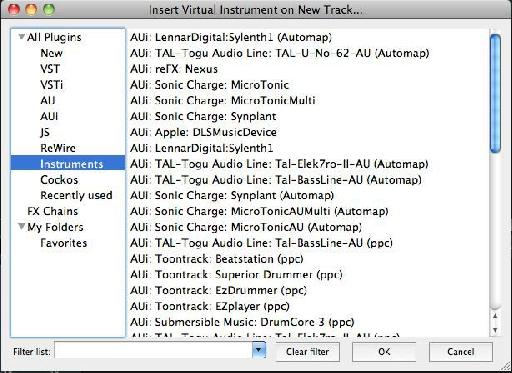 No lado esquerdo deste menu são opções da lista de vários para acelerar a sua capacidade para encontrar determinados plug-ins. E isso não deve ser descontado.
Passo 2 - Opções da Lista Plugin

Por exemplo: Reaper irá listar novos plug-ins que foram recentemente instalados em seu sistema. Isso é facilmente subestimada, mas deixe-me colocar um cenário: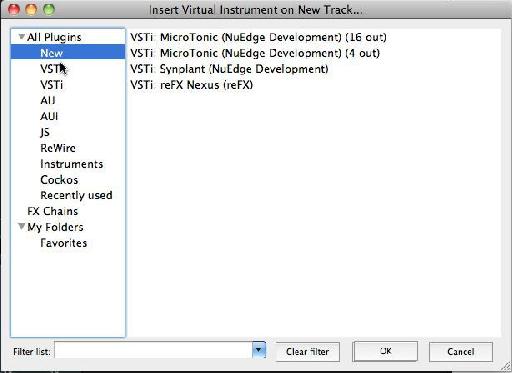 Além disso, você tem a opção de classificar por apenas VST plug-ins, VSTi (VST Instruments), AU, e AUI (Unidade Instruments Audio), Cockos (Cockos criou um instrumento ou dois, assim como FX) e JS (Jesusonic plug-ins).
O que é particularmente útil para mim, ser um jockey ReWire do inferno, é o
Se acontecer de você clicar duas vezes sobre qualquer uma destas opções, Reason, Ableton Live, ou qualquer outra aplicação ReWire outras selecionar imediatamente começará. Não há nenhuma ter que cavar em volta através de seu cais, pasta de aplicativos, ou no entanto fazê-lo normalmente.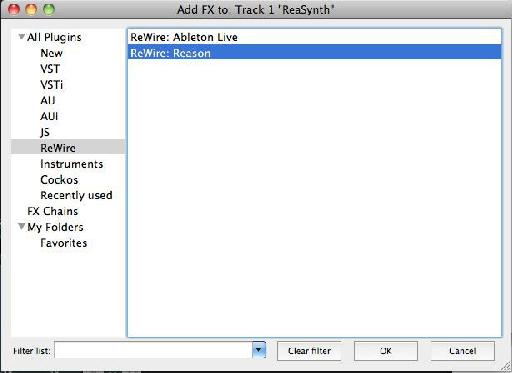 Uma vez que uma aplicação ReWire começou, é sincronizado com o Reaper. Se você optar por removê-lo do seu projeto, Reaper vai realmente fechar o programa fora para você. Fiquei particularmente impressionado com este pequeno pedaço de polonês, como Im acostumado a ter de fazer isso todos os manuallymeaning eu tenho que desligar Reason com Command-Q.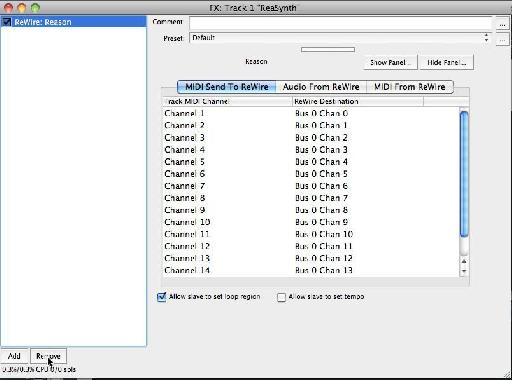 Em nosso tutorial Ceifeiro próxima, vamos estar indo mais para ReWire. Por agora, vamos passar à bondade mais instrumento virtual hospedado por Reaper em si.
Passo 3 - Iniciando o Instrumento Virtual
Ok, Im indo para começar um. Segurem seus chapéus. Ill selecione o filtro 'Novo' no menu FX Adicionar. Aqui Ill selecionar Synplant de carga Sonic. A grande instrumento que eu recomendo. Ill basta clicar duas vezes sobre ele dentro deste menu. Se você não tem Synplant, escolha um synth que você possui!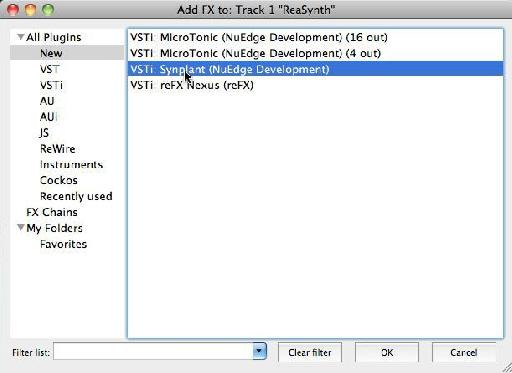 E o instrumento aparece!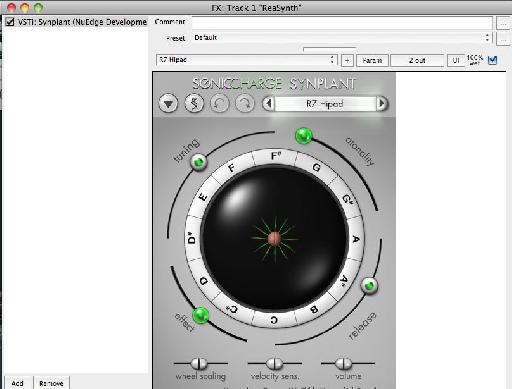 Dentro deste menu, você começa idéias maravilhosas como a quantidade de CPU este plug-in está usando, a capacidade de adicionar comentários a um patch, possibilidades de saída, etc No canto inferior esquerdo da janela de Instrumento, você também tem acesso à 'Adicionar' e 'Remover' Buttons. Em referência ao botão Remover, se você decidir youd preferir usar um sintetizador diferente, basta remover a atual que você selecionou, e depois use o botão Adicionar para selecionar outro.
Neste ponto, se você tentar jogar o seu synth, ele deve estar funcionando. Se não, você precisará verificar as configurações de MIDI em Reaper, Parte 1.
Passo 4 - Adicionando FX
Agora que temos um synth pronto para ir, talvez seja bom adicionar um plug-in FX para ele também!
Isso pode ser facilmente feito a partir de dentro de nossa atual

Agora, podemos adicionar outro plug-in para esta faixa. Im indo para pressionar o AU lista de filtros e selecione 'Apple: AUDelay'. Youll agora perceber que o AUDelay está disponível sob Synplant na minha lista, e desde a sua já selecionado, eu posso ver o plug-in do GUI. A partir daqui, eu posso editar as configurações de Delay, etc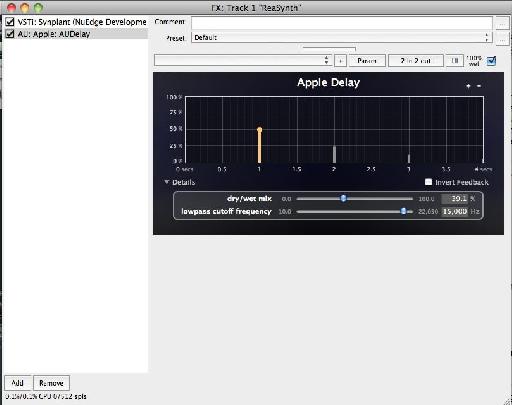 Se eu decidir que eu gostaria de contornar este efeito, eu posso simplesmente desmarque a caixa ao lado de seu nome na lista. Agora, o efeito é desligado, mas pode ser reativado se eu precisar dele.
Ao clicar no botão Adicionar novamente, eu também pode adicionar mais FX plug-ins para esta faixa. Isso é útil na construção de louco, patches instrumento de espessura que sopram a mente ... ou instrumentos que soam como eles estão sendo jogados em um esgoto (sim, a sua arte uma).

Conclusão
Ao todo, Reaper é realmente fácil de usar instrumentos virtuais, onde estão em causa, e com esta maneira maravilhosa de pilha FX, não deve haver nada impedindo você de fazer algumas partes synth maravilhosos para suas músicas.
No próximo tutorial, estavam indo para entrar em um cenário ReWire full-on entre Reaper e Razão. Certifique-se de verificar novamente em breve!