Native Instruments' Maschine has been a runaway success. And to stay on top of their game, NI have been releasing expansion packs for Maschine. Hollin Jones checks out Raw Voltage in this review.
Native Instruments' Maschine has been a huge success, a combination of an intuitive hardware controller and innovative software app that can be used in your DAW or standalone, and can even host VST and AU plug-ins, making it something of a virtual studio in its own right. The German developer has wasted no time in releasing a series of expansion packs for Maschine: essentially pre-mapped samples in various different styles. The latest is Raw Voltage, sampled from various analogue modular systems. A 450MB downloadable sound set, it will set you back $59 and consists of 10 projects, 44 drum kits, one special FX kit and 38 instrument sounds.
The download is quick and easy and authorization is via the Service Center app as with all NI stuff. The kits appear under their own section in Maschine which makes them easier to find, and you can be up and running in a few minutes. The sounds are analogue and electronic but not in the slightly predictable way that some such collections can appear. That is to say, it's not just a load of variations on an 808. That's probably because the sounds are taken from a unique modular system owned by Norwegian synthesis expert Roger Gronberg, made up of kit including modules from Modcan, MOTM, Oakley, STG and many custom and DIY modules. The sounds have been shaped entirely in the system, apart from a few that have had some delay or reverb added. On the whole the sounds are raw and untreated, and all the better for it.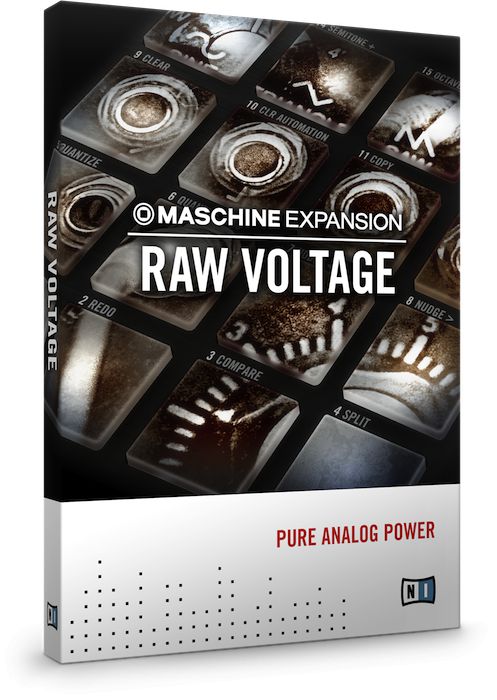 NI Raw Voltage Maschine Expansion Set.
The kits are all very useable, and probably err on the side of serious electronic music or even hip hop rather than shiny, polished chart styles. Not that there's anything wrong with that '" there are plenty of shiny sounding drum sets around. The kicks are fat and thunderous, even before you add any effects or EQ. The snares are punchy and crisp, and all of course synthesized prior to being sampled, as are the cymbals. Beyond the standard kit elements there are some weird and wonderful bleeps, clicks and glitches that are great fun to incorporate into your beats. Everyone will have their own favourite kit, and I particularly liked the boomy dubbiness of the preset called 'Schlesische Str 28', though that might also be because I happen to know this is the address of a bar just by NI's offices in Berlin. As well as being good for harder edged electronica, many of the kits are pretty handy for hip hop too, and there are a few classics thrown in with the requisite synthesized toms for fans of the old school.
Raw Voltage is different enough from other analogue drum collections to be well worth checking out if you're looking for something darker and altogether more interesting. The raw samples sound great and Maschine is of course able to change the sound using effects and other sound shaping tools, so there's really nothing to stop you personalizing the kits and saving them as your own. All in all, a great set of drum samples with something of its own to say.