Are you in the market for a unique Kontakt vocal library, suitable for any world music genre? Lynda Arnold finds out if Rast's MidEast Vocals can compete with the established big boys in the industry.
We are big fans of indie audio software and library designers here at AskAudio. Rast Sound, one of the new developers on the scene, is a collective of sound designers, engineers, producers and musicians based in Istanbul and Berlin. They are beginning to release more sound packs and custom instruments from all types of recording sessions for producers and composers to use all around the world. They offer loops of different lengths, one-shots and custom processed loops to fit any genre.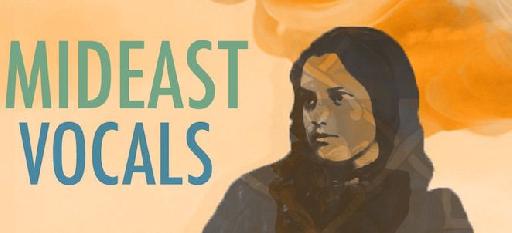 Figure 1 '" MidEast Vocals Promo Image
Their latest release, MidEast Vocals, features recordings from 3 different vocalists ranging from traditional to contemporary. The library concentrates on traditional, improvisational, ethnic and vocal samples from various cultures of Middle East music.
The content is divided into different sample players in NI Kontakt including long and short Improvisations, natural loops, processed loops and solo playable multi-sampled vocal instruments. I was looking forward to diving in and listening to this diverse collection of vocal samples, especially in a specialized style.
The Vocal Instruments
Each of the 3 vocalists recorded has a separate instrument for solo long tones and ethereal long tones. The long tones are, for the most part, static but have differing dynamics throughout the note range as well as characteristic vibrato moments. The solo instruments sound great played as chords or intervals since each note has its own character and realism. The short and long walks instruments contain classic sounding MidEast vocal lines and melismas. You can play these lines from Kontakt or import the included .wav files into your DAW for slicing, dicing and syncing to tempo. The long walks are improvisations up to a minute long giving composers lots of flexibility and choice. The natural and processed loops are tailor made for EDM producers and DJs containing a wide variety of material to sample on the fly in Ableton or arrange over a multitude of different grooves. For a smaller library, there is a wide range of vocal choices here designed with different genres in mind.
Custom Kontakt Player

Figure 2 '" MidEast Vocals Kontakt Player
The custom Kontakt Player has some basic manipulation tools like an attack and release envelope, reverb with six spaces and a tuner for coarse, fine, micro and macro adjustments. Increasing the attack and release knobs works great for the ethereal vocal samples. And, since all the long and short walks are in a specific key, you'll definitely need to experiment with the Tuner section.
Check out the video below to hear a demo of MidEast vocals and learn more about this unique library on the Rast Sound website. An e-manual is included that explains the library, vocalists, content, philosophy and Kontakt interface in more detail.
Price: 34 Euros

Pros: Unique vocal library; great for any world music genre
Cons: Some solo vocal lines sound unrealistic, especially when pitched too high or low