Are classic analog synth sounds you've always wanted to achieve with software plug-ins really possible? Darren Burgos explores Spire by Reveal Sound and finds it is more than the sum of its parts.
There's a new high-quality synth on the block. Spire by Reveal Sound was made with one intention in mind; challenge people's vision of how good a virtual instrument can actually sound. I have to admit that I'm a self proclaimed plug-in synth addict. I have, or have tried nearly every synth available for the Mac, and I'm happy to say Spire has the ability to really challenge some of the classics. Let's take a look at this great new instrument.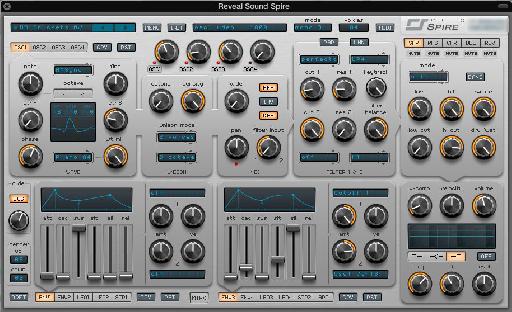 Oscillators
To start off, Spire is a 4 oscillator synth. Each can be set to 4 different oscillator types including a 'Classic' virtual analog type, Noise, FM, and AMSync. The method used to create the oscillator shape is quite different, but powerful. You use two knobs labeled ctrlA and ctrlB. On the Classic OSC for example, Control knob A changes the wave from a sawtooth to a square and everything in between. The Control B knob is used to adjust the Pulse width when a square or square variant is used. When an FM Mode oscillator is used, one knob controls frequency power, and the other modulation frequency. There is also a Wave parameter on each oscillator that allows you to blend sampled waveforms in with the regular oscillator. When using FM, this parameter sets the initial wave sound that can then be adjusted by the ctrl knobs.
If your familiar with ES2 or other synths, you might know that restarting the oscillator on every note press can really tighten up a sound. I was at first disappointed when I didn't actually see an OSC re-start anywhere, but a quick glance at the manual revealed (pun intended) that the Phase knob actually accomplishes this. When you raise it, you see a vertical red line appear across the oscillator. Wherever you set the line across the wave is the point the oscillator 're-starts.'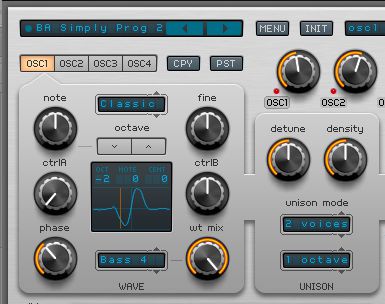 Filters
Some people think a low pass filter is just a low pass filter. I'm here to tell you that not all filters are created equal. In much the same way guitar amps have such a drastic effect on the sound/feel of guitars, high-quality filters can do the same for synthesizer oscillators. There are three Filter algorithms in Spire; 'Perfecto' is an amazing analog type model that is the star of the bunch in my opinion. Although the most processor intensive of the three, the clarity of the Perfecto filter should have many plug-in developers going back to drawing board. It's smooth as silk even at very low values. There is also a TB303 model called 'Acido,' and an access Virus model called 'Infecto.' Each of the three main filter algorithms have 4 different modes: Low Pass, High Pass, Band Pass and Notch.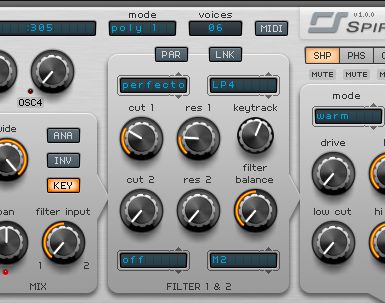 Modulation
With 4 envelopes, 4 LFOs, 2 Step Sequencers, a modulation matrix, and an arpeggiator, you won't run out of ways to modulate Spire's parameters. Let's look at the envelopes first. They're your basic ADSR with the addition of a second sustain stage. They 'sound' very nice to my ears... I'd have to say the attack is tight, but not too tight as to create annoying clicks/pops. One interesting choice they made is to not show the actual envelope shape as your adjusting it on the display. When I first started using them I though the graphic would actually update but it doesn't! Oddly enough, this is good... it forces you to adjust by ear instead of watching the actual shape form. It's quite easy to assign an envelope to any target by simply selecting it from one of the two targets menus.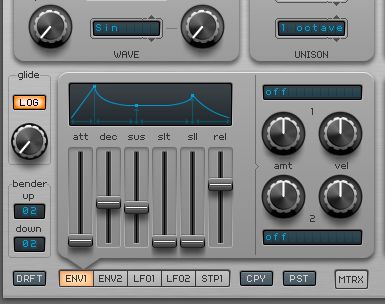 The LFOs are quite powerful. You have your basics like a Rate parameter that can be set either free or to the host tempo, selectable waveforms, and a straightforward way to target whatever parameter you desire... but Spire goes beyond the basics in several ways. Like in the OSC section, the Phase knob allows you to set a specific position for where the waveform starts its cycle. There's a cool symmetry knob for adjusting the center position of the waveform that makes it easy to focus the modulation specifically in upper or lower areas. You can also use the Morph Slider to create hybrid waveforms, and there's a nice way to visually adjust the LFO Delay (Fade In).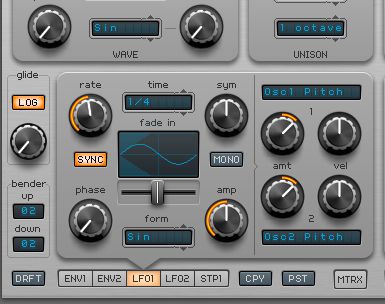 There is also a very powerful 'Stepper' for creating complex envelopes. Each of the (up to) 16 steps can be set to independent shapes like single, double, triple and quadruple sawtooth/square waves for modulating whatever parameter you'd like. You assign the stepper to the targets in Spires powerful Modulation Matrix window. To top it all off, there's is also a capable Arpeggiator with swing.
Effects
The Effect section has quite a lot to offer. Including a Shaper section that is loaded with excellent sounding tubes, distortions, and clippers. There's also a phaser with selectable stages and cool sounding vowel modes. Your standard chorus effect, and very capable delay and reverb units.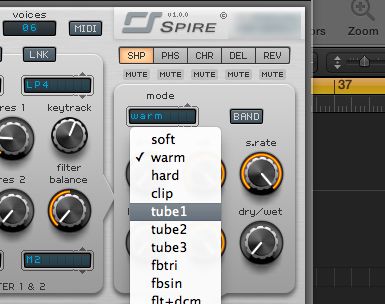 More
You'll also find an excellent de-tuning and unison section great for making huge bass sounds, glide, a Drift button for slight 'analog' type pitch variances, a built-in multi-band compressor, an EQ, various mono and polyphonic modes, Copy/Paste between duplicate modulators, and MIDI learn.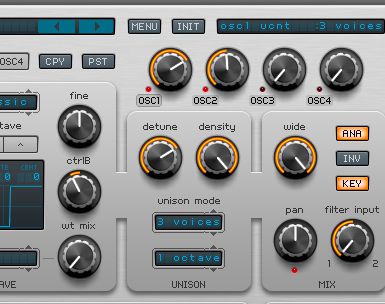 Presets and Sound
The built-in 512 presets are useful for nearly every genre of music. Dubstep, Electro, and Trance for sure, but interestingly, I've been very inspired by some of the darker more ambient lead sounds like 'Introduce' and 'Introduce 2.' Also, the 'Simply Prog' bass sound is an excellent Progressive House/Trance bass that with a bit of adjusting also makes for a fantastic tight Trance/PsyTrance bass too. There are even a couple of 'Hoover' presets that you can directly compare to that other popular 32-bit only synth!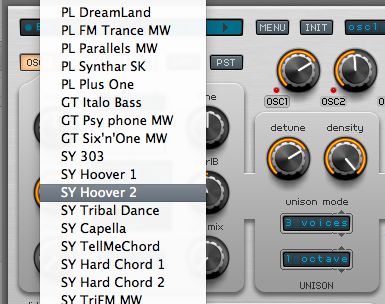 Here's a quick track I made as a sample for this article. I used only Spire with no other effects or instruments...
Conclusion

Pros: Download the demo right now. This is one of the best sounding software synthesizers available. The clarity and quality of the filters alone are worth the price, the distortion and tube effects add energy and depth, the interface is laid out in a way that makes programming easy, and the built-in presets (512) are varied and inspirational.
Cons: Processor Intensive. All that quality requires CPU power'¦ However, Reveal Sound continue to work on versions that are less and less intensive. The overall sound is slightly darker compared to other synths in its class, but can be corrected by its built-in EQ. Coming soon, Spire will have a very nice built-in patch browser, but for now, patch selection is accomplished via a single drop-down menu.