If you already own some of the excellent plug-ins from Rob Papen you need to check out this free AMOD plug-in. G. W. Childs explores it more detail.
Free plug-ins from big names is, thankfully, becoming more of a regularity. This seems to be especially true around the time of the holidays, or NAMM. Hey, companies, have to promote, right? And, as tweakers, we reap the rewards. Recently, Rob Papen (a sound design powerhouse and then some!) did something unusual, and released RP-Amod. Is it worth the download? Oh, yes...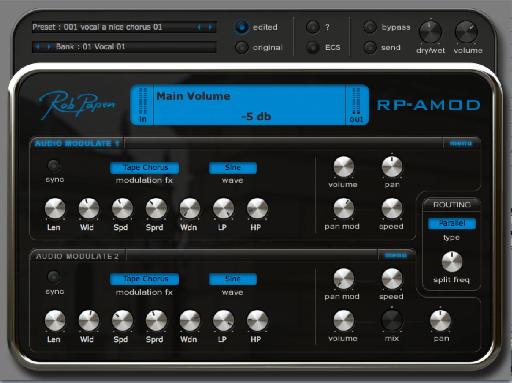 Getting it...
First off, getting Amod does have conditions. You need to be a registered user that has actually registered a Rob Papen product. So, free isn't entirely true. However, even though Rob isn't just giving it away, he is taking care of his customers.
To get it, just log into your Rob Papen account, go to My Products and press 'Get Deal'. They'll walk you through the rest.
What is it?
RP-Amod supplies you with classic modulation effects like Chorus, Flanger, Ensemble, Tremelo. And, yes, you can get these effects in Cubase, Live, Logic, and so on. But, you don't get Rob Papen's version. And, that does mean something.
The first time I fired up Amod on my own voice... In fact, in the first 20 ms, I was sold. The default patch raised the perceived production cost of my Ableton Live session from cheap laptop production, back to sitting in the studio with the old PCM-80 and having my vocals shine again. RP-Amod is capable of running two modulation-type effects at once, either in Sync or out of sync. These effects can be run Serial or Parallel.
'¨The Chorus is fat, I mean really big. It's right up there with the Chorus's found in Predator, Blade, and all the other bad ass synths that Rob Papen has put out. And, when you stack the Chorus with the Ensemble, or Tape Chorus, or the gold sounding Rob Papen Phaser... Well, you can get some thickness, and some lushness.
Presets
I don't normally get into presets when it comes to review. But, as this is a free Rob Papen plug-in and you have only so much time, I figure that it would help. Rob has included modulation presets that are intended for drums, voice, synths, and even guitar. In fact, the guitar presets, in particular offer some brilliant augmentations that will have your 6 string sounding like a 12, easily. But, even running a crappy sample of a synth bass did, in fact, give that crappiness a polish that was more than considerable.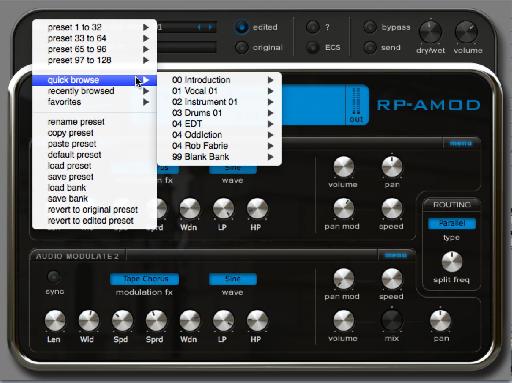 RP-AMOD 2
Routing Options...
Aside from being able to run both effects (effects one, or two can be individually disabled) in either Parallel, or Serial, you can also filter split your signal. This results in your input signal being split into a low pass filter going into Modulation Unit 1 (for example: Chorus), and another signal going in to a high pass filter, which goes into Modulation Unit 2. This particular function can be especially helpful for source signals, like kick drums, bass, and even voice, where you want to accentuate the highs and lows, while adding a nice, soft, inner center that makes all our ears perk up.
Conclusion
If you haven't bought into the instruments and effects that Rob has to offer, this really couldn't be a better time. While RP-Amod may not be the most complex tool in the shed, it really does have a beautiful sound. Sound designers, producers, and guys like me, good old musicians, will all benefit from this plug. I can tell you for fact, in my session, tonight, it's getting used.