Recently we've been seeing regular monthly updates for Cakewalk SONAR. These updates haven't just seen bug fixes, we're talking new features too. Matt Vanacoro checks out this massive DAW.
A couple of years ago, Cakewalk changed its approach to releasing updates to its flagship DAW, SONAR. Updates would come much more frequently—as regularly as once a month—and focus on bringing fixes and new features regularly rather than waiting to bundle them all together like most developers do. There was also a new pricing structure, with a subscription model. SONAR is a huge program and we don't have time to review it in detail here, so we're going to look at some of the changes to its design, pricing and the strategy of the company going forward.
What's New
The incremental changes seen in the 2016.06 update (the name is a clue to its release date) are by definition not huge, but they're still important. The new Tungsten theme, which gives the software a different appearance, has been tweaked. Cakewalk says users really like this theme and I can see why: I certainly find it to be more pleasing to the eye than the standard one. The TH3 guitar suite plug-in has also been sped up considerably and had some bug fixes. Finally, there's a new Smart Swipe feature that means when you click and drag across certain controls like mute, solo, record, automate and several more, you can swipe across multiple tracks to alter the controls for all of them at once. As simple as it sounds, this is incredibly useful for batch changing groups of tracks' settings and something I'd like to see other DAWs implement.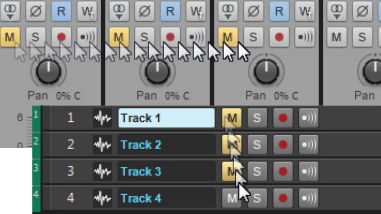 Showing swiping in a still image is harder than you think!
Pricing Models
Cakewalk has also backtracked partly on its previous and somewhat controversial decision to offer subscription models only, and now offers something it's calling "SONAR4Life" for the Platinum Edition only. This restores the ability to pay once and own the software outright, with updates and fixes included in future. At present this deal only seems to be available until August 31, 2016 but I'd hope to see them make it permanent. And also while I'm on this point, bring it to the other versions of SONAR too. The pricing structure is currently fairly complicated as you can see here...
https://www.cakewalk.com/Products/SONAR/Versions#start
... and simplifying this would be a good move.
The other big news is that Cakewalk has begun developing SONAR for the Mac, and an Alpha version can be downloaded from their site. This is great news, though as with other developers we may be waiting a while for an actual commercial release, since SONAR like other legacy Windows apps has a vast amount of proprietary code that needs porting or rewriting. Nonetheless it's a very powerful DAW and the team has historically been at the cutting edge of leveraging hardware to make the software as powerful as possible. If they can bring this to the Mac platform in a sensible timeframe—and perhaps streamline the pricing structures—they may well find they are able to have great success on the Mac as they currently do on Windows.
Price: Platinum Edition $499 Lifetime or $49.99/month, Upgrade and other version prices on site.
Pros: Smart Swipe is really useful. New theme is appealing. Strategy of regular small updates and fixes works well. Still a very powerful DAW. Excellent bundled instruments and plug-ins. Coming to the Mac.
Cons: Pricing structure still too complex. Lifetime offer currently only for Platinum Edition.
Web: www.cakewalk.com