Sound Particles is a very new and unique way to design soundscapes by virtually making clouds of particles that represent sound sources. Intrigued? Read our in-depth review here.
NOTE: The version we reviewed was 1.0.0. Version 1.0.6 of Sound Particles version corrects the detected crashes and freezes we reoprted in this review.
If you're looking for something new, and outside the box, sometimes literally, and in wireframe, for your sound design needs, you may want to check out Sound Particles. This is a very new, and very exciting way of hearing, and even viewing audio, by virtually creating clouds of moving particles that just happen to be made up of virtual microphones. In this review, let's see if Sound Particles is ready for you!
Particle Systems Aren't Just for Animators, Anymore! Maybe?
If you've ever worked in the video game industry, you'll no doubt be familiar with animation platforms like Maya, 3D Studio Max, and the many, many other animation tools that are out there. You'll note that pixels/particles make up the core of any animation, and it's through the manipulation of pixels that you achieve visuals. Pixels, of course, make up a surface, surfaces can have textures applied. You get it!
Now, what if each pixel in within a cloud could be outfitted with a sound? Now, suddenly, if you have a cloud constituting 200 sound particles, each sound particle is playing back from its assigned position, as it moves around, around a virtual microphone, or two, or three, or five, or more.
And what if you could guide the direction, and form of the cloud of sound particles? What if you could send an army of sound particles moving in complex, high-speed movements toward a many virtual microphones in a virtual space? The sound could be amazing. Hundreds of sound particles flying by playing back one, or more recordings from hundreds, or even thousands of tiny emitters.
This is what Sound Particles does. And it does it amazingly well. Though, it's not perfect. Now that I have opened your mind to what it can do. Let's talk a little bit about what it does not do.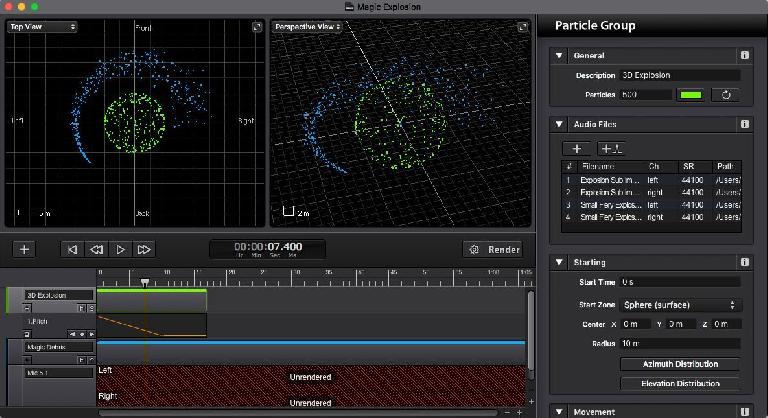 Work With Me, Please?
First off, with a package like Sound Particles, demos are extremely important. And, while Sound Particles has an expansive library of tutorials, after several minutes of watching, I never, ever found any example of where I actually heard a sound being played from the computer. Where's the cute, simple, graphical video showing how awesome it sounds, with examples made by developers and users, alike?
This led to several minutes of taking the time to get the workflow down, as it should. However, this is not an ordinary audio application. I really had to go back to my early days of Photoshop, Lightwave, and even the minimal amount of Maya experience I do have to really get a grip on what is supposed to happen. Once I did figure it out, however, I really did have a smile come over my face.
My first success was applying an explosion sound effect to a particle group. Once I figured out that you need to render, in order to hear audio playback, I was treated to an entirely new depiction of the sound I had initially used.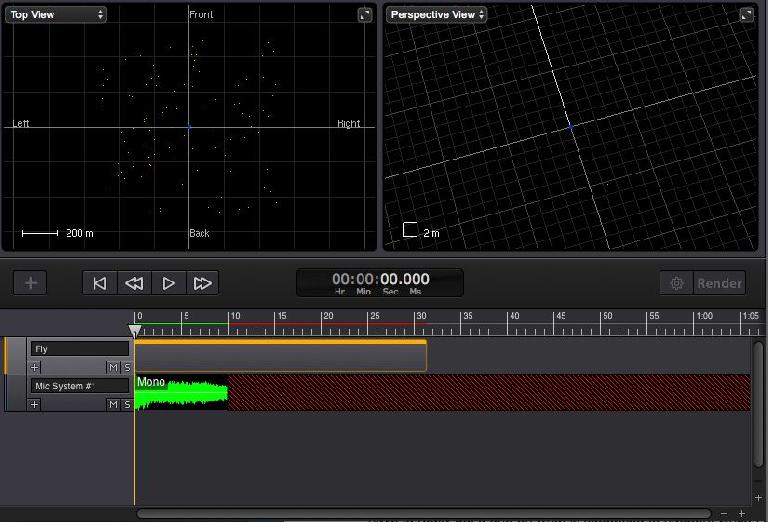 Though, periodically, I'd be greeted with minor to major irritations in the editor. From the inability to Undo Particle Group deletions to straight up crashes, and pinwheels of death.
EDITOR'S NOTE: The version we reviewed was 1.0.0. Version 1.0.6 of Sound Particles version corrects the detected crashes and freezes we reoprted in this review.
Still, you get a feeling about certain apps. When, straight out of the box, an app does something this incredible. You kind of need to give it more of a shot, right? Especially with the price it's going for!
Lots of Templates?
Out of the box, Sound Particles comes with several example templates of what is possible. Doppler Explosion, Granular Synthesis, Space Detune sound extremely exciting. Though, I really do wish these templates at least had place holder sounds, so that one might audition what the explosion, delay, or so on could sound like, without having to enter in to actually create a project, drop in a sound, and wait for the sound, with effect to render. I'm really not sure about the logic with this one.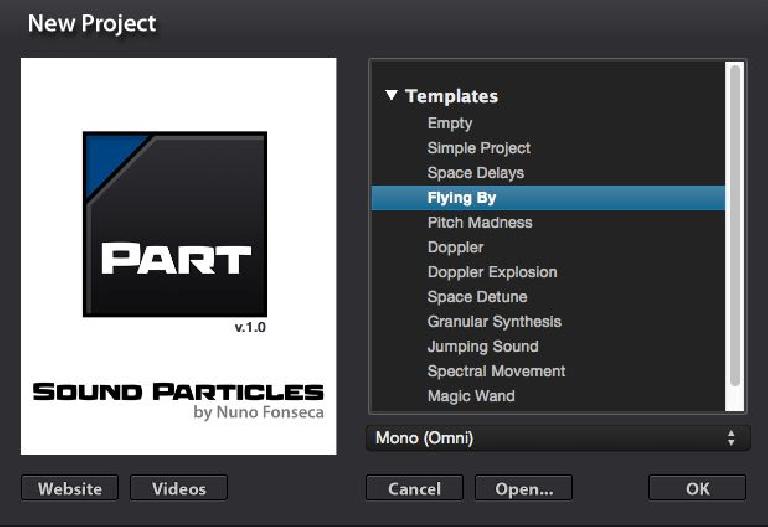 Though, with that being said, the developer does provide ample information within the UI on what each parameter does. So, you aren't totally in the dark. But it's still pretty hard to see.
As you get into the templates, you begin to see some of the major possibilities, and why the processing is so incredible. Hidden within the interface are sections like Movement, where you're able to do things that are unheard of in reality. Control distributions, the velocity, and the shape of your true 'sound clouds'.
You are even able to import video in, wherein you can watch as the particles move around, and even match up the timing, as one might hope.
Where it Counts...
Where things start, or are supposed to get extremely interesting is when you start dropping in multiple sounds, in order to build a scene. Because you can create multiple particle groups, as well as single particle groups that are made up of a number of sounds, it goes without saying that a lot of randomization is introduced that produces not only really cool sounding effects, but also gives you the opportunity to rediscover old libraries that you may have used to death.
When you start stacking and arranging multiple particle groups throughout your scene, and arranging a pretty much unlimited number of mics, each with different pickup patterns, like Cardioid, Omni, Figure 8, and Hyper Cardioid, around an unbelievable amount of sound sources, that were really only in the beginning, around 50 sounds... Well, you can imagine, it can get pretty epic...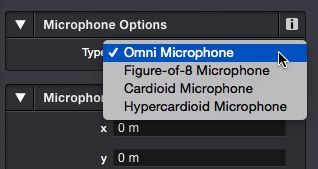 Conclusion
Sound Particles is brilliant. However, it needs a serious amount of polish. It doesn't hurt at all that right out of the gate there's a lot of support for multi-channel formats, and that it really is built for the professional sound designer, from the ground up. And, to be honest, I found the automation lanes very difficult to program, outside of simply typing in my values, which kind of defeats the point of a graphical editor.
Either way, if you're looking to create some really original, sonically way ahead of the curve audio through experimentation, in a virtual venue that truly is a work of art... and if you have a couple of hundred bucks to spare, check out Sound Particles. For the rest of us, there really is something here. It may just not be ready till Sound Particles 2.0, or the next update.
Price: $299.99
Pros: A brilliant new method of creating and exploiting truly unique audio in a manner that wasn't really physically possible before.
Cons: Version 1.0.0. was buggy and needed some polish with its ability to undo and redo. Version 1.0.6 corrects the crashing issues.