Just how epic exactly is Zero-G's Epica virtual instrument? Does it live up to its name? Hollin Jones is on a quest to find out.
Epica is the latest virtual instrument from Zero-G, produced by Sam Spacey, creator of the Phaedra synth and powered by the Kontakt player, both free and full versions. After downloading it unpacks to around 10 GB of sample content which you can store on any connected drive, and this consists of over 17,000 24-bit samples taken from some classic synths and processed through some gorgeous-sounding hardware. According to Spacey the samples were all hand-edited, looped and multi-layered and no plug-ins were used in creating the patches.
Since no one note was stretched further than a single note away from its root, the sampling is remarkably faithful and Epica has a very full and rich sound. Its 600 presets are split by type and there are individual patches and multis covering all sorts of sounds. The interface is deliberately fairly straightforward and doesn't bury you in visual clutter or flourishes, instead providing quick access to the parameters that let you tweak the sounds.
Look and feel
At the top is an amplitude section and you will also find velocity to filter and amp, pitch envelope, start point modulation and an expansive LFO section that is assignable to different zones of the synth. There are only a couple of effects onboard but Spacey says'"correctly in my opinion'"that most people have their own favored set of plug-ins anyway which they are more likely to use. So you get a delay section with some handy controls and a bypass mode, and it does indeed add depth to many of the patches. There's a filter section too, with six filter types available plus a set of controls.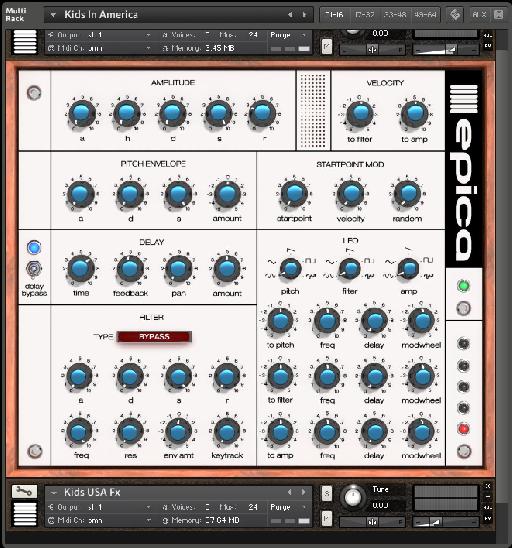 Sound examples
Epica started development as a string and pad library for film, game and TV composers, but according to the developer it quickly began to increase in scope. And although there is much in the sound library that will be invaluable to anyone composing for those media, there's a lot for people making albums too. Although the sounds aren't split into cinematic and musical sections, you'll find the pad, effect and sequence sections as well as the Multis are especially good for anything atmospheric and filmic. The bass, plucked and mono sections are generally better suited to musical applications, though as ever there's a lot of crossover between the sections and a quick dig around will unearth some real gems.
The presets as they stand are mostly very good. The source synths were all vintage and this shines through, so the quality of the sound is retro and warm. There's the odd DX-style preset which I personally never really use but these are offset by some enormous basses, pulsing sequences and biting sharp pads amongst many others.
Final thoughts
At $149.99, Epica is a really solid virtual instrument that will cover lots of bases for any composer or producer. While there's nothing truly revolutionary here, you'll still find yourself coming back to it again and again for quality sounds for your tracks. There are some great audio demos on the website for you to check out too.
Price: $149.99
Pros: Comprehensive electronic sound set. Beautifully sampled. Easy to use and tweak.

Cons: Solid rather than revolutionary sounds
Web: http://zero-g.co.uk/store/epica-p515.php