You've probably heard of parallel compression or New York compression. But just what is it and how can you emulate it in Logic Pro X? Jay Asher knows how, and is here to show you.
Apparently, parallel compression originally was a little different in New York as the engineers would frequently scoop out some of the mid range frequencies, but nowadays the two terms are used synonymously.
Either way, this technique is used on lots of records and has some significant advantages over just using the wet and dry knobs in your favorite software compressor.
Start With A Plain Jane Drum Kick
In Audio Example 1, you can hear a dry, unprocessed kick drum in Logic Pro X.
In Pic 1, you can see that I have opened a Logic compressor with a "slammed" preset.
This compressor has a "mix" knob, which allows me to mix the dry signal of the kick with the compressed kick sound. I have automated it from totally dry to fully mixed compression. Listen to the change as it occurs in Audio Example 2, then listen again to Audio Example 1. The sound gets noticeably punchier and less boomy with the compression. In Audio Example 3, I have set the Mix knob to the 2 o'clock position and that is pretty nice.
Audio Example 2:
Audio Example 3:
Easy-peasy, no worries, let's call it a day? Not so fast! Let's try a little parallel compression.
Creating Busses For Parallel Compression
First, I want an Aux with the dry kick being bussed to it. In Logic Pro X, it is simply a matter of changing the audio tracks output to an available Bus, in this case Bus 1, and Logic automatically creates an aux with bus 1 as its input. See Pic 2.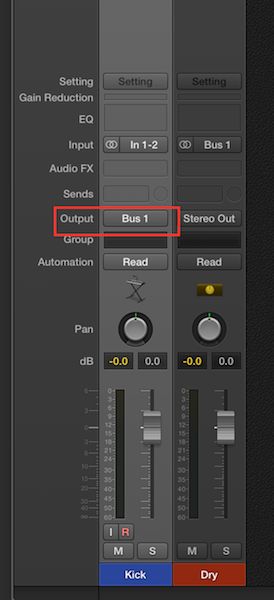 Pic 2
Now I need a second aux for the compressor. I open a send on the audio track channel strip to Bus 2 and again, Logic creates an aux for me with that bus as its input.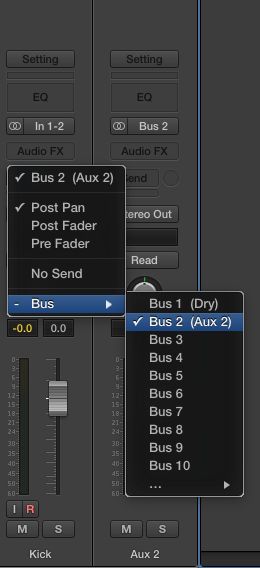 Pic 3
Mixing Parallel Compression
Now I have a far greater level of control. I can adjust the faders of the signal coming in on the dry aux and the compressors aux and I can adjust the send knob to control how much of the original audio sound is being sent to the bus with the compressor on it. Also, I can set the Mix knob to full output in the compressor so that I am mixing totally dry with totally compressed, altered by the amount of send to the totally compressed. That's control, baby!
In Pic 4 you can see the levels I have chosen and hear the result in Audio Example 4.
Audio Example 4:
This has brought me to a much more ballsy sound in my opinion. But wait, there's more!
Adding a Third Aux
Today's music is really compressed. I can now open another send to create another aux and add a different compressor. Here I am using McDSP's Retro Compressor with its Thwack preset. See it in Pic 5 and listen to it in Audio Example 5.
Audio Example 5:
Fantastic, but I have saved the best for last.
Adding FX to the Auxes
I now have three auxes, each of which is available to add plug-ins to. The possibilities are endless, and once again I have so much control over the resulting sound. See Pic 6 and listen to my end result in Audio Example 6.
Audio Example 6:
I think these New York engineers were on to something!
Learn more about mixing in Logic Pro X
here
.