Most orchestrators and Sibelius users find that one day they're presented with a tricky task. Thomas Goss is not one to be put off, and shares real-world tips on creating awesome scores!
2 Febbraio 2011 - l'inizio di un progetto immenso per il jazz vocalist Nikki Yanofsky, orchestrando un concerto la sera di quindici standard per orchestra e nove-piece band. Il mio collaboratore è pianista jazz e compositore Paul Shrofel, che sta lavorando con Nikki per impostare il programma, e sta facendo un sacco di schizzi preliminari e di alcuni arrangiamenti della band molto gustosi. Pauls ha dato ottimi consigli e idee per l'orchestrazione di queste norme, come la prima canzone che ho ricevuto e-mail la scorsa notte, I Got a Crush On You. E hes bussare me con questi accordi impressionanti sotto ... dare un'occhiata a queste sbarre ...

Posso fare qualcosa di veramente colorata con quella, che contrasta l'armonia radice contro le note aggiunte pur sottolineando alcune delle voci interiori, e valorizzare i toni freddi in alcuni punti. Così mi sono messo a lavorare, pensando a quanto sia bello essere orchestrare a ridosso di un grafico a corda, un po 'come fingere un vantaggio in movimento molto lento con 70 paia di braccia ciascuno con un diverso strumento orchestrale. Ora, fast-forward a luglio 2012, alla vigilia della mia 101 Sibelius macProVideo rilascio del progetto Lead Sheet. Questo tutorial è mi ha fatto pensare di nuovo ad accordi Pauls, e circa ingresso Sibeliuss simbolo accordo. Mi auguro che avrei potuto inserire molte più informazioni su accordi complessi nel corso di 101, ma i tempi non è giusto. Fino a quando il mio corso di 103 esce, ecco alcuni suggerimenti per inserire i propri over-the-top accordi.
Il primo è la scorciatoia da tastiera. Per avviare una catena di input corda simbolo, selezionare la prima nota, e il tipo Command-K (o Control-K su Windows). Che si ottiene un cursore lampeggiante sulla prima nota.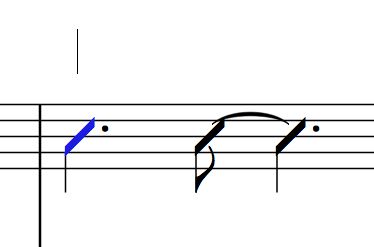 Ora, per inserire il primo di Pauls ultra-cazzute accordi, tipo ebmaj6/bb - quindi premere la barra spaziatrice, che farà progredire il cursore alla battuta successiva, lasciando con l'elegante inciso ....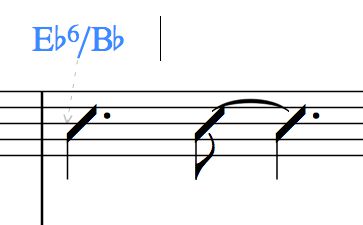 Si noti che b può lavorare come un B o un appartamento: dipende solo quale posizione si trova nel flusso di testo. Paul ha lavorato in fretta gli accordi come input di testo su questo punto - notare come il simbolo accordo interpretazione del testo linea di Sibelius non accetta l'accento Pauls sull'identità della corda come principali, ma senza pietà suoi collegamenti. Le 6 miniaturizza e balza in posizione. Accordo Pauls successivo ha anche modifiche. Se si digita bb7sus4 poi si arriva ...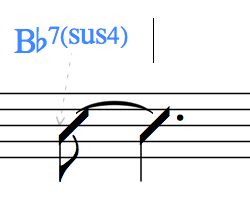 ... Come si può vedere, Sibelius 7 è tra parentesi la sospensione, secondo le norme vigenti incisione. La corda successivo è la stessa della prima, e quindi lo si ridigitare oppure selezionare il primo e incollare sulla nota. Ma il quarto accordo a metà della seconda barra ottiene anche una parentesi rinnovamento, che si può vedere se si digita bb7b9 ...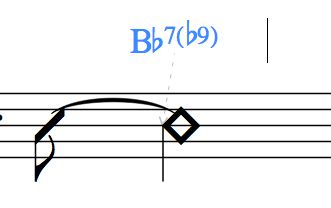 L'accordo successivo è solo un plain-Jane G minore settima (Gm7), ma mi piace l'accordo che segue: Sol bemolle minore - Thats qualche profondo, della magia nera. Per ottenere ciò, si digita gbdim, che dà automaticamente il cerchio po 'diminuita ....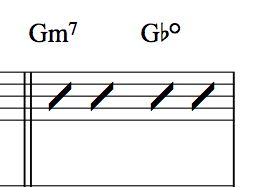 Non potevo molto ben messo sotto accordi come quello in Greensleeves, il pezzo ad esempio per il foglio 101 di piombo, e restare fedele alla musica (per non parlare di rimanere concentrato sui principi fondamentali). Ma se youre così alla moda che youve perso la capacità di giocare quattro triadi semplici di fila (e voi sapete chi siete), allora hai la mia benedizione di prendere quella passamezzo e renderlo scream, you gatti pazzi!