Spitfire Audio Releases London Contemporary Orchestra Strings Library For Kontakt
Spitfire Audio tells us their new London Contemporary Orchestra Strings includes unique articulations you won't find anywhere else for raw, emotional sounds with a diverse feel.
LONDON, UK: Spitfire Audio, purveyors of the finest virtual instruments from the finest musical samples in the world, is proud to announce availability of LONDON CONTEMPORARY ORCHESTRA STRINGS — serving up everything needed to make cutting-edge strings music on a beautifully prepared platter, perfectly produced in partnership with the London Contemporary Orchestra, whose work with the likes of Radiohead and Jed Kurzel (Alien: Covenant) has contributed significantly to a shift in string writing, with rich recordings of violin, viola, cello, and bass sections resulting in a host of dynamically-controllable, never-before-sampled articulations that are as playable and musical as they are transformational — as of February 23...
Watch Spitfire Audio co-founder and Director Paul Thomson's 'traditional' LONDON CONTEMPORARY ORCHESTRA STRINGS video walkthrough here:
Always a company keen to keep its collective ear to the ground and never one to rest on its collective laurels, Spitfire Audio noted a shift in string writing based on innovative techniques and performance styles becoming a global movement. Most certainly that was the case, but it was also nigh on impossible to program with the tools (then) currently available. As a distinct collection of multi-sampled, multi-dynamic, and, most importantly, 'playable' strings, LONDON CONTEMPORARY ORCHESTRA STRINGS sets out to change that. "This is an innovative and experimental library," says Spitfire Audio co-founder — and composer for films, television, and video games — Paul Thomson. "It has a load of really unique articulations that you literally won't find anywhere else — articulations that have been workshopped by the London Contemporary Orchestra during work that they've done with artists like Radiohead, Jonny Greenwood, and from their work on the latest Alien film, Alien: Covenant. This library ranges from raw, in-your-face sounds, and can add real excitement, emotion, and interest to existing string libraries that you're using. Also, it can stand on its own as an incredibly diverse and exciting library to work with."
Watch Spitfire Audio's arty promo video for LONDON CONTEMPORARY ORCHESTRA STRINGS here:
What a wonderful introduction from a wonderfully talented individual. But how this meeting of musical minds came to fruition makes for fitting and equally engaging reading. Winner of the Ensemble category at the RPS (Royal Philharmonic Society) Music Awards — the highest recognition for live classical music-making in the UK — in 2015, the London Contemporary Orchestra (LCO) has established itself as one of the UK's most innovative and respected ensembles, promoting the best new music and cross-arts collaborations to an ever-widening audience. As such, it has collaborated with a distinguished array of composers, artists, and brands, including Radiohead, Secret Cinema, Actress, Vivienne Westwood, Jonny Greenwood, members of Arcade Fire, Boiler Room, Goldfrapp, Nike, Terry Riley, Beck, and Foals. LCO strings and choir feature prominently on Radiohead's 2016 album A Moon Shaped Pool; soundtrack output features on The Master, Theeb, Slow West, and Macbeth; while, closer to their namesake home, highlights include sold-out performances at the Roundhouse, Southbank Centre, the Barbican, and now... working with Spitfire Audio, recording at the company's London-based dry stage to create LONDON CONTEMPORARY ORCHESTRA STRINGS!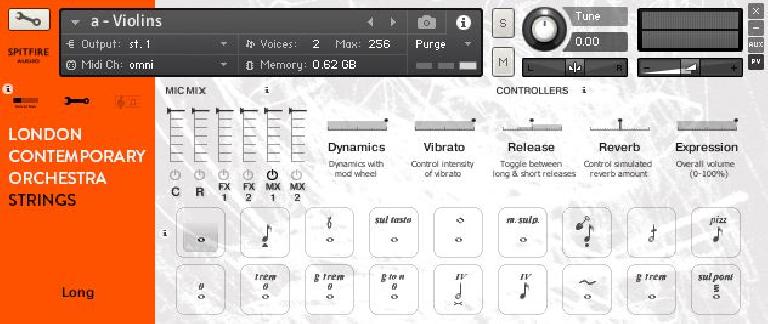 Like all good things that are worth waiting for, this musical match made in heaven was far from being a rushed affair. According to Spitfire Audio, LCO members became interested in collaborating when the company started experimenting with its EVO GRID line of virtual instruments based around hyper-long, sample-based articulations that evolve over time, organised on a grid so users can plot which evolution or 'evo' sits on which key range, resulting in a GUI (Graphical User Interface) inspired by the breakthrough British EMS VCS3, which made musical history upon its introduction in 1969 by being the first commercially portable synthesiser available anywhere in the world, thanks to its innovative modular matrix-based patchboard dispensing with the telephone exchange-like cabling of other (much larger) modular systems in favour of making space-saving connections with (removable) coloured pins. Passing time, the two award-winning companies met over a period of two years, discussing how to make a virtual strings library like no other. Only by working with the LCO could that be achieved. And the rest, as they say, is history.
LONDON CONTEMPORARY ORCHESTRA STRINGS sees Spitfire Audio Head of Product Stanley Gabriel and in-demand engineer Joe Rubel teaming up with the LCO to recreate its popular 'workshop' playing approach to curate a musical, deeply versatile set of never-before-sampled articulations that, at long last, gives users an ability to demo and create cutting-edge string writing — the kind of work that is winning hot new composers plaudits across the compositional landscape. Leaning from sharply angular to sincere beauty, LONDON CONTEMPORARY ORCHESTRA STRINGS reflects encouraging the LCO to create the 'impossible' by recording detuned strings to form playable single instruments, resulting in another must-have library comprising six Violins, four Violas, three Celli and two Basses + Celli in octaves with over 100 articulations captured across all sections — each with two mic positions (Close and Room), two individual stereo mixes (Full and Pumped), two additional printed analogue effects, and integrated reverb (matched to the room with GUI control).
Creating LONDON CONTEMPORARY ORCHESTRA STRINGS allowed Spitfire Audio to achieve two things: capture the unique techniques and styling of an extremely exciting group of musicians for use in its own compositions and create new instruments with them that could only be possible by harnessing the power of modern sampling technology. These upfront strings are designed to make anyone who uses them think differently about string writing. "What you have here, in my opinion, is an innovative and really unique sound — very playable and musical," maintains Paul Thomson. "This will give you stuff that you just simply can't do with any other strings library. It's really useful — on its own to create these beautiful, intense and searing kind of sounds that you'll associate with the scores of Jonny Greenwood, for example, but also to use as a blending tool to give you your own sound on another strings library. You can overlay these sounds and just kind of feather them in to get that kind of thing where your ear can pick out that there's something really interesting and unique going on, but you can't quite work out what it is. It really is a new and useful tool for the composer and producer's arsenal."
LONDON CONTEMPORARY ORCHESTRA STRINGS can be purchased and digitally downloaded (as 45.7 GB of uncompressed .WAV files, featuring 42,094 samples) for a time-limited introductory promo price of £239.00 GBP (inc. VAT)/$279.00 USD/€289.00 EUR (inc. VAT) until 08:00 GMT on March 9, 2017 — rising thereafter to an RRP of £299.00 GBP (inc. VAT)/$349.00 USD/€359.00 EUR (inc. VAT) — from here: http://www.spitfireaudio.com/shop/instruments/orchestra/london-contemporary-orchestra-strings/
Note that Native Instruments' free KONTAKT PLAYER is included with LONDON CONTEMPORARY ORCHESTRA STRINGS, while Spitfire Audio's free Download Manager application for Mac or PC allows anyone to buy now and download anytime.
For more in-depth info, including several superb-sounding audio demos, please visit the dedicated LONDON CONTEMPORARY ORCHESTRA STRINGS webpage here: http://www.spitfireaudio.com/shop/instruments/orchestra/london-contemporary-orchestra-strings/