Steinberg have released Cubase Elements 8, the entry-level music production system for sound recording, editing and mixing, with new features & enhancements.
HAMBURG, Germany '" April 7, 2015 '" Steinberg Media Technologies GmbH today announced the immediate availability of Cubase Elements 8.

Cubase Elements 8 combines studio technologies and tools that are accountable for the popularity of Cubase with many exciting features new to version 8. Moderately priced, the Cubase Elements music production software throws its doors wide open for aspiring producers and musicians, inviting them to begin exploring the fascinating world of Cubase.
After unveiling Cubase Pro 8 and Cubase Artist 8 to great acclaim at the end of last year, Cubase Elements 8 now completes the latest Cubase range, offering new sounds, new effects and many other features that easily turn any Mac or Windows computer into a music production system.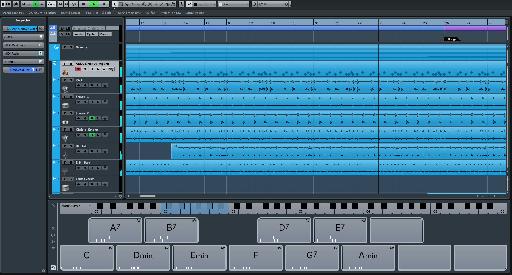 UI enhancements include window docking for the VST Instrument Rack and MediaBay, a redesigned Track List and Inspector for improved readability, a new plug-in manager for easy customization and a flexible window layout for PC versions.
Chord pads adds to the creative feature set in Cubase Elements 8, allowing users to trigger chords and change voicing and tension through MIDI parameters on any record-enabled MIDI or instrument track. A circle of fifths representation provides a graphical overview to understand the theory behind available chord progressions.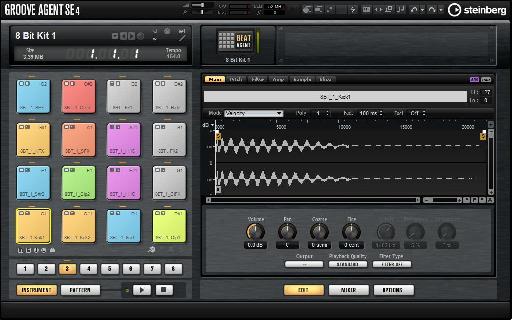 Groove Agent SE 4.
The instruments HALion Sonic SE 2 and Groove Agent SE 4 boast brand-new sounds and a generous variety of drum kits. HALion Sonic SE 2 also features Trip virtual analog arp synthesizer plus eight new effects.
Further advancements include ASIO-Guard 2 to ensure low latencies at all times as well as an enhanced EQ module on each channel strip, displaying values for gain, frequency and note pitch as well as offering the option to enter pitch notes and cent values in lieu of frequencies. The re-record mode new to the transport controls in Cubase Elements enables instant record restart at the original position. A revised version of the Tuner plug-in offers strobe tuning and improved handling.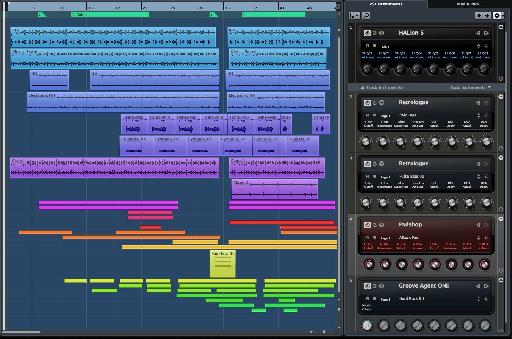 Cubase 8 Elements now features a dockable instrument bay.
Cubase Elements has many other useful tools in store, such as the MP3 codec for unlimited encoding and decoding of MP3 files as well as taking full advantage of the FLAC lossless compression codec.
A fully functional trial version of Cubase Elements 8 is now also available as download from the Steinberg website. This version expires after 30 days and does not require the USB-eLicenser dongle.
Steinberg's product marketing lead, Helge Vogt, commented: 'By releasing Cubase Elements 8, we have now completed the current Cubase product range. Considered our entry-level DAW, Cubase Elements offers a whole set of tools and capabilities to get started right away without overwhelming the user with too many options. Its straight-to-the-point approach will appeal to those looking to record, mix and edit their music at an extremely reasonable price.'
Visit www.steinberg.net/cubase for details on Cubase and its derivatives.
Features at a glance
Personal music production system, offering a set of streamlined audio/MIDI recording, editing, scoring and mixing tools

Based on proven Steinberg Cubase technology used by professionals around the world

Supports 64 MIDI and 48 simultaneous audio tracks with up to 24-bit/192 kHz

Award-winning 32-bit floating-point Steinberg audio engine, flexible routing and full automatic delay compensation

Includes outstanding virtual instruments: HALion Sonic SE workstation, MPC-style Groove Agent SE drum machine, Prologue synthesizer

Comes ready with 44 audio effect processors, including Pitch Correct for vocal intonation correction, MorphFilter and the extraordinary VST Amp Rack guitar tone suite

MixConsole provides the stellar mixing experience with full flexibility and integrated EQ/Dynamics channel strip modules for epic pro-console sound

Chord pads for easy chord composing and management

Includes dozens of presets and thousands of MIDI construction loops

Streamlined score editing feature set

Availability and pricing
The full retail version of Cubase Elements 8 is available through authorized Steinberg resellers and the Steinberg Online Shop. The suggested retail price is 99.99 euros, including German VAT.
The Cubase Elements 8 update from Cubase Elements 7 and 6 is available as download through the Steinberg Online Shop. Cubase Elements 7 and 6 customers can purchase the update for the discounted price of 19.99 euros until April 30, 2015, after which the retail price will be 24.99 euros, including German VAT.
Customers who purchased a copy of Cubase Elements 7 from January 15, 2015, are entitled to the free Grace Period update to Cubase Elements 8.