It doesn't matter what DAW you use. You'll hear advice from others recommending you create templates. Jay Asher is aware you might resist it and explains why you should really consider it!
Whether you use a ton of tracks with sample libraries and software instruments for composing or record bands in a client-based studio, it has always seemed to me that having a number of well-thought-out templates simply makes sense. And yet, I have become aware that many users are resistant to this approach.
So let's examine this a little. I use Logic Pro 9 as my primary host and frequently use Vienna Ensemble Pro both on my Mac and on a slave PC as a secondary host. I have some projects where I am trying to re-create a big orchestral sound and some that are smaller pop productions. Some of my libraries are very powerful and require a fair amount of time to create and load up, especially the EastWest Hollywood series (String, Brass, and Orchestral Woodwinds) that are an integral part of my large orchestral pieces.
Now Logic Pro has the ability to save Channel Strip settings, so for smaller projects one can argue, and some do, that it is quite easy to open a blank project, create the desired number of software instrument and audio tracks and load the settings. But look at Pic 1 and Pic 2.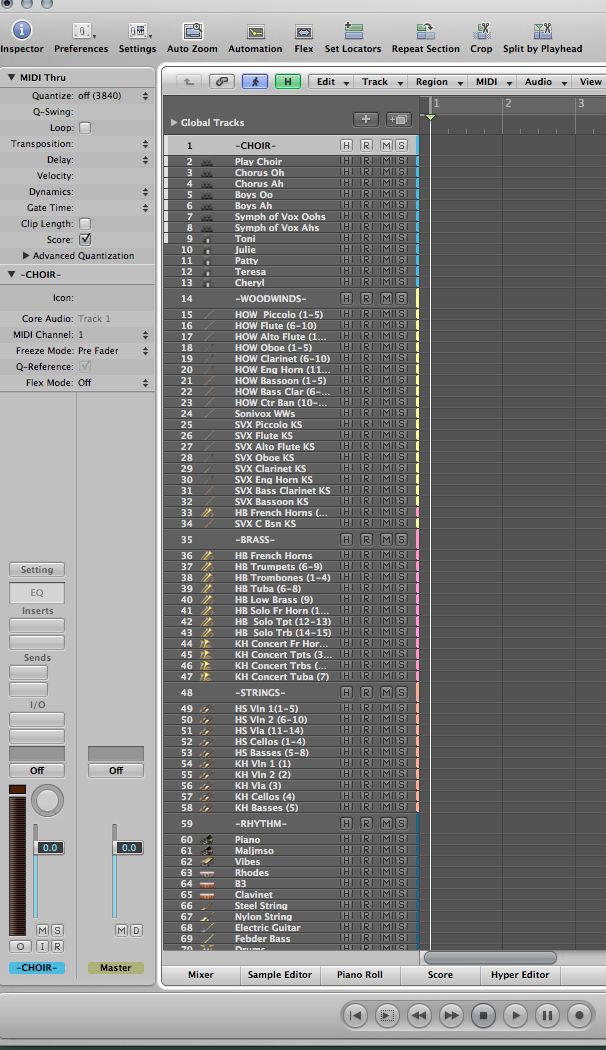 Pic 1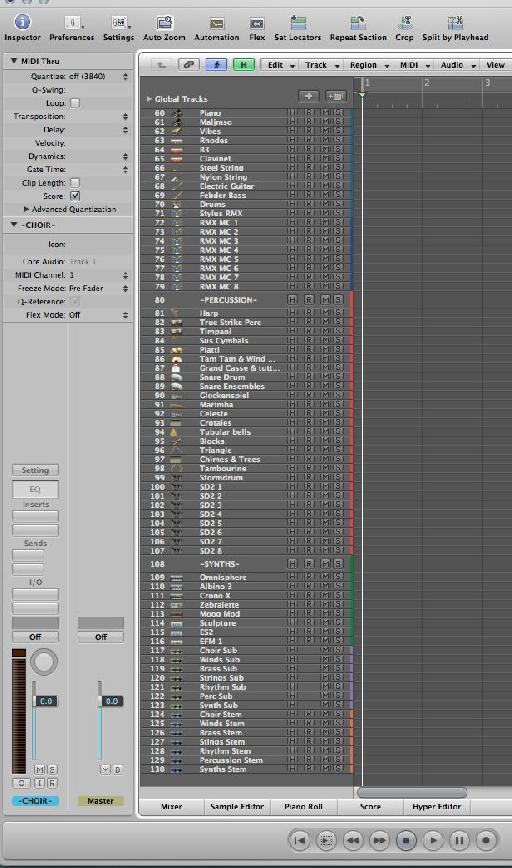 Pic 2
This is my full orchestra template. It has 130 tracks. On my 27' monitor it takes 2 screenshots just to show it to you. And some composers use more!
So for film composers who may be composing 25 cues using essentially the same sonic palette, setting up these templates is clearly a must. It takes a substantial amount of time and invariably I end up modifying them when I change the libraries I am using but at least when they are done I have them.
In Pic 3, you see the Vienna Ensemble Pro servers on my two computers. I use eleven projects between them, each chock full of large sample library instruments that take a while to load. And once again, some composers use more!

Pic 3
On the other hand, why the heck would I load up all this stuff to do a simple pop song arrangement? That would be equally as crazy. The answer is, I need a different template.
In Pic 4, you see a Logic Pro template that is designed for that purpose. I don't need Vienna Ensemble Pro for this (although frequently I use it on my Mac for strings, horns, woodwinds, etc. anyway.)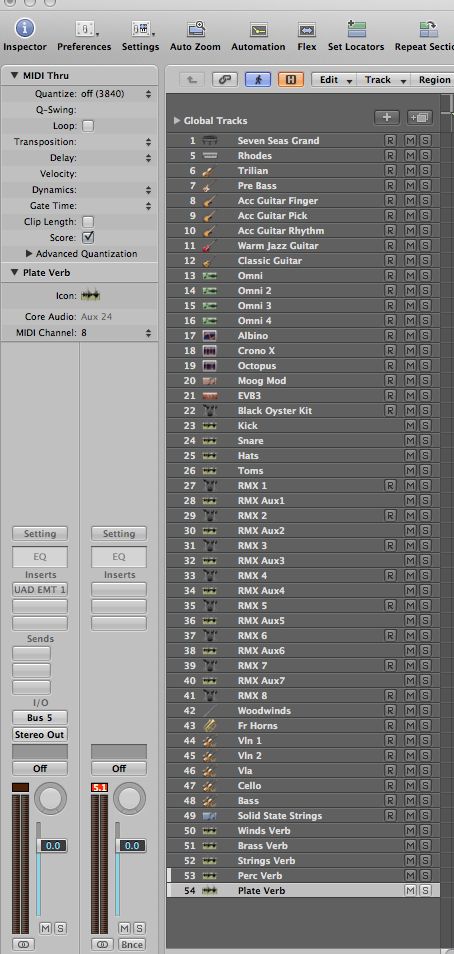 Pic 4
So why use a template instead of just loading Channel Strip settings, when only using Logic Pro? And anyway, doesn't Logic Pro 9 have an import feature to import Channel Strips from project to project?
Even this relatively modest project still has 54 tracks. Also, Logic Pro 9 makes a mess out of importing auxes and busses sadly. They just do not come in with the right input assignments. ProTools does this better, and perhaps other DAWs do as well.
And anyway, it still takes time to do it and who likes to waste time? I have a bunch of different Logic Pro 9 and Vienna Ensemble Pro templates and believe me, they're making my jumping off points more efficient.
The arguments against templates generally are as follows:
Every project I do is different.
My answer is 'How different?' Surely it is quicker to swap things out and/or add to existing stuff than to create from scratch, and after you have done so, hallelujah, you can now have another template.
If you start with the same template, you will fall into using the same patches and not be as creative.
My answer is 'horsepucky!' Surely, you do not have to be imprisoned by the template. If you have time for trial and error creative exploring outside the template, you have time within the template. And once again, you can now have yet another template when you are done. It is only disk space, and hard drives are cheap.
So my feeling is, don't keep recreating the wheel, make good templates. I look forward however to hearing additional dissent from the anti-template folks.