One DAW that I've not had the luxury of spending time with yet, while also being a DAW that has garnered considerable attention over the last several years is- Reaper. I've heard people talk about it
Eine DAW, dass ich nicht den Luxus Zeit mit noch, während auch eine DAW, dass sammelte viel Aufmerksamkeit hat sich in den letzten Jahren ist
Reaper ist sehr ähnlich zu vielen der wichtigsten DAWs , dass Sie da draußen, dass es mehrere Tonspuren hat dann unterstützt AU und VST / VSTi-Plug-Ins (DX, DXi am PC). Es gibt auch Automatisierungs-, Netzwerk-Verarbeitung und vieles mehr.
There are a couple of things that really set Reaper apart from the rest, though....

Anders als der Rest
Zunächst einmal, Reaper programmiert und durch eine sehr schlanke und schlanke Programmierung Gruppe, die Reaper gewidmet ist nur gewahrt. Das klingt vielleicht weniger wünschenswert als zum Beispiel ein großes Unternehmen mit vielen, vielen Programmierern. Aber lassen Sie mich beleuchten Sie, warum dies eigentlich gar nicht zu Ihrem Vorteil. Wir alle wissen, was passiert, wenn es zu viele Köche in der Küche sind, nicht wahr? Things muddied aufstehen, niemand weiß, wie ein bestimmter Fehler erscheint ... Es kann hässlich.
Zweitens ist die Benutzerbasis von Reaper (über die Foren) nicht nur ein nachträglicher Einfall für die Entwickler, um eine Hündin-Fest in Bezug auf ihr Produkt in einem Versuch, die Leute denken, sie "hören" host. Die Nutzer, wie in der Tat ist das, was der Entwickler als Feature definiert in Kauf ihrer Produkte. Dies sind aktive Menschen, die Form zu helfen die Zukunft der Reaper, wie es sich vorwärts bewegt, und gleichzeitig helfen, die Neulinge zu Reaper, wie sie erscheinen.
Drittens bietet Cockos (Der Entwickler von Reaper) eine Form der faire Preisgestaltung, also in der Tat sehr fair. Sie haben zwei Möglichkeiten für den Kauf Reaper - Wenn Sie ein Geschäft, die Brutto-Einnahmen übersteigt mehr als 20k ein Jahr sind, können Sie Reaper für den vollen Preis ($ 150) kaufen. Das ist eigentlich ziemlich billig, wenn man bedenkt, alle anderen sind in der Regel rund 500 Dollar. Aber warte, es wird noch besser!
Wenn Sie eine individuelle Verwendung Reaper für den persönlichen Gebrauch sind, wird es kostet Sie nur $ 40 Dollar. Das ist $ 40 Dollar für ein Programm, das alles, was der andere tut, und dann einige. Das ist wie der Kauf eines benutzerdefinierten DAW mit einem engagierten Team von Entwicklern für nur $ 40! Das ist ernst.
In diesem Sinne, haben Sie wahrscheinlich angesichts Reaper als gültige Lösung jetzt. Und, nachdem Sie ihn kostenlos herunterladen, hier (zugegeben, es sei denn Sie eine Genehmigung kaufen, erhalten Sie nicht den vollen Zugriff) werden Sie wahrscheinlich wollen mehr wissen über ihre Einrichtung, etc.
Nun, das ist eigentlich der Zweck des Artikels. In diesem ersten in einer Serie von Reaper-Tutorials wollen wir durch die Einrichtung Reaper up go! Ich habe, wie man (na gut, vielleicht, ich kann nicht sehen, wer der Lektüre dieses) bin neu in Reaper, so ist dies eine Chance für uns beide zu sehen, wie einfach es ist, eingerichtet ist.
Schritt 1
Wie für die meisten Mac-Applikationen, ziehen Sie den Reaper und Reamote Anwendung Dateien in Ihren Programme-Ordner. Cockos nicht einige massive Installer, halten sie es einfach ... Und schnell. Du wirst sehen, mehr Schnelligkeit, sobald Sie Reaper starten ... Es ist schnell lodernden, auch auf meinem etwas antiquiert Macbook Pro.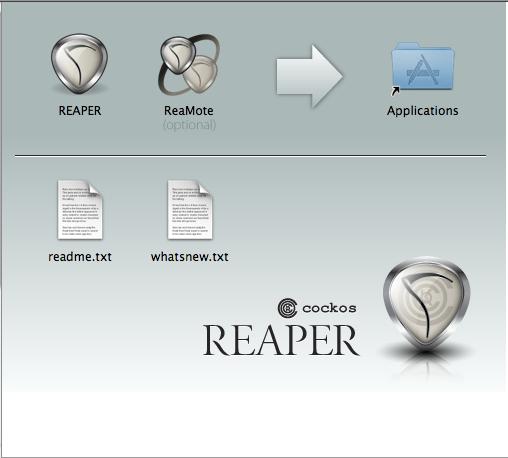 Schritt 2
Nun gehen Sie vor und starten Reaper. Btw, hier ein Trick: My favorite Weg Starten einer Anwendung ist nicht auf in den Anwendungen, und doppelklicken Sie gehen. Das ist alte Schule! Probieren Sie es aus:
Befehl Space Spotlight in der rechten oberen Ecke des Bildschirms zu offenbaren. Typ Reaper und traf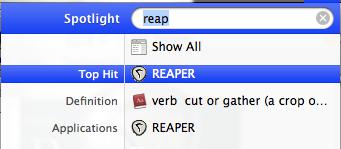 Schritt 3
Als nächstes werden Reaper Starten des Scanvorgangs für Plug-Ins wie jede gute, kleine DAW sollte. Wenn es keine Probleme gibt, geht es weiter zum nächsten Schritt. In einigen Fällen (zum Beispiel Sie haben eine Reihe von Demo-Plug-Ins auf Ihrem Rechner) erhalten Sie Hinweise auf im Demo-Modus laufen, zu genehmigen, etc. Dies gilt nicht von Reaper aber kommen, tun, was Sie tun müssen und gehen .
Schritt 4
Als nächstes werden Reaper zeigen, dass Sie die Einrichtung einer Audio-Schnittstelle benötigen. Das ist gut! Einige DAWs erwähnen nicht die Notwendigkeit für ein Audio-Interface, sie einfach zum ursprünglichen Ihre integrierten Audio-Gerät, während Sie mehrere tausend Dollar-Audio-Interface schmachtet im Rack neben dir. Ich werde weitermachen und drücken Sie 'Ja', um es einzurichten. Als nächstes werde ich wählen die einzige Wahl, die ich im Sitzen in einem Café haben, während mein mehreren tausend Dollar Audiogerät schmachtet zu Hause. Ich werde wählen, meine eingebauten Audio-Gerät!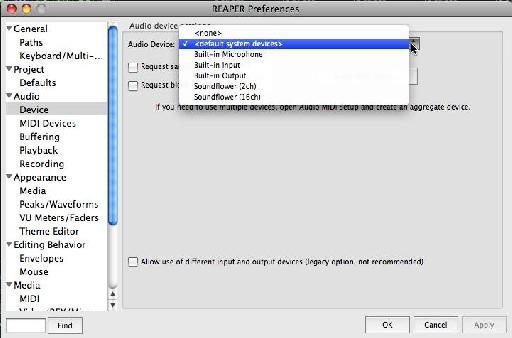 Hinweis: Anders als die meisten Audio-Anwendungen gibt, macht Reaper nicht, dass Sie zum Einrichten Ihrer Hardware-Puffergröße für Latenz, etc. Es ist Pflege automatisch, indem sie Signale direkt von Ihrem Audio-Gerät genommen, und die Audio-Puffergröße für die Hardware-Set sich. Sehr cool, weil man nicht auf den Kopf darüber, diese Einstellungen. Auch ist die Latenz auf Anhieb erstaunlich, in meiner Erfahrung.
Schritt 5
Während Sie noch in Reaper-Einstellungen sind, gehen Sie vor und wählen Sie MIDI-Geräte auf der Seite. Hier können Sie Ihre MIDI-Geräte. Auf dem MIDI-Eingang, den Sie einrichten möchten, und wählen Sie dann doppelt auf "Enable MIDI-Eingang für dieses Gerät." Wenn Ihr Gerät über eine MIDI-Ausgang, über sie den MIDI-Ausgang doppelklicken Sie auf und wählen Sie "Enable MIDI-Ausgang für dieses Gerät".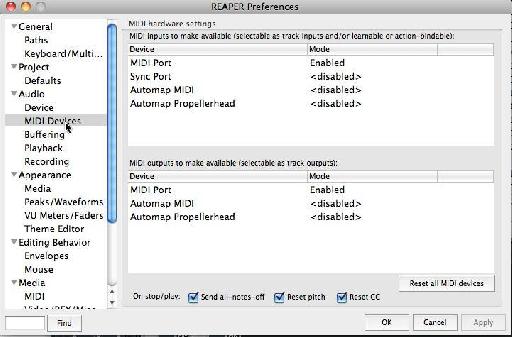 Okay, wir haben durch die grundlegenden Teil des Setups bekommen. Zugegeben, manche Hardware erfordern zusätzliche Schritte, so überprüfen Sie Ihre Bedienungsanleitung oder die Reaper Foren. Wie bereits erwähnt, sind sie sehr, sehr aktiv.
In der nächsten Übung, werden wir durch die Einrichtung von Audio-, MIDI-und virtuellen Instrumenten-Spuren gehen! Wir sehen uns dort!