Have you ever struggled to set up effects like vocoding or side-chain compression or wanted to set up a headphone mix for a singer in Logic Pro X? Peter Schwartz explains how in his new video course.
Have you ever struggled trying to set up effects like vocoding or side-chain compression (for that never-gets-tired pumping synth sound)? Or have you ever wanted to set up a headphone mix for a singer or other performer in your studio, but didn't have the first clue as to how to go about it?

Here are some more seemingly unrelated questions'¦ Have you ever put an audio track into record, only to find that another track went out of record? And what about latency -- have you ever wondered why the buffer size menu doesn't offer a value of zero?
On the surface, none of these scenarios seem to have anything in common. But in fact they do, because each of them can be addressed, explained, or solved by applying the surprisingly simple principles of Signal Flow, the topic of my latest macProVideo tutorial course.
Connecting the Dots
Signal Flow is all about understanding the way that audio signals travel from Point A to Point B within Logic's mixer, and the creative options that become available as a result. Sometimes those results will be amazing and inspiring, such as sending signals to effects in just the right ways to add new dimension to a track. Other times, basic signal flow practices are used to provide a musician with a great sounding headphone mix. Though the first example may have a lot more appeal, both are equally as important when it comes to recording. On the other hand, both situations can end in frustration if you don't know how to accomplish them.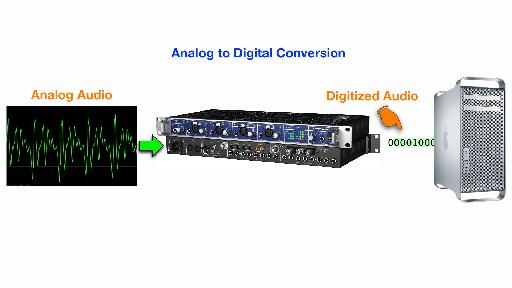 In commercial recording studios, all of the scenarios I've mentioned are usually the responsibility of a recording or mix engineer; the engineering aspect of their job title has a lot to do with understanding the way audio signals can be made to flow between channels and effects in a mixer. But, if you're working by yourself in a DAW and without the benefit of staff to help you create your music, you too have to take on this role. Becoming a world-class engineer is one thing, but you can learn the basics of signal flow very quickly because they're just not that complicated, and here's an example...
The Golden Rule of Signal Flow
In the field of music production, where there is rarely just one way to do anything, you'll be happy to know that there's at least one rule you can bank on: audio signals always flow from outputs to inputs. Simple as it seems and as true as it is, many people new to recording get it backward. While you can easily trace an audio signal from its source to its destination, attempting to do it the other way around usually just causes confusion. So as you may imagine, one of the tutorials in the course illustrates this key point.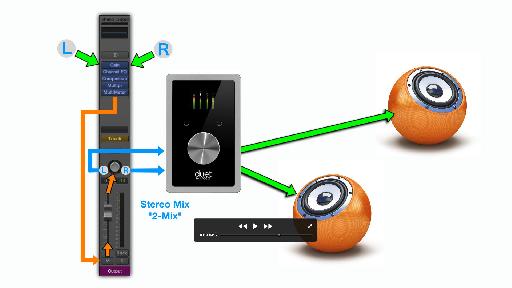 Output signal flow diagram from the Logic Pro X Signal Flow video course.
Getting Out of Trouble
Another important reason for learning about signal flow concepts is to enable you to troubleshoot situations where audio isn't flowing to where you need it to go! I'd estimate that 10% - 15% of the time you work on a project will be spent troubleshooting technical problems. Thus, having basic signal flow concepts under your hat can prevent your creativity from being stopped dead in its tracks.
Getting Wired and Plugged In
You 'get wired' in Logic not so much by hitting Starbucks (yet again) before you sit down to do more overdubs, but by learning the basics of signal flow. However, routing signals from here to there isn't always a means to an end. Very often, the effects you'll want to achieve, such as vocoding, also require an understanding of how certain plugins work. So to offer a more complete picture, Signal Flow in Logic Pro includes crash courses on how to employ three of the most popular plugins used to create special effects: noise gates, compressors, and the EVOC-20 vocoder.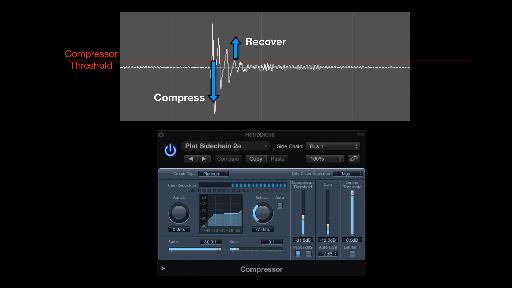 The Logic Pro X Signal Flow video course also teaches you about compression amongst a plethora of other creative tips for using signal flow.
For a complete overview of the topics I cover in Signal Flow in Logic Pro, please have a look at the table of contents. It's my hope that there's a little something in there for everyone, whether it's to learn what the heck a post fader send is, how MIDI flows in Logic, or why your latency value can't be set to zero.