Learn how to St-st-sttt-utter your lead synths using iZotope's unsurprisingly popular plug-in, Stutter Edit. G. W. Childs takes you through from start to finish.
Un sintetizador de plomo puede tener una canción muy lejos. Beats son siempre bienvenidos, el bajo es siempre necesario, pero lleva tienden a proporcionar un gancho ... Y, es el gancho que siempre recordamos, ¿verdad?
Muchos de los sintetizadores y bajos de plomo que Ive estado escuchando últimamente se están volviendo cada vez más compleja debido a la edición inteligente y también una buena cantidad de procesamiento. Si alguna vez has encontrado a ti mismo sentarse y rascarse la cabeza cuando algunos bajos wobble, o sintetizador guía pasa a través de 5 diferentes efectos en una secuencia al escuchar algunas de las canciones más nuevas hop y dubstep-glitch, youre no solo. La complejidad es realmente el aumento gradual de por ahí ... Pero, que no es tan difícil como usted podría pensar.
Ingrese Stutter Edit! Su sencillo de programar, fácil de usar y hace que todo suene moderno. Su increíble en las mezclas principales, golpes y más. También es el más grande de succión tiempo he encontrado desde que World of Warcraft. En serio, puedes pasar horas glitching, espaciamiento y filtrado canción tras canción. Usted tiene que centrarse para hacer nada! Este ejercicio está diseñado para ayudar a hacer realidad sus clientes potenciales más memorable, al igual que los estilos antes mencionados, le permiten seguir para divertirse ... Y, finalizar un sintetizador de plomo.
Paso 1 - Hacer una línea de plomo
Hey, no puedo hacer todo por ti, ¿verdad? Trate de dar con una parte agradable, sencillo sintetizador de plomo con su sintetizador software favorito. Mientras estás en ello, escuche a la que se le ocurrió. Bonito, ¿eh?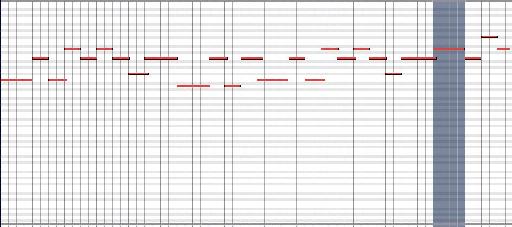 [Audio id = "13194"]
Youll aviso de que estoy haciendo esto en Ableton Live, y elaborar más, Im usando la navaja como mi sintetizador de elección.
Paso 2 - Añadir Edit Stutter
Una vez que hayas grabado una línea de plomo que realmente te gusta, añada Stutter Edit como un efecto en su sintetizador de plomo. Malos hacer lo mismo. Y, mientras que Im en él, Ill añadir una pista MIDI para Ableton mi sesión con la MIDI Para ir a la pista de Razor. Esto es, por supuesto, mi pista MIDI que me permite controlar Stutter Edit.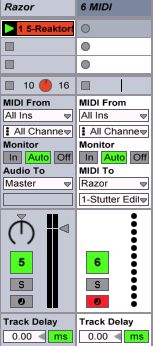 Paso 3 - Jam esos Stutters con Resample
Enrolle ahora la iniciativa con su golpe favorito, y tartamudear hasta que su contenido de los corazones. Pero mientras que usted está haciendo esto, te voy a dar un buen truco que hace que las cosas divertidas para más adelante. Configure una pista adicional de audio que tiene el sintetizador de plomo (pasando por Stutter Edit) de modo que usted puede grabar sus tartamudea como un archivo de audio, mientras que el plomo juega. Youre básicamente grabar sus tartamudeos y llevar como audio. Para ello: Configure el audio de la de su nueva pista de audio para que sea su pista sintetizador por software. En mi caso, la maquinilla de afeitar.
Youll necesidad de registrar el brazo de su pista MIDI y su pista Resample / Audio. Mantenga pulsado el botón Control mientras hace clic en cada botón brazo expediente para que esto suceda.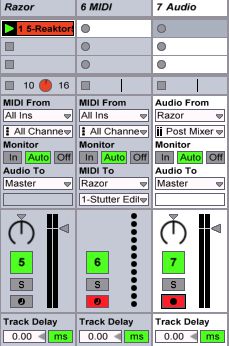 Cuando estés listo, inicie la grabación, mientras que por descuido tartamudear su liderato con Stutter Edit. Sin embargo, asegúrese de que también registran un paso donde el cable no está siendo tartamudeaba en absoluto.
[Audio id = "13193"]
Tenga en cuenta que fui un poco loco ... Esto está bien!
Paso 4 - Seleccionar y elegir ...
Ahora, por mi parte favorita. Ill copiar el clip de audio de mi nuevo muestreo de plomo tanto en seco como tartamudeaba a la vista de la disposición de Ableton Live. Ill también abrir el clip para que pueda ver la forma de onda en el carril de la pista.

A partir de aquí, la enfermedad comienza a tomar tartamudea particulares que me gustan y soltarlos en la iteración limpia de mi grabación de entrega ...

I dont tirar tartamudea casi tantos como yo realmente registrada, porque quiero conservar la melodía de mi línea de plomo, que es en definitiva lo que la gente recuerda. Además, con cada parte se me cae, me creó automatización pan de cada tartamudeo introducido. Esto hará las cosas mucho más interesantes.

Ahora, tome un escuchar! No es tan glitched, pero es muy dinámico, fluido y conserva parte de la frescura añadido. Espolvorear con más, o disminuir al gusto.
[Audio id = "13195"]

Conclusión
Esta es una manera muy calculada para añadir algo de sabor interesante a sus melodías, ritmos, clientes potenciales, lo que sea que ocurra. No tiene por qué ser una ventaja, esto es sólo mi manera. Pruebe esta misma técnica en sus propias cosas, ver cómo funciona!