The Mona Lisa is probably the most famous painting in the world. Now it's been realised as MIDI art by Clemens from AutoTonic. And it looks incredibly good for a MIDI drawing.
There's MIDI drawings and there's MIDI drawings. Ever since Andrew Huang made a nice sounding unicorn in his MIDI piano roll, others have been inspired and begun experimenting with using their MIDI editors as a painting canvas. There's even been a fun, animated story by Mari Lesteberg involving the Mario Bros:
But we're not here to pay tribute to Nintendo's finest, exactly. Clemens from AutoTonic has informed us of his high-art efforts in the MIDI editor. And we are more than impressed by his recreation of possibly the most famous painting in the world, the Mona Lisa, in MIDI.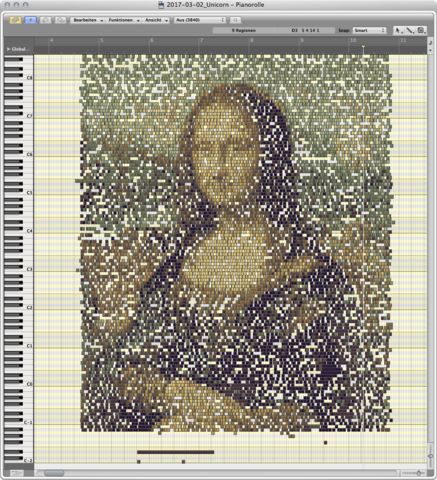 Using Logic Pro 9's View > Show Region Colors function, Clemens decided to create a "multi-layer, multi-colored version of this". He then "carefully traced back every color separation of Leonardo Da Vinci's Mona Lisa and assigned to each region the corresponding color".
Clemens then used a BETA version of his own app, "AutoTonic which will allow multi-channel processing (still not official, it is in the making!). After creating my required 18 virtual MIDI ports (9 in/9 out) I sent each region's signal to separate instances of AutoTonic having all the same template loaded so I can switch Headers from one global MIDI input port."
And voila. There you have it. The Mona Lisa in MIDI. The sound might not be to everyone's taste, but visually this MIDI drawing is a real piece of art. And best of all Clemens has made the MIDI file available for everyone to download!
The question still remains... is Mona Lisa smiling?