Founder of Desert Hearts, Mikey Lion and Burning Man sensation, Sabo, have collaborated on an EP, Into The Jungle. We chatted with them about tech, playing intimidate festivals and more.
Mikey Lion is the founder of Desert Hearts, a much talked about music festival, collective, and label coming out of the SoCal area. They have been a huge part in the explosion of what is being called the 'micro festival' movement with a focus on intimacy and a sense of place for the community. Their parties revolve around their 1 Stage, 1 Vibe ethos offering 100 Hours of nonstop music to a united dance floor. By all accounts, it's a pretty amazing event.
Mikey got together with Burning Man legend Sabo to produce their latest EP—Into The Jungle—and it is the most impressive release for the label thus far. We sat down with them both to chat about the latest EP, Desert Hearts and their tech setup.
Ask: Can you tell us a little bit about how you got into production?
Mikey: I really got into production about five years ago when I bought the Maschine MK1. I had been dabbling in Ableton for a while but the ease and workflow of the Maschine is really what sparked my interest in production. I had been DJing for about seven years prior and I knew if I wanted to make the next step in my career that I had to start making my own music. Once I caught the production bug, it's been a passion of mine ever since.
Sabo: I've been DJing for about 20 years and started producing around 10 years ago, it was kind of a natural progression. I was living in New York and I started on Reason version 1, working with a guy called The Spy From Cairo and he was a Reason wizard, doing a lot of dub mixed with electronic stuff, and he kind of tutored me in the beginning. I remember finding ReDrum really cool—you could get ideas out really quick. Later I moved to Logic and these days I mostly use Ableton.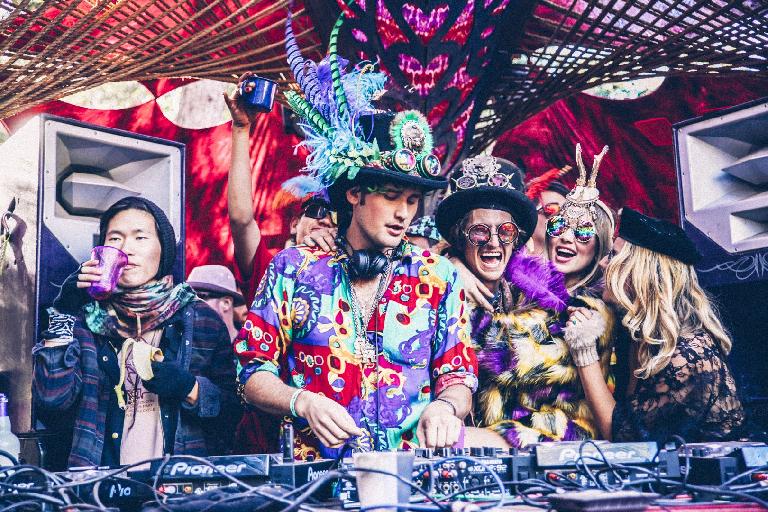 How did the idea of collaborating on this EP come about?
Mikey: Sabo and I have both had a love for tribalistic drum tracks. Oddly enough, we both also grew up skateboarding our whole lives. Sabo had a gig in San Diego, which is where I'm from, so we got together to skate and hang out. We totally clicked with one another and that's when the idea to create an EP together came about.
Who took which roles, or was it pretty 50/50? How did the work breakdown?
Mikey: The whole EP was pretty much 50/50 for the most part. We started 'Sally' from scratch at my studio in San Diego. 'Into The Jungle' was a track I had been working on for a while but I couldn't quite figure out where to take it. I showed it to Sabo and the ideas started flowing right away. Once we finished the two tracks, Sabo had more experience when it comes to mixing so he helped clean things up when I wasn't around.
Were you in the same place or did you work remotely from each other?
Mikey: We were in the same place about 80% of the project. There were only a couple of minor additions to the EP that were made when we weren't together.
Sabo: We did a bit of both. We're about three hours apart so we were in the same place some of the time. With "Sally" we played the beats on the TR-8 and added some synths and the bassline on his gear, then I took the project back to my studio and we'd send stuff back and forth. On the second track, Mikey already had a loop and he came to LA and we kind of did it the other way around.
Do you find it easier working with a collaborator than working alone, in terms of inspiration and creating new ideas?
Mikey: Inspiration definitely comes in waves for me. With all of the other things going on with Desert Hearts, sometimes I find it hard to concentrate when I'm working on music alone. So having someone else in the studio with me keeps me on task and I really enjoy being able to bounce ideas off someone else. Of course working with someone else also has its drawbacks because you have to relinquish full creative control over the music. It's hard but sometimes you have to be the person to put your foot down and say this is how the track needs to be.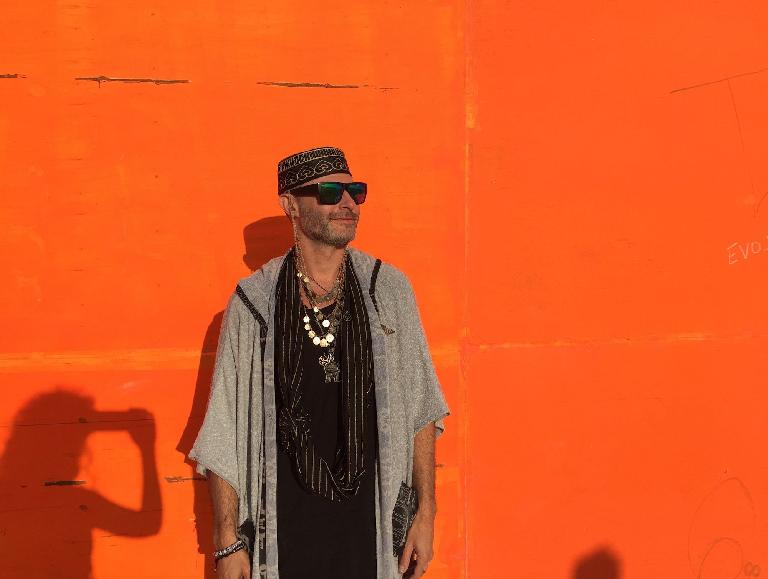 Can you tell us about your studio setup? What DAW do you use?
Mikey: I have a separate room in my apartment that's dedicated to my studio space. Ableton is my DAW of choice and I use it quite a bit with Maschine. I use the Roland TR-8 for a lot of my drums, the Moog Sub Phatty for basslines, and the Novation Ultranova for some leads, strings, and atmosphere textures. I try to use a combination of everything in my studio to keep things sounding varied and outside the box.
Do you have any favorite controllers?
Mikey: I've been using the super basic AKAI MPK25 forever as my main MIDI controller. But after a recent trip to the Native Instruments headquarters in Los Angeles, I'm about to invest in their new Komplete Kontrol S61. Their new keyboards have everything I could want in a MIDI controller and more.
Sabo: I wouldn't mind trying Ableton Push but actually I just have a MIDI keyboard M-Audio thing and Live, and I just use those and some soft synths. I'm mostly an in-the-box guy though Mikey has some outboard in his setup. When we wrote "Sally" we started with a drum machine and ended up bouncing everything into Live.
[ad_unit]
How does your studio setup differ from your live setup?
Mikey: I haven't put together a live setup or anything yet. I've always been a DJ first and foremost so being able to step up to a pair of CDJs with only my USBs and headphones is the way I prefer it. I also play quite a bit of b2b sets with the rest of The Desert Hearts Crew, so playing on USBs is the best way for us to maximize our compatibility.
Do you envisage adding more hardware instruments (which are coming back into fashion in a big way these days) to your studio or live setups?
Mikey: I'm actually thinking about going the opposite direction and investing in the Komplete Ultimate 10 collection to go along with the Komplete Kontrol S61 Keyboard. I've got a set up I'm pretty comfortable with right now in terms of Analog vs. Digital gear. I like working in MIDI a lot and being able to tweak things exactly how I want them.
How much (if at all) do you use mobile tech for music—iPads and phones?
Mikey: The only thing I really use my phone for is recording random samples that I come across while I'm out and about.
Sabo: I don't—I take a lot of samples from vinyl and I tend to stick to the soft synths that I like! Some people seem to have loads of kit but they don't always seem to do a lot with it. In my early days some of the advice I got was to get one or two things and just really learn them inside out.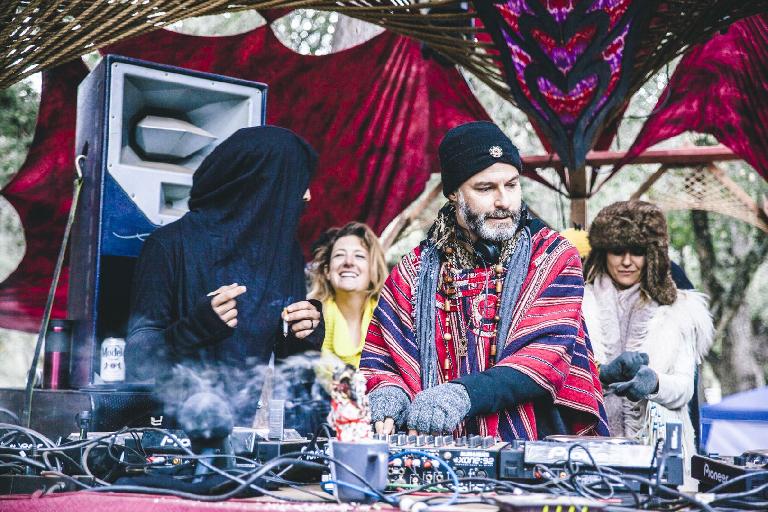 [courses_slider]
Do you think the internet has made it easier to make a career in music, or are there too many people all shouting to try and be heard?
Mikey: I think the pros and cons of the internet are pretty balanced in terms of making it easier to have a career in music. On one hand, making music is the easiest it's ever been, but on the other hand since the barriers of entry are so low, everyone and their mom is making music and trying to be the next big DJ / Producer. The success of Desert Hearts came about because we created something completely unique in the dance music world. Rather than starting with a record label and throwing events to promote the label, we started by creating our own dance community that was focused on House, Techno and Love, and then created the record label to expand the community. To make it in the music world today you really have to have something that stands out and comes from the soul. People can spot something that's fake from a mile away. When it comes from the heart, the audience can feel it in their souls.
Sabo: The internet makes it easier to be heard with things like SoundCloud, but it's also flooded the market with music. Getting to the next level is tough because there are so many more people trying to do it. There's a lot of great music around but it's also not as easy as it could be to make a living.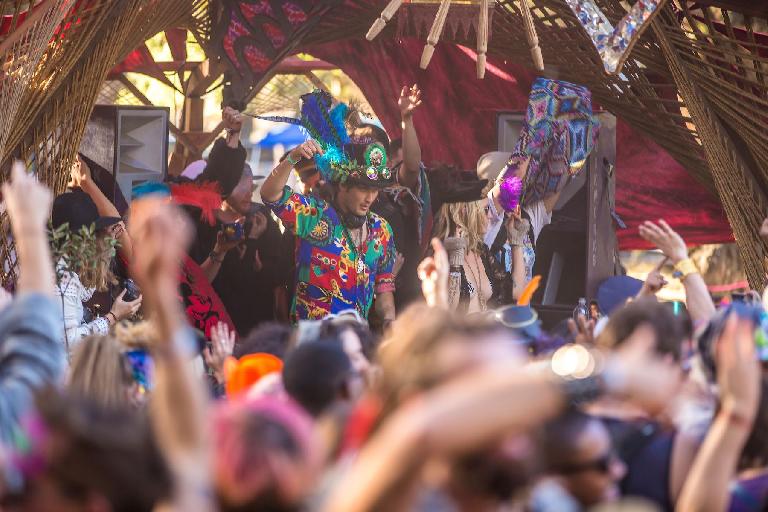 What tips would you give to young producers breaking into production and DJing?
Mikey: If this is truly what you want to do with your life, music has to come before anything else. Whether you're DJing, producing, or curating events, you have to be all in and give it everything you've got. You can tell who's doing this as a side project and who's doing this for their life. Find a DAW that works for you and learn it forwards and backwards. Watch tutorials and collaborate with other producers you admire. Everyone has their own workflow and has their own tricks for doing different things. Learn and be inspired from everything and everyone. Find a niche that resonates with you, and do your own thing. If your music is good and comes from the right place, people will start to pay attention.
Sabo: Get really good with a few synths and apps—learn them inside out and you'll be surprised at what you can achieve. Also, YouTube is your friend! There's a lot of information out there that I look at whenever I can't figure out how to do something. Collaborating with more experienced people is another excellent way to improve your skills.