Don't make the same mistakes that plague 80% of film producers: bad budgeting. With your script in hand, Michael Wohl shares insider tips on how to plan your scenes and get to the budgeting stage.
How to schedule a movie
One of the most important rules of filmmaking is that you want to make sure you have enough money to finish your film before you start. There's nothing more heartbreaking than shooting 80% of your movie but never being able to finish because you ran out of money. Unfortunately there is no shortage of such heartbreaks because of foolhardy producers who plan to 'figure it out as they go.'
For one thing, when you're busy making a movie you're not going to have a whole lot of time for anything else. And also, the sort of producer who makes such a fundamentally poor decision is almost certain to make a whole lot of other miscalculations that will likely sabotage your project in any number of other ways.

So, first things first, you need a budget: a plan of how much your show is going to cost. However, in order to create a budget, one of the most fundamental questions you need to answer is how many days you're going to need to shoot. To solve that question, you need to make a schedule. And in order to make a schedule you need to know the details of what it is you're planning to shoot.

Start with the script
If you have a script, this is a whole lot easier than if you don't. We'll discuss planning for nonfiction projects at another time, but for now, let's assume you've got a script that you can work from.
Movie scripts follow very strict formatting rules, and the main reason for that is a properly formatted script is much easier to break down. That is, to extract all the details that you need in order to properly schedule, and then budget your movie.

Every slugline in your script represents a scene, and each slugline answers three essential questions:
Is it interior or exterior?

Where is the location for the scene?

Is it day or night?
These are the three most critical pieces of information you need to plan your shoot. '¨

The next most important thing is to identify which characters are in the scene. And in fact, some television script formats include that information at the beginning of each scene too.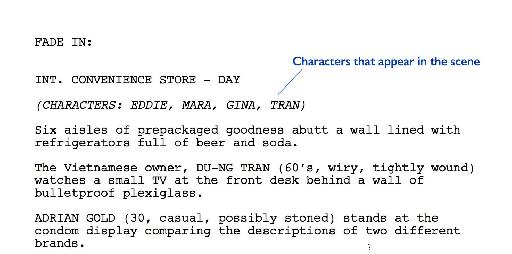 Figure 2
It's also essential to know how long each scene is going to take to shoot. Another great advantage of properly formatted screenplays is that they are designed so that one page takes approximately one minute of screentime. This is not absolute of course. A single line of stage direction that says 'they rob the bank" is going to take a lot longer than a single line of dialogue, but most screenplays pretty successfully average out to one page per minute.

Identify the key information
So to break down your script you identify all of the scenes, and for each one identify:
Whether they are inside or outside,

In what location they need to be shot

Whether they occur in the daytime or the nighttime

How long they are, and

Which characters are in the scene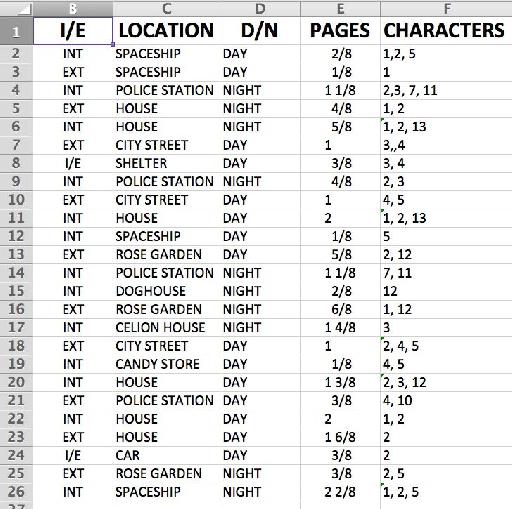 Figure 3
NOTE: scene durations are traditionally measured in 1/8 of a page. This is an odd measure (based on a somewhat-outdated scheduling methodology that assumed 1/8 of a page equaled a certain number of production hours) and there's no reason you have to follow this convention, but most movie scheduling software will use this, so I've grown accustomed to it.

You can also add additional important information for each scene. Things such as what props are required; what day in the story the events take place (this can be helpful for costumes, so you can be sure your actor is wearing the right costume and make-up for the right scene); any special details about the scene, such as whether the scene requires any special equipment like a smoke machine, camera crane, vehicles, or wild animals. If there's a fight or action in the scene, any special effects, and so on. Anything that's going to affect how long the scene is going to take to shoot, you want that information catalogued in your breakdown.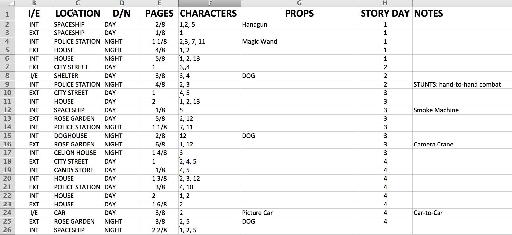 Figure 4
I recommend collecting all this information and compiling it into a simple spreadsheet.

Now there are a host of great movie scheduling and budgeting software programs, and hopefully we'll create courses soon to teach you some of them, but for now I want to cover the most generic way to do this so you really understand what you're trying to accomplish. Plus, for most modest sized productions, I find that using a simple spreadsheet is often sufficient.

Most screenwriting software can also export this data automatically, so you don't have to type it manually, which can save a bit of time, but honestly I think there's some benefit to doing it by hand. It gives you that much more familiarity with the details of the script. It allows you to identify things that the script report might have missed, like a prop that's only mentioned in passing, or even a mistake in the screenplay such as a missing slug line, wrong character name, something like that.
Keep sluglines simple
Frequently screenwriters play a little fast-and-loose with their sluglines in order to make a script easier and more fun to read. They might combine scenes that are technically two separate scenes (requiring different locations and different actors) with a slugline that simply says 'Meanwhile' or 'Continuous.'
They might get creative and rather than identifying a scene as taking place in day or night, they might write 'Later that day' or just 'Later.' All of this is fine, and can indeed make a script easier for people to read. But in cases like this you will likely want to create a new version of the script (usually called a 'shooting script') where each scene is clearly demarcated with its own straightforward three-part slugline. To do this, you (or someone) will have to walk through the script with a fine-toothed comb and ensure that every scene is properly identified with its own slugline.

This is also when you would likely add scene numbers, and lock your script, so any changes made after this point don't cause repagination which would make your breakdown inaccurate.

Once you've fully broken down your script in this way, you should have everything you need to begin creating a schedule, and then, a budget'"all of which is described in thorough detail in my Film Craft 101: The Producer Course here.
Interested in filmmaking? Watch Michael Wohl's Film Craft 101: The Producer Course now!