New or transitioning to Final Cut Pro X? This excellent 6-part series will get you editing like a pro. In part 1 Iain Anderson explores importing and organizing your footage.
This series of articles discusses and explores a typical editing workflow from start to finish in Final Cut Pro X. How you get your footage in, sort it all out, cut it up, make the edit work, fix the color and sound, get the effects right, and then export it and back it up. If you're confused about the new Final Cut Pro X '" or just a little unsure about some specifics '" this series is for you.

This is a 6 part series on using FCP X. Quick jump to an article in the series here:
Part 1: Import & Organize
Part 4: Primary & Secondary Grading
Part 5: Transitions, Titles & Effects
Since there are so many variables involved in a shoot, we'll start by assuming you've shot your video already, and that you have a camera, tape or card ready to roll. If you don't have anything handy, grab your camera, point it at something, and press the big red button a few times.
Step 1 - Import Files
If you've shot on a DSLR or someone's given you some files on a drive, follow these steps. Choose File > Import > Files, then locate your original files. What about all those import options? My recommendation is to copy the files to the Events folder (which keeps your files together in a group) but not to do analysis (which can be fairly time consuming), and not to optimize (often unnecessary and takes much more hard drive space). If your Mac is struggling, you can always analyze and transcode your media at a later date. Events can be created here, and can be placed on any drive '" make it a big, fast drive (Firewire 800 / 7,200 rpm or better) if you can.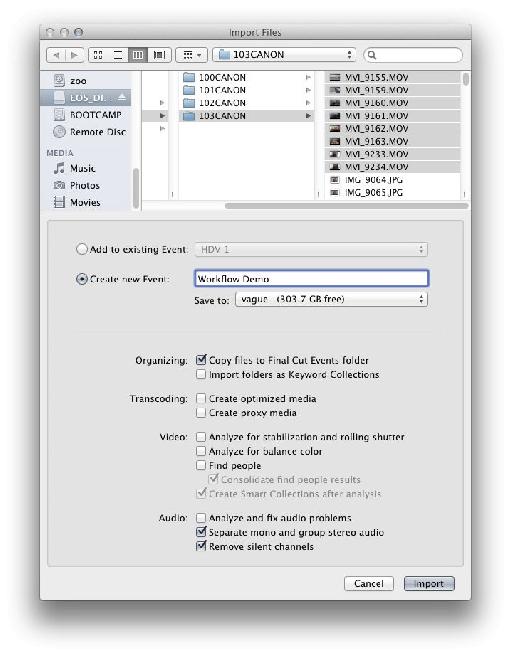 Importing from a DSLR's SD card to a new Event.
Step 2 - Import from Camera
Shot on a solid state camcorder, or on a tape-based camera? File > Import > From Camera is what you need. For tapeless cameras, the import window shows you all the clips on the device, so simply select the ones you need and press Import.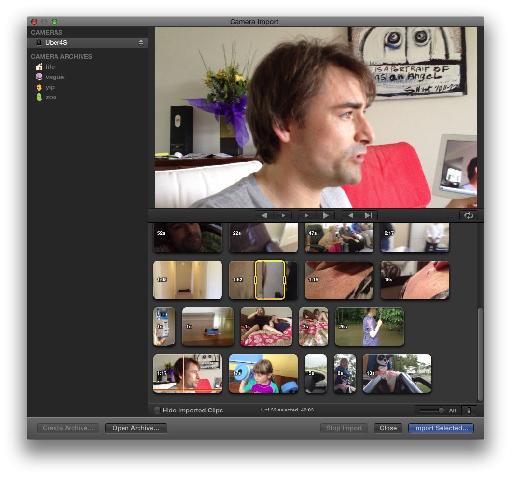 Importing from a connected iPhone.
For tape-based media, rewind to just before where your clips start, press Play, then press Import. No matter how you do it, the resulting movies will show the time and date of recording which is terrific for ancient DV tapes that you forgot to accurately log at the time.

Some DV tapes from long ago.
Step 3 - Synchronize Dual-System Audio
If you were particularly organized during the shoot, there's a chance you recorded audio on a separate recording device at the same time that you recorded the visuals. Now's the time to unify the two. Select each video/audio pair together, then Control-click (or Right-click) and choose Synchronize Clips. Once the magical syncing operation is complete, double-click to open each clip, and turn down the in-camera audio to allow the separate audio to stand alone.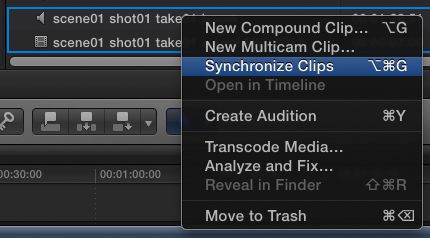 Two clips selected, then right-clicked.
Step 4 - Synchronize Multicam
If you were even more organized, you may have recorded with more than one camera during the shoot. Fantastic for live events and helpful whenever lighting allows, FCP X's multicam implementation will allow for up to 64 cameras in any resolution and frame rate to coexist happily. Select each group of multicam clips together, Control-click and choose New Multicam Clip. The golden rule during the shoot: make sure that every camera records audio, or you're back to using clapperboards and manual syncing.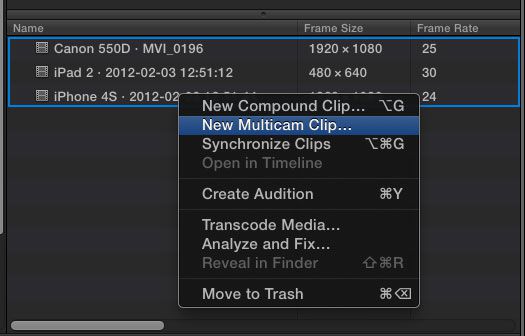 Three clips, recorded at the same time, together at last.
Step 5 - Add Keywords (and Names)
The fun really starts now, with metadata '" 'data about data'. This can be anything, from the time and date of recording to the name of the camera operator. Cameras tend not to give very interesting names to clips, so spending a little time giving shots better names is a good idea when it comes to identifying your clips at a later date. 'Scene01 Shot01 Take01' isn't a bad place to start if you're using a script to help you along.
With or without names, keywords are simply an excellent idea. Keywords are tags you can assign to clips, or parts of clips, to help you identify the contents of a clip. You can then search your clips to find only the parts with an assigned keyword, which makes it very quick to find the footage you want without manually watching through every clip when editing.
Switch to list view with View > Event Browser > As List (Command-Option-2). Bring up the Keywords window with Command-K, then select your clips and type a few keywords (related to that scene), separated by commas.
Open the Keywords window's disclosure triangle to see the keywords assigned to Control-1 through Control-9, and delete or move them about as you wish. Only the top line shows keywords applied to the current clip, so moving or deleting keywords from the hot key boxes won't change the current clip's keywords.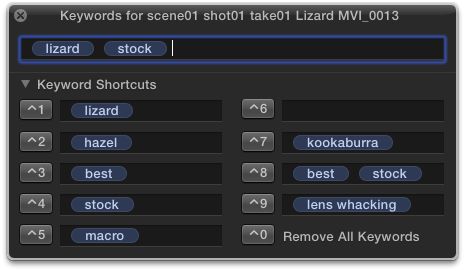 A few selected keywords, including two in the one shortcut box.
Good ideas for keywords:
subject matter or people in a shot (e.g. baseball, or Dave)

the very best shots you must use (e.g. essential)

different parts of an event (e.g. arrival, vows, and reception for a wedding shoot)

anything else that isn't already recorded that could help you to organize the footage

There's little point adding keywords for camera type or time, since that information is usually present in other metadata fields.
As soon as you add a new keyword, it appears as a 'keyword collection' under the event name in the panel on the left. Selecting that keyword collection shows all the clips with that keyword '" like showing the contents of a folder, except that clips with multiple keywords will appear in multiple keyword collections. Dragging a clip into a keyword collection adds that keyword to that clip. Simple.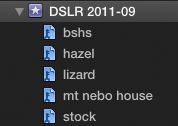 A few keyword collections in a well-named event.
Step 6 - Analysis and Smart Collections
If you think yet more keywords would help you identify desired parts of your clips, you might want to Control-click and choose Analyze and Fix. 'Find People' and 'Create Smart Collections after analysis' are helpful options that add additional keywords like 'Close Up' and 'Two Persons' automatically for you. If your shots have people walking in and out of them, also tick the 'Consolidate find people results' to stop these keywords from dipping in and out constantly.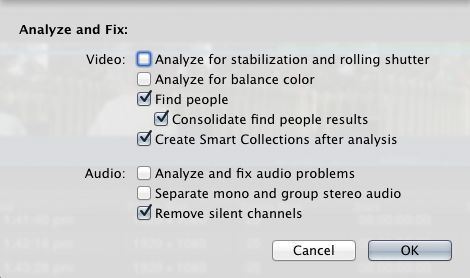 Some useful analysis options ticked.
And if you do tick the 'Create Smart Collections after analysis' option, you can find some Smart Collections in folders for easy access.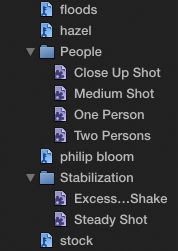 Now that you have more keywords than you know what to do with, click the small magnifying glass in the top right corner of the Event Library, then set criteria to show only a subset of your clips. Using the Plus button (+) to add additional metadata types, you can show only clips from your iPhone with Two Persons in them, for example. Creating a New Smart Collection at the bottom of this dialog collects all relevant clips in the panel on the left for quick access.
Step 7 - In, Out, Favorite, Reject
What's that? Keywords can dip in and out? Yes, but I'd recommend using keywords at a whole-clip level to stay sane. However, Favorites and Rejecting can help to keep your events tidy by displaying only the sections of clips you feel will be useable.
Playing '" or skimming your cursor over '" each clip in turn, press I at the start of the good part, then O at the end. Press F to mark a Favorite.
Tip: you can also click and drag to mark an area, but only if the clip isn't already selected. So, don't click on it first, get used to clicking away to deselect it, or use I and O instead.

After I, O, and F.
After all the best parts '" the selects '" have been marked, choose Favorites (Control-F) from the drop-down menu at the top of the event. Only the best parts, that is your selected favorites, remain in view.

Choosing to only view Favorite clips.
Alternatively, you could select the parts you don't want, and press Delete. Now, rather than choosing Favorites from the menu at the top, instead choose Hide Rejected (Control-H). Rejecting the middle of a clip will leave you with two new clips representing the beginning and the end sections of the original clip. This can be a quick and convenient way to break up longer clips leaving you with just the sections of footage you want to use.
Step 8 - Consider Using Roles for Complex Productions
By default, each clip will be tagged with Roles. Normal clips are probably marked as 'Video, Dialogue' while audio-only clips will be tagged with 'Music'. These Roles can be useful later in the production if you want to export a version with or without titles, or with or without a director's commentary, for example. Think of Roles as a kind of metadata that can influence the output, choosing to only include certain Roles in certain types of exports. For many, they won't be necessary, but for a multilingual project, for example, they could be very handy.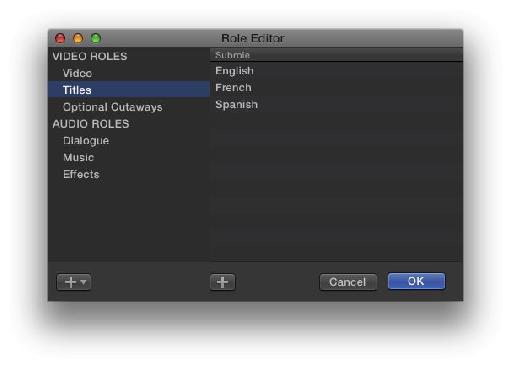 Some examples of potential uses for Roles.
Summary
OK. You've imported your footage, added a bunch of metadata, and organized your clips. Ready to edit? Let's move straight to part 2 and create our first rough cut.