Ben Balser, FCP X trainer and expert, demonstrates how to use gradients in Final Cut Pro X for color grading purposes. It helps to control the color of one area while leaving the other untouched.
Using color gradients to affect the color grade of our video images is a really neat trick to know about. It helps a lot when you need to tone down or brighten up a sky but not the landscape below it, when you need one area effected with tint and luminance but not others. You could always use a matte, but that could get complicated in some situations. The following 3 step technique will come in handy for not just fixing things, but enhancing the emotional content of your video images.
Step 1 - Creating Gradients
The first thing we have to do is create a gradient that works for us. This can be done in Motion, Pixelmator, Photoshop, or any other graphics application. For my example here I'll open Motion, select the Final Cut Generator option, use the Rectangle tool (R) to draw a shape filling my full image frame. F4 to the Inspector's Shape tab, and change the Fill Mode to Gradient and from the Gradient menu button select Grayscale. Command-2 to the Library tab, go to Filters, Color Correction, and apply a Colorize filter to my Rectangle.
Right-click each the Remap Black and Remap White parameter titles and Publish them. You could even Publish the 'Type' parameter back in the Shape's Fill section if desired. In the File menu, select Save, call the template Custom Gradient.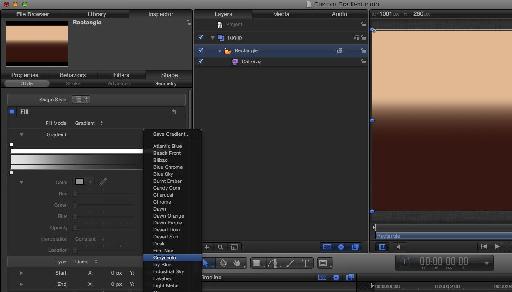 If you're doing this in another graphics app you'll make it grayscale if you only want to lighten and darken across the video image. Apply coloring to have that coloring apply to the video image. Or you can leave it grayscale and use the Color section in the Inspector to tint your gradient asset. Save as PSD or PNG format and import into FCP X.
Step 2 - Applying The Gradient
In FCP X I'll place my Gradient, be it a PSD or PNG file, or even a custom Generator as I created in Step 1, as a Connected Clip (Q) over my video clip. With my custom generator I'll map black to a very dark blue and white to a yellowish green. Since the black/dark side of my gradient is at the bottom I'll set Rotation in the Inspector to 180 so it's at the top, and the white part of the gradient is at the bottom.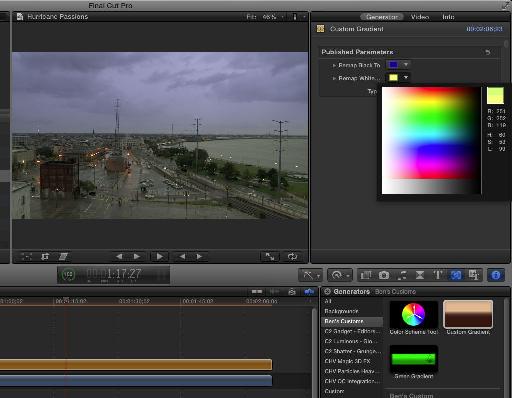 Step 3 - Balancing Blend Mode With Opacity
This is where the final magic happens. But combining a Blend Mode in the Inspector's Video tab for our gradient, in the Compositing section, with an Opacity setting, we can get some very interesting stylized looks. I'll set my Blend Mode to Multiply and Opacity to 50 in this example. I can use the V key to mute and un-mute the Gradient clip to see my before and after previews.
Experiment with various Blend Modes combined with changing the Opacity, and even Rotation in the Transform controls a bit. If you Rotate your gradient, you may also have to increase it's scale and adjust the Position X and Y parameters, but you'll gain some creative control over where the gradient line falls.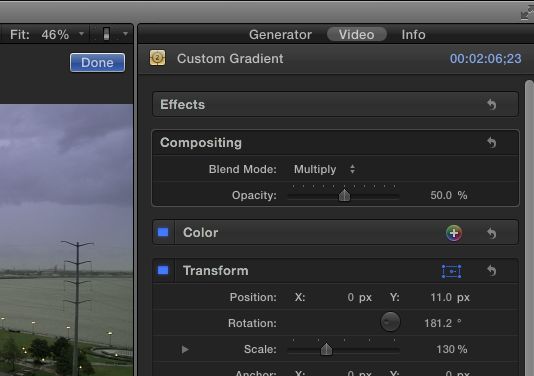 Blend Mode Tips
Here's some hints about Blend modes that will help you save time experimenting with them all. A Blend Mode takes the pixels in the asset your adjusting and combines it with the matching pixels of the asset directly below it. In the Blend Mode menu notice there are sections. The first section from Subtract to Linear Burn darken an image. Multiply is used for drop shadows because it darkens over pixels in the image below it that are darker, and keeps lighter pixels bright, thus it's a great place to start for this type of effect.
The next section from Add to Linear Dodge tend to lighten the image. The third section from Overlay to Hard Mix create variations of both at the same time. Making darker areas darker in various ways while making lighter areas lighter in various ways. The modes from Stencil Alpha to Silhouette Luma actually use grayscale or alpha channels to key out sections of the image below. We use these to fill text with an image below the text clip.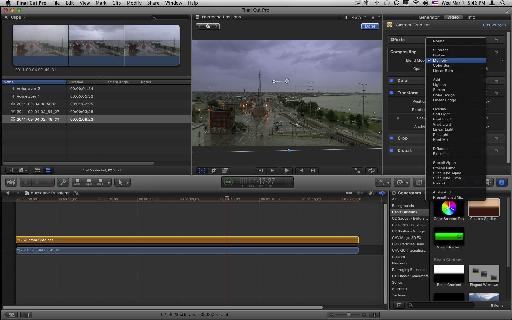 Conclusion
It's a very simplistic trick I've shown you here, but can help you do some really neat things with your images. Experiment and see what you can come up with. This little trick really is a lot of fun to play with!