If you're fairly new to Final Cut Pro X, you might be wondering what exactly compound clips are... wonder no longer! Ben Balser breaks it down for you here.
With Final Cut Pro X, we work with clip 'types' and 'timelines'. One of the most often used clip types is the basic Compound Clip. Sync Clips and Multicam Clips are flavors of Compound Clips, but those have a specific function. In this article, I'll go through the motions of using a generic Compound Clip (referred to as a 'CC') and how it can be advantageous.
Project Setup
I'll use Command-0 to open the Project Library, Command-N to create a new Project. For this example I will leave everything in the Project configuration window to defaults, select an appropriate default Event, then click OK. Then I'll use select that default Event in the Event Library (Shift-Command-1).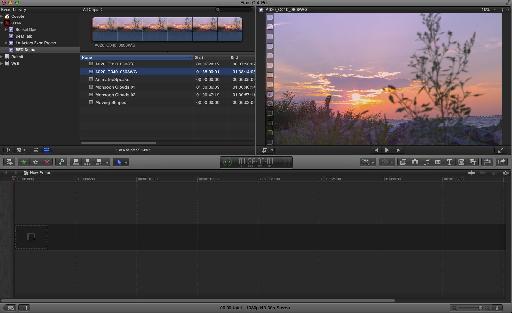 Compound Clips In The Browser
In my Event Browser, I'll make sure everything is deselected. Then use Option-G to create a new CC. To access this empty CC I just created, I can simply double-click it and it opens in a timeline.
Alternatively if I highlight one or more clips in the Browser, and use Option-G, I will get a CC with those selected clips inside of the new CC. Again, double-click to open in to a timeline for editing only that CC.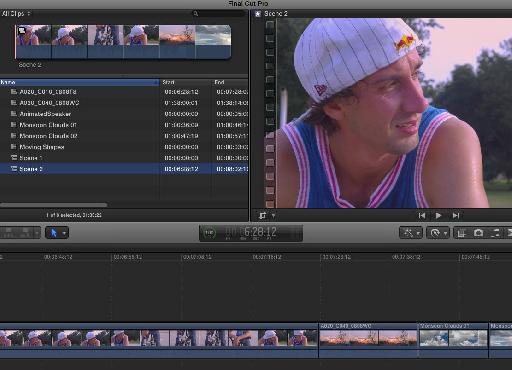 Organizing Compound Clips
In the Browser, I can click the magnifying glass icon in the search field at the top right of the Browser. Clicking the plus icon at the top right of the custom search window, I will add 'Clip Type', set it to 'Compound', and turn off the default Text search criteria. By clicking the 'New Smart Collection' button, and naming that new smart collection in the Event Library 'CC's', I now have all of my CCs in one place I can get to them quickly and easily.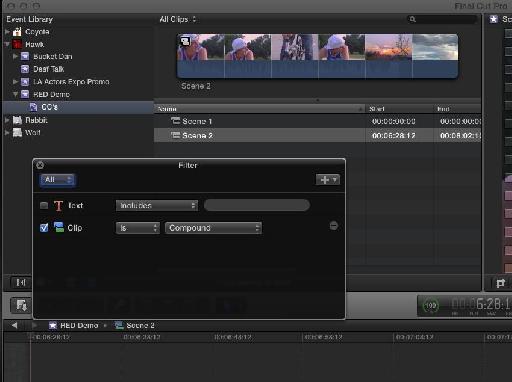 Compound Clips In The Timeline
I will go back to that empty Project I created at the beginning of this article, and drop a few video clips into it. In the timeline I can select several clips and use Option-G to create a new CC. This new CC will have a Parent added to the default Event.
To edit this CC, I can simply just double-click it. An important behavior to know: select the second clip in my new timeline CC and use Shift-Delete to remove it and leave a Gap Clip. Back in the Project and in the Browser, you'll see this edit reflected as a blank space in the CC.
This is new in 10.0.6 that the original Parent CC (Browser copy) and all of the Children (copies in timelines) are hard linked. Make changes in one, they all update in realtime to reflect that.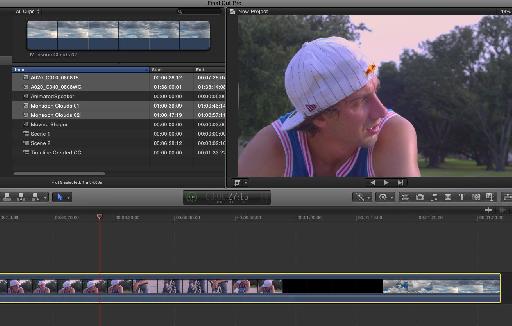 Creating New Parents
This is also new to 10.0.6, I can select a CC in the timeline, go to the Clip menu, select 'Reference New Parent Clip'. This creates a copy of the original Parent in the Browser, with the word 'copy' appended to the original name. This new copy is initially identical to the original, but is now independent of the original. It is its own original. Since it is a CC, it will also show up in our Smart Collection I created earlier. This is a very important process to remember as it is very handy on many occasions such as wanting different versions of the same basic CC.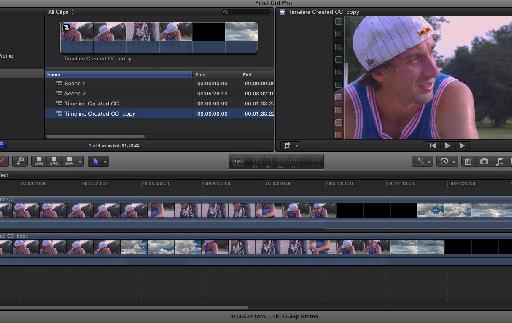 Auditioning Compound Clips
One final Thing we can do with CCs is create Auditions. In the timeline I can select my CC, then in the Browser select another CC, then go to the Clip menu, to Audition, and select Add To Audition. The CC in the timeline is now an Audition CC. With it selected I can use 'Y' to open the Audition window for it. Very handy and easy!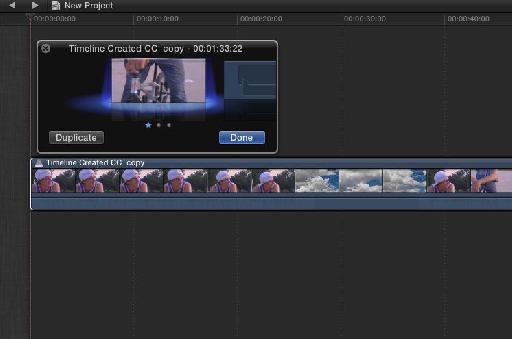 Conclusion
CCs allow for many possibilities such as applying filters or keyframes to several video or audio clips all at one time. With the enhanced Compound Clip behaviors, Final Cut Pro X is shaping up to be a very powerful, yet deceivingly easy and fast NLE to work with. Being aware of how different clip types work is key.