Ben Balser, master FCP X and Motion trainer, shows how to burn timecode into your videos for web uploading using Apple's Compressor.
Being able to create custom presets in Compressor, and save them as Droplets, or better yet, use them as custom Destinations in FCPX, or directly in Motion, makes it a really handy app to have around. In this article, I want to show you how to create a practical timecode burn-in, on an H.264 file ready for web uploading. This is handy for supplying review copies to producers, directors, and clients.
Project Set Up
I'll launch Compressor, and I won't import anything, since I'm only creating a custom setting preset. Once in Compressor, if they aren't already open, I'll need to use Command-5 to open the Settings & Locations pane, and Command-4 to open the Inspector. In the Settings pane, if needed I'll click the disclosure triangle to open the lists of BUILT-IN and CUSTOM settings presets.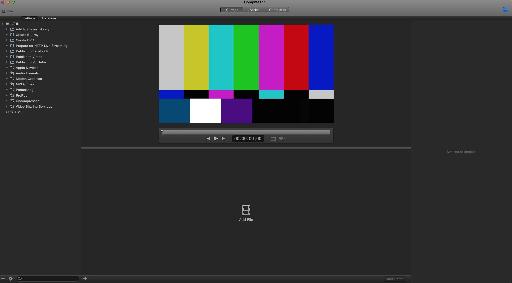 The Preset Base
To create my preset base, from which I'll customize my final product, going to the Built-In list of setting presets, in the Video Sharing Services group, I'll Duplicate the HD 720p preset. When I do this, the copy ends up in the Custom section of the Settings pane. I'll click to select my new copy, click its text and change the name to 'Ben's Web TC Burn Review'.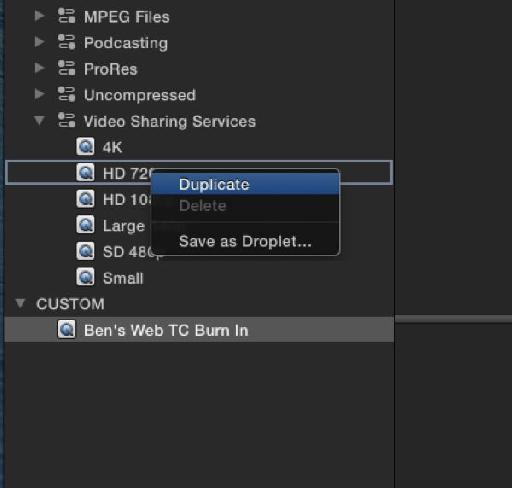 The Preset Customization
In the Inspector's General section, I'll change the description to '720p24 H.264 for web review with timecode burn in'. For Default Location, I'll set it for Desktop. This can be set to any default location you want the output files written to, and can be changed later when actually using this preset. I'll also check the option to 'Optimize for Network use'.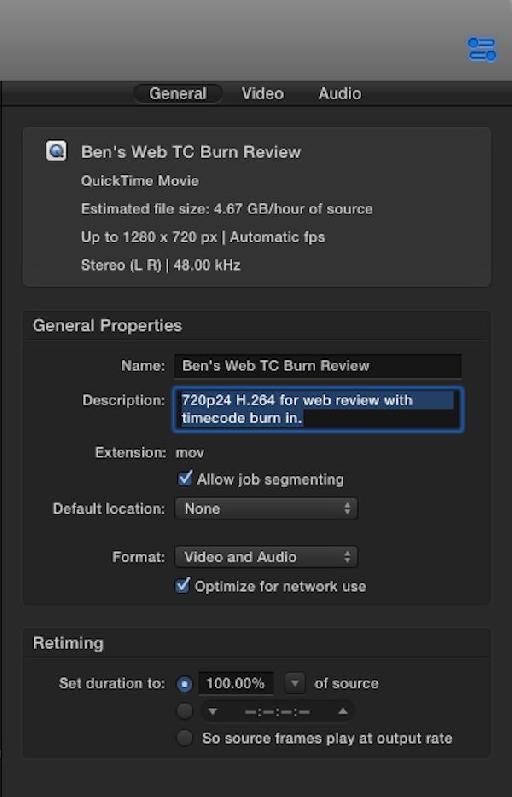 In the Video section, I'll set Frame size to 'Manual' 1280x720, and the Frame Rate to 24fps, then turn off 'Add clean aperture information'.
Down at the bottom in the Quality section, I'll set the Resize Filter and Retiming Quality both to Best, and enable Adaptive Details.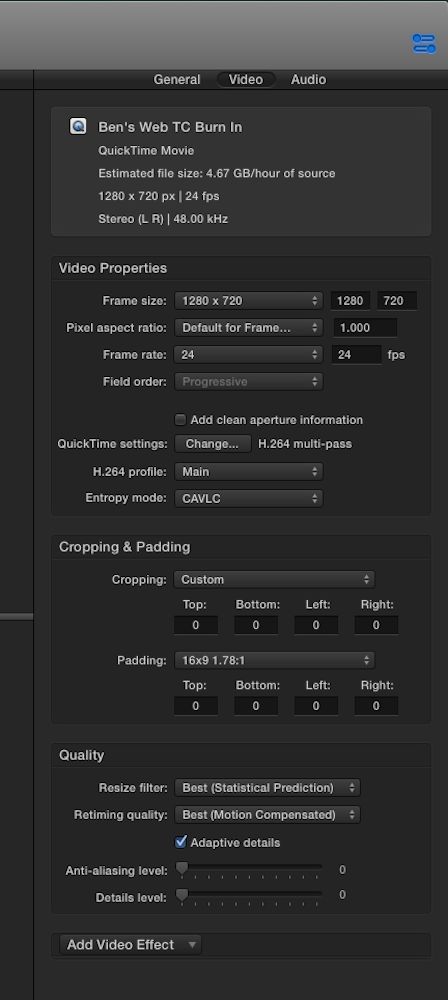 Then back up to the QuickTime settings, and click the Change button. In the QuickTime settings window, I'll set Motion and Data Rate both to Automatic, and check Frame Reordering. In the Compressor section I'll set Quality to just a hair below Medium, and Encoding to Faster encode. These settings always get me a very good image quality with a decent file size. For Audio I'll just leave everything at the defaults.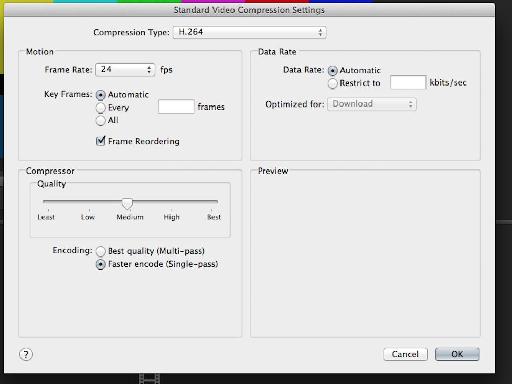 The TC Burn In
In the Video section of the Inspector, at the bottom, I'll click the Add Video Effect button, and from the menu pick Timecode Generator, and use the following settings: Position at Lower Right-Title safe, Alpha to 0.60, Label to 'TCR ' (leave a space at the end), Text color to red, and font to Ariel bold 18.
Leaving the 'Start timecode at 00:00:00:00' unchecked, Compressor will be a reader, using the timecode of the source video file. With it checked, Compressor will be a generator, creating timecode from scratch starting at zero.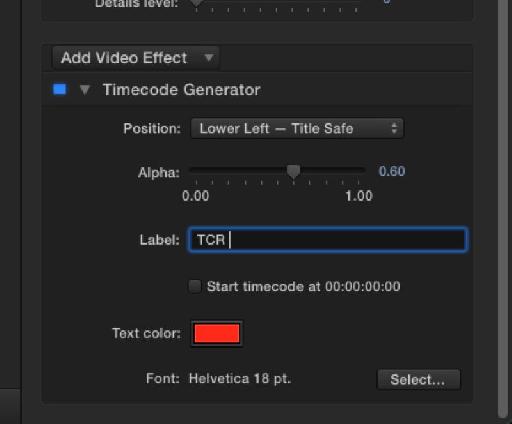 Custom Preset Usage
I now have this set up for use inside of Compressor. I can right-click it and make it a Droplet, where I can drag-and-drop files onto the icon in the Finder. I can create a Custom 'Compressor Setting' Destination in FCPX, or in Motion, via the Share menu, Export Using Compressor Setting, and chose it from the list.

Conclusion
This is actually pretty easy to set up, and extremely simple to use in a variety of places through out the post-production workflow. I hope this shows you how really easy it is to learn and use Compressor, and how flexible it can make its sister apps FCPX and Motion. Enjoy and use Compressor to make post work easier and faster.