Ben Balser, master FCP X and Motion trainer, shows how to burn timecode into your videos for web uploading using Apple's Compressor.
Die Möglichkeit, eigene Voreinstellungen in Compressor in Motion erstellen und speichern Sie sie als Tröpfchen, oder besser noch, sie als individuelle Reiseziele in FCPX, oder direkt, es macht eine wirklich praktische App um sich zu haben.
Projekt einrichten
Ill Einführung Kompressor, und ich werde nicht alles importieren, da Im nur eine benutzerdefinierte Einstellung voreingestellt. Einmal in Compressor, wenn sie bereits offen Arent, müssen Kranke zu bedienen Befehl-5, um die Einstellungen zu öffnen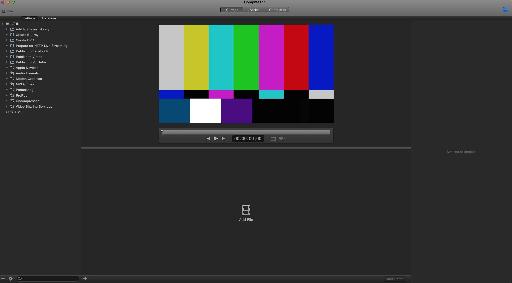 Der Preset Basis
Um meine voreingestellten Basis zu schaffen, von dem Ill anpassen mein Endprodukt, geht auf den Built-In Liste der Einstellungs Presets, in der Video-Sharing-Services-Gruppe Ill Duplizieren Sie die HD 720p voreingestellt. Wenn ich dies tun, endet die Kopie in dem Abschnitt der Bereich Einstellungen Benutzerdefiniert.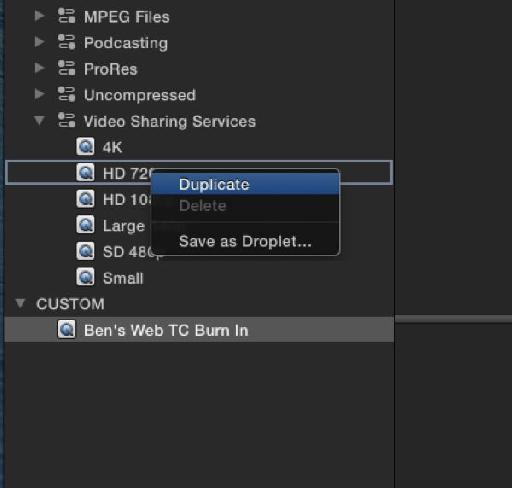 Der Preset Customization
In der Inspektoren Abschnitt Allgemein Ill die Beschreibung ändern, um 720p24 H.264 für Web-Überprüfung mit Timecode brennen in.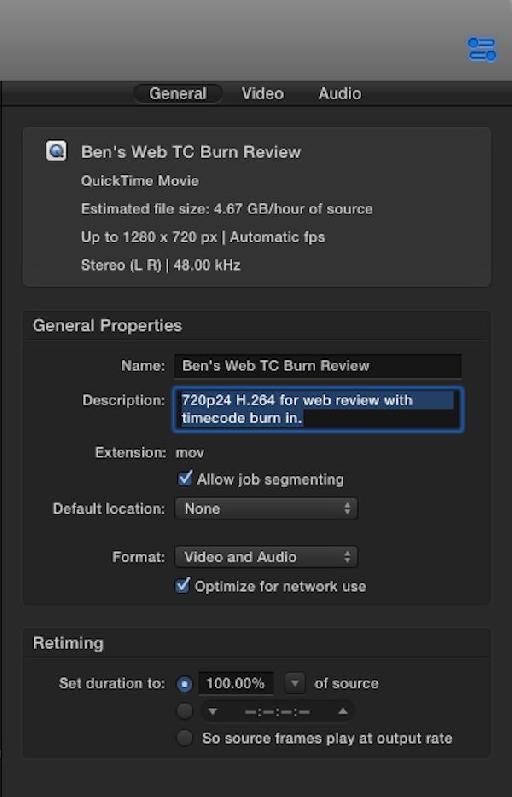 In der Video-Sektion, Ill gesetzt Rahmengröße 1280x720 auf Manuell, und die Bildfrequenz auf 24fps, und schalten Sie dann sauber Blendeninformationen hinzufügen.
Unten am Boden in der Qualität Abschnitt Ill gesetzt das Resize-Filter und Retiming Qualität sowohl Best und ermöglichen Adaptive-Details.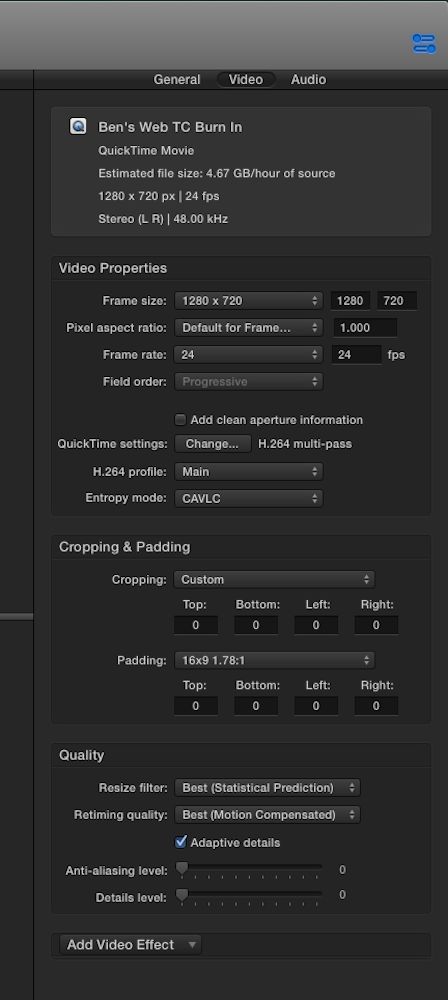 Dann wieder auf den Quicktime-Einstellungen, und klicken Sie auf die Schaltfläche Ändern. In dem Einstellungsfenster Quicktime, Ill gesetzt Motion und Data Rate sowohl auf automatisch, und überprüfen Rahmenneuordnungs. Im Kompressor-Bereich Ill Satz Qualität, um nur ein Haar unten Medium und Codierung auf Faster kodieren. Diese Einstellungen immer mir eine sehr gute Bildqualität mit einem anständigen Dateigröße.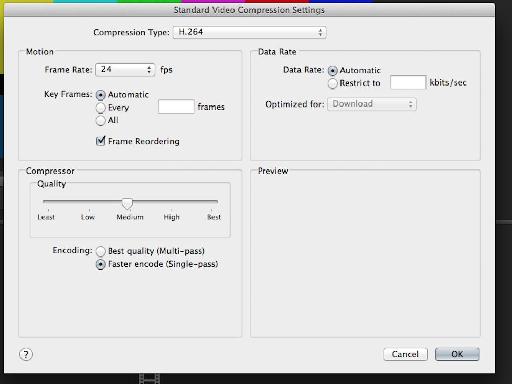 Der TC Burn In
In der Video-Sektion des Inspektors an der Unterseite, klicken Sie auf die Ill hinzufügen Effect-Taste und wählen Sie aus dem Menü Timecode-Generator, und verwenden Sie die folgenden Einstellungen: Position unten rechts-Titel sicher, Alpha bis 0,60, Etikett, um TCR ( einen Raum verlassen, am Ende), Textfarbe auf rot und Schrift Ariel fett 18.
Verlassen des Start-Timecode auf 00:00:00:00 deaktiviert, werden Kompressor ein Leser zu sein, mit der Timecode des Quellvideodatei. Mit überprüft werden Compressor ein Generator sein, die Schaffung von Grund-Timecode beginnend bei Null.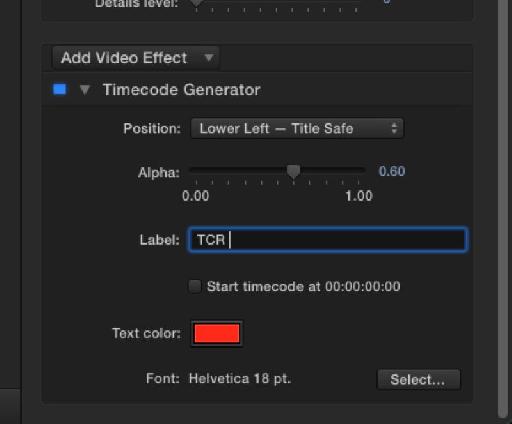 Benutzerdefinierten Voreinstellungen Nutzungs
Ich habe jetzt diese für den Einsatz innerhalb der Kompressor eingestellt. Ich kann mit der rechten Maustaste darauf und machen es ein Droplet, wo kann ich Dateien auf das Icon in der Finder-and-Drop verschieben. Ich kann eine benutzerdefinierte Einstellung Compressor Destination in FCPX oder in der Bewegung zu schaffen, über das Menü Teilen Export mit Compressor-Einstellung, und wählte es aus der Liste.

Abschluss
Das ist eigentlich recht einfach zu konfigurieren und sehr einfach, in einer Vielzahl von Orten durch aus der Postproduktions-Workflow zu verwenden. Ich hoffe, das zeigt, wie einfach es ist, zu lernen und zu verwenden Compressor, wie flexibel und es kann sein Schwester Apps FCPX und Motion. Genießen Sie und mit Compressor Post Arbeit leichter und schneller zu machen.